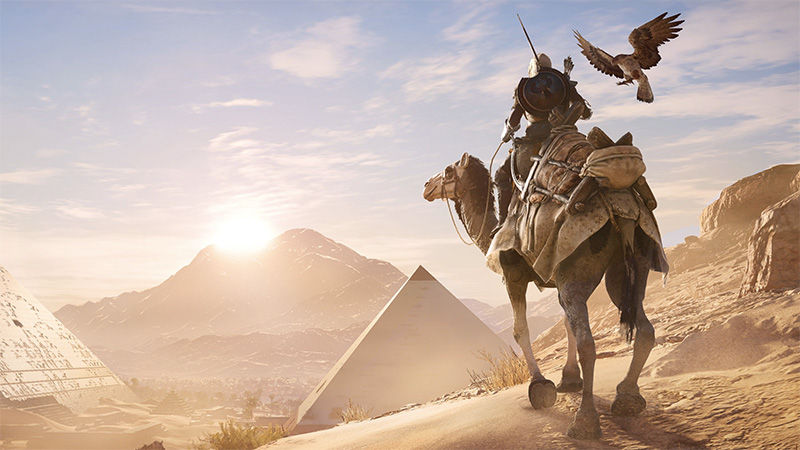 If you thought September was a great month of gaming, things are just hotting up as we hit the peak release month of the year. October is the time we usually see all the top-end AAA titles release every year, and 2017 is no different. With the Xbox One X release set for early November, expect an arsenal of 4K-optimised launch titles for Microsoft's highly anticipated gaming beast.
It's worth taking a break from FIFA 18, and checking out this list of games that you should be looking forward to in October.
Assassin's Creed Origins
After a break from its yearly release cycle, Assassin's Creed makes a comeback in a new form that's probably the biggest leap the franchise has taken since taking on the high seas in Black Flag. Set in Egypt, the game is filled with exotic locales that include the massive pyramids and of course the sand dunes that surround the cities. Ubisoft wants to make sure you explore every bit of their new offering since this time the game comes without a minimap. Instead you will have a Skyrim style pointer sending you in the right direction. There are many other changes that were highlighted at E3 this year, and since it's one of the launch titles for the Xbox One X, expect some performance tweaks on that platform.
AC Origins release date: October 27
AC Origins platforms: PC, PS4, Xbox One
AC Origins price: Rs. 3,499 on PC, Rs. 3,599 on consoles ($59.99 in the US)
Middle-earth: Shadow of War
Shadow of Mordor took the best bits from the Batman Arkham series and Assassin's Creed franchise, and made them its own by adding a boatload of The Lord of the Rings lore, and abilities that would make any Tolkein fan giggle with joy. The most revolutionary part about the game was its brilliant nemesis system, that made AI-driven rivalries more interesting with enemy Uruks getting promoted every time they defeated you. Now this system is being taken to a new level in Shadow of War. You still play Talion and Celebrimbor, but now you take on the dark lord Sauron himself by forging an army of your own. Sure Tolkein purists will cringe at the liberties taken by the franchise. But after what WB Games showed us at E3, wild Ringwraiths couldn't keep us away from this one.