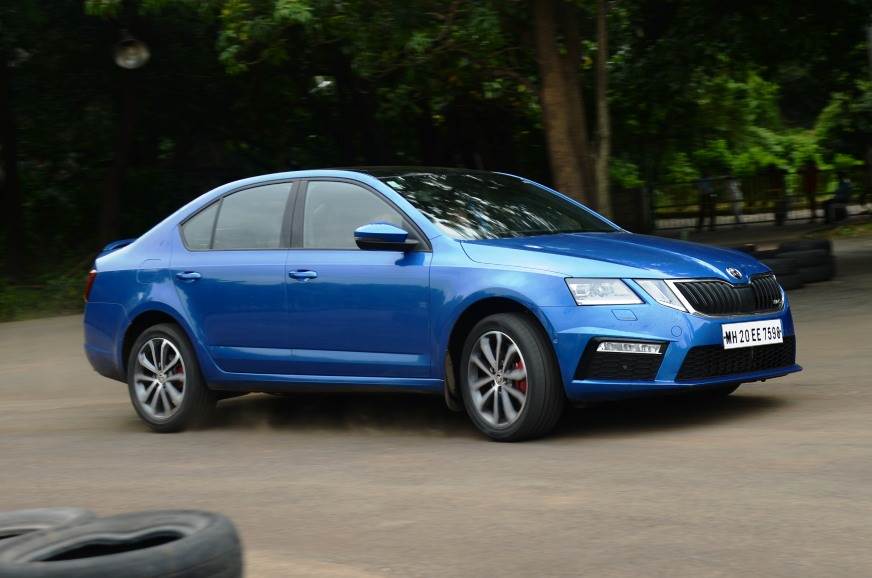 What is it?
It's the Octavia RS, a name not unfamiliar to the Indian market as Skoda has sold a version of it here with every generation of the Octavia (including the second generation that was called the Laura). It's the more fun, more focused version of an already fun car, and this one has been a long time coming. In fact, the Octavia has just been through a mid-life update. But the best news is that this is finally the 'proper' Euro-spec RS; well, apart from a slightly raised suspension and smaller wheels. The first 'Indian' RS had a detuned engine and the second one used the same engine as the standard car.
This new car gets it's own unique 2.0-litre TSI turbo-petrol engine with the same 230hp and 350Nm as Europe, and though the suspension is raised for India, it's 15mm lower than our standard Octavia and, as ever, it's stiffened and reworked. Also returning is a more aggressive body kit including a rear spoiler and twin exhausts, and a new 'Anthracite Hawk' alloy wheel design; just wish they'd gone up to 18 inches rather than the 17-inch spec they have settled for. On the inside, the cabin is now all black but gets the same generous equipment list as the top-spec Octavia TSI. What's new is the flat-bottom RS steering wheel with paddles and a pair of super supportive leather and Alcantara sports seats, contrast-stitched in red.
What's it like to drive?
We only got to sample the car very briefly around a tiny course designed for go-karts and drift cars, so we really didn't get a full impression and you'll have to wait until we drive it on the road for a proper verdict.
First impressions? It's certainly got a lot of poke. Perspective is important here, of course – this is a mainstream car with 230hp. The closest to this we had until now was the Volkswagen GTI, which has 190hp. And to cross the 200hp mark, before this, you'd need a luxury badge and a price tag well north of Rs 30 lakh. That power goes to the front wheels through a six-speed DSG dual-clutch automatic, but there's a limited-slip differential to help keep things in control. There's also variable-ratio steering, but we didn't really get a chance to feel it in action on this limited drive. Another thing that we'd like to test properly are the larger-diameter disc brakes, which should help haul the RS to a halt a bit quicker.
Getting off the line is surprisingly fuss-free given that 350Nm is being shoved through only the front wheels. Sure, you could get a bit of wheel-spin, especially with the ESC off, but there's very little torque steer, and it feels quite civilised. Similarly civilised is the sound. This isn't one of those super-shouty motors, but then it does make a nice raspy sound near the redline, and you sometimes get a bit of a 'pop' with your gearshifts; overall it sounds a lot nicer from the outside than in.
The gearbox must be commended once more for it's ability to adapt to the unpredictability of performance driving. Left in Sport mode, it will rev up to about 6,000rpm, which is the indicated redline. But use the paddles or the lever to shift manually, and it will go one better, revving up to almost 7,000rpm, and remaining very obedient to your commands.
As for handling, we really didn't get a good indication, because the tyres on our test cars were a bit knackered and the track was quite wet from a downpour earlier. Our impressions were that turn-in felt quick and body control felt good on the lowered, stiffened suspension. It did feel a bit skittish and overly fidgety when we attempted to corner hard, but we'll put that down to the conditions rather than the car.
Should I buy one?
As we said before, we can't give you a proper verdict until we've driven it on the road, but there are a few key takeaways from our brief encounter with the new Skoda Octavia RS. For one, it's so great to finally have a 'proper' RS with the correct engine and power output – it no longer feels like a half-measure, like its  predecessors sometimes did. Secondly, some might find the price a little high for a Skoda Octavia, but then you have to realise that a fully loaded standard car already costs well north of Rs 20 lakh. And to access the kind of performance this car gets you would otherwise require quite a bit more money. Our brief stint at the wheel revealed a predictable but very satisfying driving experience, and we feel it will deliver even more of the same out on the road.
The previous RS models have attained a sort of cult status in India amongst performance enthusiasts, and they managed to do that without even having the proper engine. Which is why we have no doubt this new Octavia RS will follow suit. Sure, the price has gone up since the days of old, so it's not as objectively 'affordable' as it once was, but then the buyers have advanced too. Frankly, Skoda should have brought it in a lot sooner.
["Source-autocarindia"]