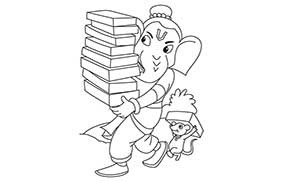 A blunder created by Darbhanga's Lalit Narayan Mithila University (LNMU) sent a student in shock, after he spotted Lord Ganesha's photo and signature in his admit card instead of his own. Krishna Kumar Roy, a first-year BCom (Hons) student of JN College, Nehera was issued the card in order to appear for a commerce exam.
As per HT report, Roy had to run from pillar to post after discovering the goof up in his admit card. The mistake was corrected and he was allowed to write the university examinations, which began from October 4.
"I had to submit relevant papers and make several rounds of my college for the past one month because of my faulty admit card," Roy said.
"Jab mere photo ke jagah bhagwan ka photo aa raha hai aur signature bhi unhi ka ho raha hai to university to bhagwan ke bharose chal raha hai (If instead of my photo, it's that of a god and the signature is also his, then the university seems to be running at the mercy of the gods)," he added.
But the university refused to take any responsibility of the flaw.
LNMU registrar Mustafa Kamal Ansari told the Hindustan Times, "The mistake was not at our end but that of the cyber cafe where the student had gone to submit his examination form online. At our university, all examination forms have to be submitted online."
"In any case, the said admit card was not valid till the same was verified and countersigned by the college principal. We have instructed college principals to verify and countersign all admit cards downloaded from our website before any candidate is allowed to appear in exams," he added.
["Source-timesofindia"]