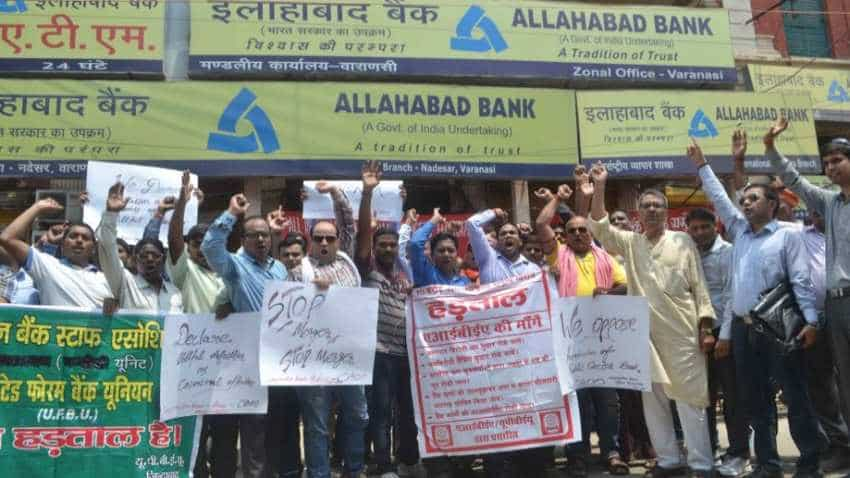 The two-day strike across the country on September 26 and 27 to protest against the government's decision of public sector banks' merger has been called off, after a delegation of four officers' organisations met the finance secretary on Monday, said a joint statement of the bank officers' union, including All India Bank Officers' Confederation (AIBOC), All India Bank Officers' Association (AIBOA), Indian National Bank Officers' Congress (INBOC) and National Organisation of Bank Officers (NOBO).
According to the joint statement, "The secretary, finance was positive in formation of a committee consisting of all concerned to address the issues arising out of the proposed merger of 10 banks including preserving the identity of all the banks. An appeal was made to us to revisit our strike call in view of the discussions."
The four officers' unions met finance secretary Rajeev Kumar on Monday, to discuss the issues related to merger of PSUs, issues related to wage revision, the full mandate from all five banks, the introduction of full five-day week and reduction of cash transaction hours.
Among other issues reportedly discussed in the meeting included incorporation of Sect 17(A) of PC Act 2018 as a part of service condition and matters related to retired employees besides scrapping party products. After this meeting, the 48-hour strike from the midnight of September 25, 2019, to September 27, 2019, was deferred.
Notably, about four lakh bank employees were to go on the two-day strike across the country, affecting about Rs 48,000 crore worth of transactions in a day during the strike. AIBOC's state unit secretary R Sekaran earlier told new agency ANI that Central government did not consult with the bank employees and the people before taking the decision of merger.
Earlier, the government announced merger of 10 public sector banks into four. Under the PSU bank merger plan, Oriental Bank of Commerce and United Bank merger will be merged with Punjab National Bank (PNB), while Syndicate Bank and Canara Bank will be merged together.  Andhra Bank and Corporation Bank will be merged with Union Bank of India.
Allahabad Bank will be merged with Indian Bank, creating the seventh largest public sector bank with ₹8.08 lakh crore business. The government last year had merged Dena Bank and Vijaya Bank with Bank of Baroda. After the mergers, there will be 12 public sector banks in the country.
["source=zeebiz"]