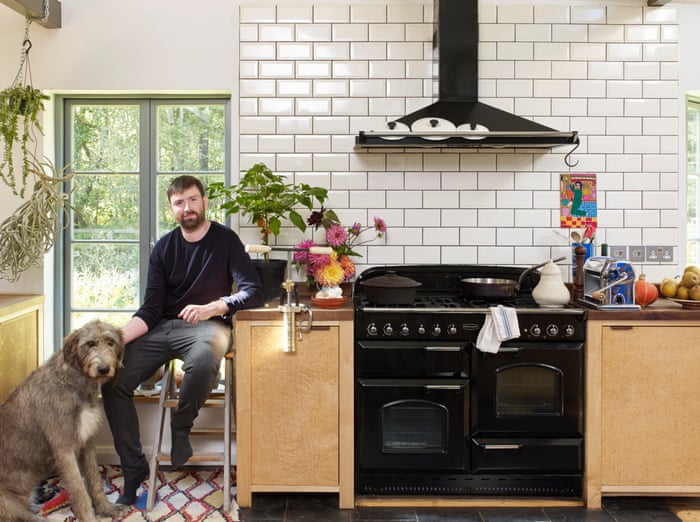 Stevie Parle in his kitchen in Kent, with Molly. Photograph: Suki Dhanda for the Guardian
About two years ago we left east London for Kent. We wanted something interesting and fun, and more space for our kids. And we found this house – it's quite unusual. Set in a acre of land inside a nature reserve, it is low-impact and environmentally friendly. Parts of it are very old, as it used to be the park ranger's home. We have loads of solar panels, and bring water up from the ground, so the house is off-grid. And the inside is thoroughly connected to the outside, with a door on to the outside from every room, pretty much. It's really nice to be in the woods.
There is a large open-plan space, which comprises the kitchen, dining and living room. Large black stone tiles on the floor, with a colourful rug we bought at a market in Morocco, and very high ceilings with wooden beams painted grey. The walls are mostly white throughout the house, although we do like splashes of bright colour – all the doors are yellow, and one of the rooms off the kitchen is bright, bright blue. That's where our two dogs sleep – a lurcher called Otto, and this Irish wolfhound, Molly. She's so sweet and gentle. And big … I'm extremely tall, so it's nice to have a dog in scale …
I don't have many gadgets – I'm not even sure I have a blender. We have a woodburning stove and a gas range. I like simple things: pestle and mortars and pasta machines. I've just opened a pasta restaurant, and I've been doing a lot of the development at home. So I have two pasta machines right now – a simple, straightforward one to the right of the stove, and this extruder next to me. With the latter, instead of rolling and folding, you make the pasta with semolina, turning the handle and pushing it through a bronze die. It's how you make spaghetti or linguine. I've been combining British grains with the traditional Italian semolina, for extra flavour. I like a pasta that is tasty, without being worthy – something with a bit more to it. It's been a fun process. I love the experimentation, especially if I can do it at home. The downside is that there's no one there to do the washing up.
My mother is a doctor, but she does a lot of pottery. That white earthenware onion and garlic jar is one she made. She also made a fermenting crock I use a lot – I do all sorts in there. I think everyone should do; it's so tasty and healthy and cheap.
We grow our own veg – we're just finishing all the tomatoes, and I have cabbage and broccoli coming, but I put them in a bit late, so we may not be successful. We also have six apple trees. And we have pigs and all sorts of rare-breed chickens. I really like a medley of coloured eggs. They roam all around, have a really great diet of bugs and all sorts
Netherton Foundry makes excellent saucepans. They go a little bit rusty, but I like all of that. In fact, I think it's quite a good way to get iron in your diet. The black one with the lid is brilliant for slow cooking. Just chuck in a pork shoulder with some vinegar and herbs, stick it in the oven and ignore it for a day. I have quite a few Le Creuset pans too that I inherited. Incredible quality. I love that you buy them in the knowledge that your kids will have them.
It's really nice to have a chilli plant. If you pick the chillies regularly and keep the plant indoors, it'll live for a few years. I'm obsessed with chilli. And I love growing things. I think it's really important for cooks: you are in the season, it gives you an understanding of the amount of work that goes into food, and it makes you less inclined to waste anything.
I grew those dahlias too. And that air plant to my right has been going for a while. I just dunk it in water every couple of weeks. It seems super happy.
["Source-theguardian"]