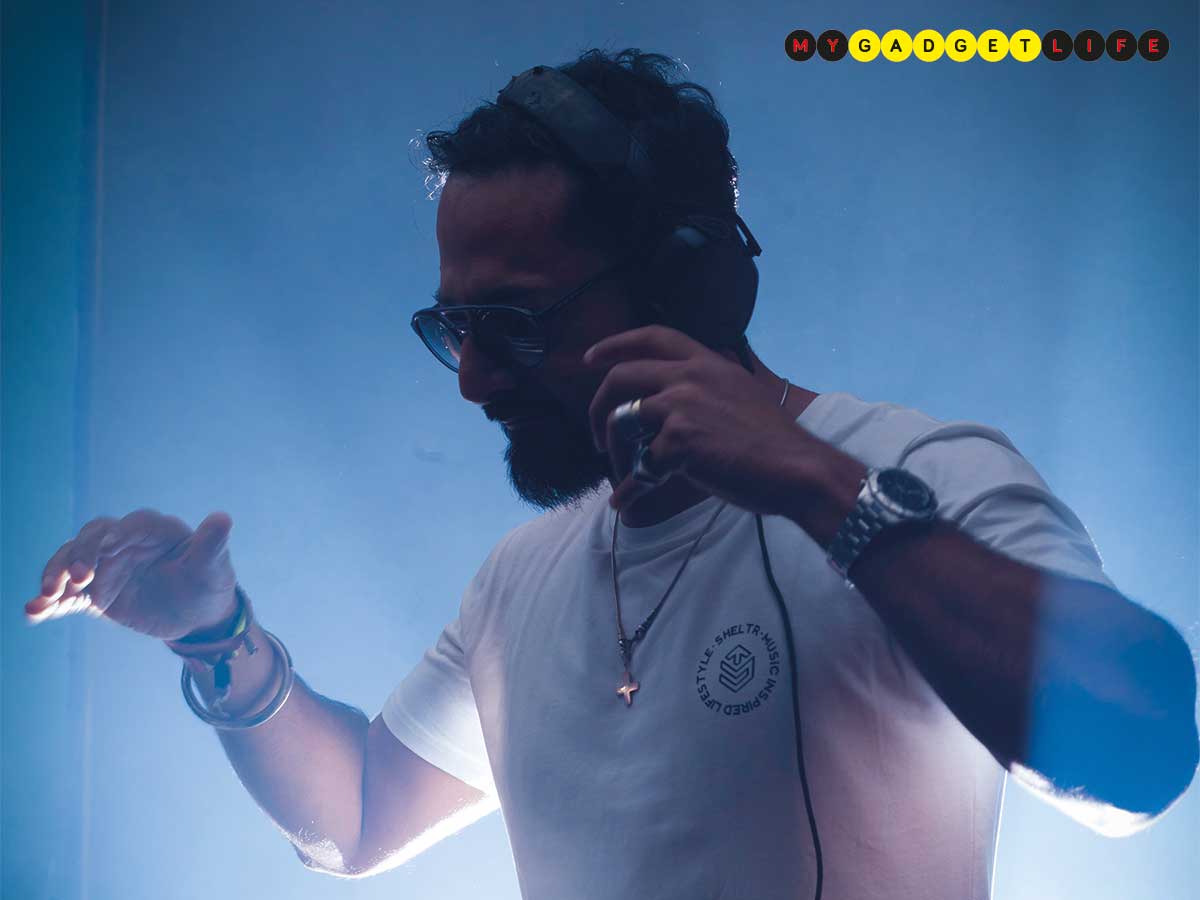 His MTV roots take him back so far that he has no qualms calling himself DJ Dinosaur.
That aside, here's a sneak peek into what he's listening to and what brought him to SulaFest last weekend…
The number of times I've heard that people have grown up watching me… phew! I'm just gonna call myself DJ Dinosaur. I think I will get a t-shirt made that says DJ Dinosaur.
I'm very active on Social Media… in fact, I handle all my social media profiles myself. I think it's silly for people to handle social media handles for them. It's supposed to be social, hence personal…
I never break hearts… never, ever! Do an internet search, "How many hearts has Nikhil broken", and the Internet will crash.
The best piece of equipment I possess are hearing protectors. I've had my ears mapped with silicone moulds and i've put filters in them. Because I work in so many loud places, it's crucial for me to protect my hearing. I would love to listen to music when I'm very, very old.
If you're a DJ… get yourself a good pair of headphones. I use one by this Danish company called AIAIAI. I like them coz it's good sound, all black and no branding on them.
Another advice I'd give to DJs would be… invest in your music, invest in your craft, practice a lot, and of course, invest in a good pair of headphones.
Music is subjective… it's not about keeping up with the trends, it's about being true to yourself. As a DJ, you should be playing music that you believe in and that moves you. As a producer, you shouldn't make music just because you think it's going to be a hit. You should make music because that's the kind of music you want to make. I have so much respect for an artist called B.L.O.T. in India. He makes music that he believes in, regardless of what's happening in the marketplace. That's the same reason I have so much respect for Pearl. She will never, ever play a song that doesn't move her emotionally.
People connect with me because of MTV and I blame them for loving me so much. I don't know whether I leave a mark or not, but it's been an amazing journey with MTV so far. I keep hearing comments like they've watched MTV Select with their moms together. It's really funny and touching to hear those stories.
Mama Mia is my favourite music based film. I cried from beginning to end. I kid you not. I was on a flight and I had a big smile on my face and I wept throughout the film like a sissy… I have no shame in saying that but it's a beautiful movie. Meryl Streep is a goddess as an actress, and Abba's music is timeless.
Finding your niche in such a crowded marketplace is tough! It's not a simple answer to that but the only one – practice, practice, practice. There are no shortcuts. And good luck… it's a very hard profession to survive in and to make it in.
This was the first time I played at SulaFest. I came to play because I thought this might be fun. Jehan is an old friend. We've worked together a lot since the times he worked at Blue Frog. he called and asked if I'd like to play, and I'm like, why not? I've heard so many good things about SulaFest and we were two weeks away from (VH1) Supersonic, but our amazing team and crew are working on that so I'm not needed 24×7.
The SulaFest looked really nicely laid out. It's in the lap of nature… the stage and people look nice, the fact that we're not surrounded by a city and many buildings… just that! Living in Mumbai, you feel the city is sometimes closing you down and trapping you. Just getting out in the outdoors and open spaces has been great.
The artists on the top of my list are… Billie Eilish… another very interesting new artist that I'm currently tracking and listening to is a techno DJ called I_O. All time favourites include John Digweed and Fatboy Slim.
The toughest question you can ask me is what's on my current playlist. That's a really hard one… (after thinking long and hard) on my playlist right now is an artist called Jason Mraz. He's a singer/songwriter, writes beautiful music and it's not the kind of music you'd normally associate with someone like me.
I never… take over the console at a friend's party if another DJ is playing…
["source=stuff"]