Xbox One X.
That's the official name Microsoft has given to Project Scorpio, the upcoming 4K-ready cousin to the Xbox One. It will, in Microsoft's words, be "the most powerful console ever."
That was Microsoft's main message during the console's reveal at E3 2017, repeatedly emphasizing the Xbox One X's advantages over the competing PlayStation 4 Pro (without ever mentioning its rival console by name, of course). And it sure is a powerful console. Read on for details on Xbox One X pricing, availability, specs, noteworthy features, and compatible games.
Editor's note: This article is constantly updated as new info comes out. It was last updated September 20, 2017 with information about standard edition Xbox One X preorders and "enhanced" games.
Price, release date, and availability
During its E3 press conference, Microsoft touted a "worldwide" release on November 7 for the Xbox One X, but the company has so far listed prices in only five currencies: $499 USD, £449 GBP, €499 EUR, $599 CAD, and $649 AUD.
At its Gamescom press conference in August, Microsoft announced the start of pre-orders of a special "Project Scorpio" Edition of the console. US retailers include Amazon, Best Buy, GameStop, the Microsoft store, Target, and Walmart. Those who pre-order will receive a limited edition Project Scorpio-branded console (akin to the original Xbox One's Day One console) that has a Project Scorpio label on the console and controller, as well as a custom dotted paint treatment on the console.
Pre-orders for the standard edition Xbox One X opened on September 20 at Amazon, GameStop, Best Buy, and the Microsoft Store. It also cost $500 but lacks the exclusive Project Scorpio branding.
Xbox One X specs
As revealed in April 2017, the Xbox One X's raw tech specs make it a monster. Here's how those specs compare to the competition's: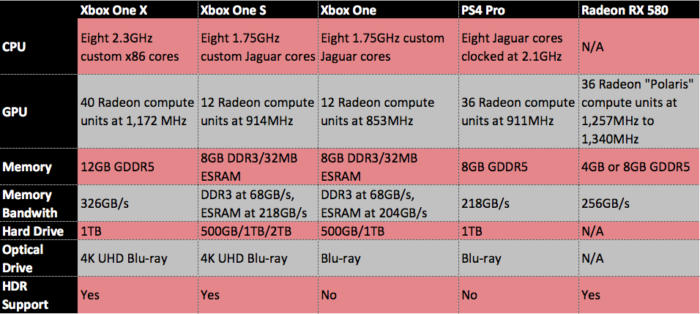 The new console sports significant upgrades over the original Xbox One, with AMD's new APU leading the charge. While the 2013 Xbox One had just 12 Radeon graphics cores clocked at modest 853MHz, for instance, the Xbox One X crams in 40 Radeon cores clocked at a hefty 1,172MHz. Note that AMD's RX 580 contains 36 cores that run between 1,257MHz and 1,340MHz. Essentially, Microsoft's crammed an entire $200 graphics card into this console.
Put another way, this console features a whopping 6 teraflops of power, just a bit under the 6.17 tflops you'd get from a Radeon RX 580—but crammed into a much smaller space. It's a good jump above the $400 PlayStation 4 Pro (4.2 tflops), which is its nearest console rival, and it's miles ahead of the standard Xbox One S (1.4 tflops) and the standard PlayStation 4 (1.84 tflops). It even outpaces AMD's Radeon RX 570 (5.1 tflops) and RX 560 GPUs (2.6 tflops).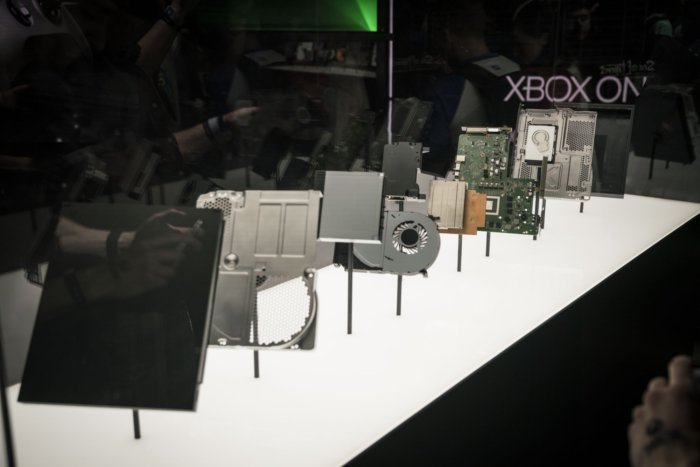 ["Source-timesofindia"]