Former All Black and NZ Rugby president Sir John Graham has died.
Sir John died peacefully on Wednesday night after a long illness with cancer. He was 82.
Born in Stratford, Taranaki, Sir John played 22 tests for the All Blacks, including three as captain, between 1958 and 1964, and was president of the New Zealand Rugby Union from 2005 to 2007.
He also managed the New Zealand cricket team from 1997 to 1999.
View image on Twitter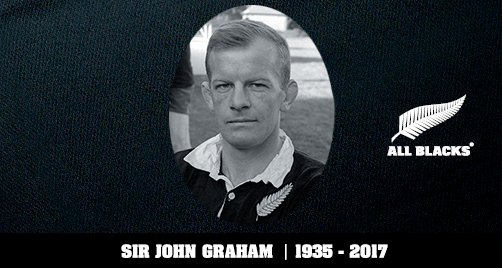 Sir John attended New Plymouth Boys' High School and went on to be headmaster of Auckland Grammar School for 20 years, from 1973 to 1993 and Chancellor of the University of Auckland from 1999 to 2004.
In 2011 he was appointed a Knight Companion of the New Zealand Order of Merit for services to education and sports.
View image on Twitter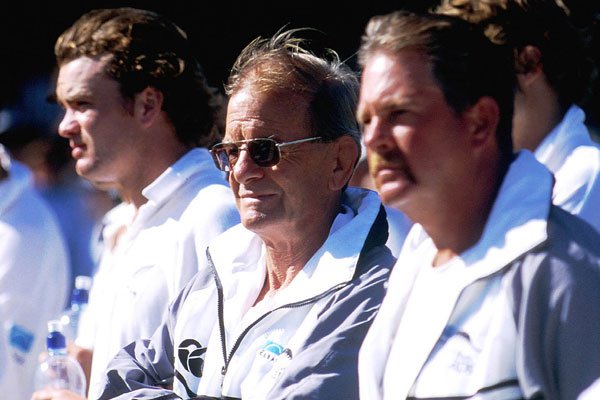 The flag at Auckland Grammar was at half-mast on Thursday, respecting Sir John's influence on the school and for a life well-lived.
"Sir John's passion for quality education saw decades of his life committed to the education sector. His role as the ninth headmaster of Auckland Grammar School from January 1973 to May 1993, was defining," Auckland Grammar School said in a statement.
"We are grateful for Sir John's connection and continued contributions to Auckland Grammar School until the day of his passing."
The school's 1993 chronicle summed up the man, declaring: "For many, John Graham was Auckland Grammar – in the hall, on the touchline, in the auditorium, around the corridors. His influence was felt far beyond the walls of the school itself. He was a tenacious defender of educational standards in New Zealand, the scourge of woolly thinkers and fashionable theorists."
Paul Veric, headmaster of New Plymouth Boys High School (NPBHS), told of his "great sadness" at the death of a former student who had gone on to be an inspirational figure.
"As a former student and head boy of NPBHS, Sir John has been a tremendous role model for our students and New Zealanders.
"He was also awarded the highest honour at our school of Alumni Meriti (Distinguished Old Boy).
"Sir John's contribution to sport and education are simply incredible, not to mention inspirational.
"If anyone epitomizes our vision of 'be the example', it is Sir John.
"The thoughts of the extended New Plymouth Boys' High School community are passed on to the Graham family at this time."
New Zealand Rugby chief executive Steve Tew said the passing of the man know affectionately as "DJ" would be a loss to the game and the country.
"DJ was a great all round New Zealander. From his exploits on the rugby field to those in the classroom he was simply exceptional, and we extend our deepest sympathies to his wife Sheila and the rest of his family," Tew said.
"His commitment to all aspects of the game and New Zealand society is legendary. He was a player, coach and administrator of rugby and also managed the New Zealand cricket team. Equal to his sporting achievements was his academic contribution driven by a lifelong commitment to the transformative power of education.
"He was an early member of the Rugby Foundation which looks after severely injured players. His ongoing dedication to those players speaks volumes of the kind of man he was.
"DJ was a person I feel extremely privileged to have met. He was a leader in every endeavour he turned to, and his long list of honours and achievements are testaments to his exceptional character."
Graham was a man of high standards and morals.
After touring South Africa with the All Blacks in 1960, he said that "if we had any conscience and feeling for humanity, we should not have been touring South Africa". Along with Wilson Whineray, whom he had replaced as All Blacks captain, he decided against attending matches during the controversial 1981 Springbok tour of New Zealand.
Graham was also a man proud of traditions.
As commercialism enveloped rugby, he was critical of advertising encroaching on the All Blacks jersey.
"I may be a dinosaur in this respect, but I don't think anything should go on the All Black jersey other than the silver fern," he said.
Madly keen on rugby and sport in general, he also sought perspective with New Zealand's infatuation with rugby.
"I don't think rugby union is anywhere near as important in this country as solving the problems of poverty and unemployment. We're happy, aren't we, when our rugby team goes well, yet we're prepared to let some aspects of our nation go almost ignored," he said.
He was a ferocious competitor on the rugby field.
Noted rugby writer Sir TP McLean offered this description of the play of loose forward Graham who made up for his lack of size in the All Blacks jersey: "Height didn't matter to a human cannonball who could use his eyes and his hands and his head and as for weight, his terminal velocity was at least that of a 15-stone man."
Graham proved a lifelong mentor for Sir Graham Henry, both in sport and education.
He lured Henry north from Christchurch to teach at Auckland Grammar where Henry coached both the First XI cricket team and First XV rugby side.
"I learned a lot from DJ. I found him to be a quality leader with an innate ability to develop other people. During DJ's time as headmaster at Auckland Grammar, numerous teachers went on to be secondary school principals and leaders in education," Henry, who became headmaster at Kelston Boys' High School, said.
Henry regularly used Graham as a sounding board as he progressed his own rugby career in coaching that was highlighted by overseeing the All Blacks' 2011 Rugby World Cup success in New Zealand.
["Source-stuff."]