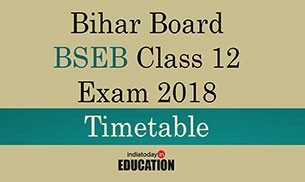 The Bihar Secondary Education Board (BSEB) has released the Class 12 Exam 2018 timetable on the official website, the link for which is biharboard.ac.in
The Bihar Board BSEB will conduct the class 12 exam from February 6 to February 16, 2018.
Meanwhile, the Bihar board has also released the practical examination schedule for intermediate students on its official website.
Pre-board exams:
Further, the pre-board exams will be held between November 14 and 21, said BSEB chairperson Anand Kishor.
Detailed timetable for Class 12 board exam 2018:
Exam timings:
The Bihar Board Class 12 exam 2017 will be held in two sittings.
First sitting:  9:45 am to 1 pm
Second sitting: 1:45 pm to 5pm.
Note: A "Cool off" time of additional 15 minutes has been given to the examinee. The student has to use the "Cool off' time for reading and analysing the questions and to plan the answers accordingly. The candidate is not supposed to write answer of any question during the "Cool off' time.
Furthermore, Anand Kishor said, "To keep a check on unfair marking in practical exams, we have decided to end the system of the home centre for practical examinations."
"From 2018 onwards, the practical exams will be held in other centres which will be allotted by the district magistrate. Also, the external examiners will be the teachers from the respective centres while the internal examiners will be the specific subject teachers from the student's school," Kishor added.
Meanwhile, in Bihar board class 12 exam 2017, out of 12,40,168 students who appeared exam, 7,94,622 students failed the examination.
About BSEB:
The Bihar School Examination Board is established for holding and conducting an examination at the end of the Secondary School stage, for prescribing course of studies for such examination and for carrying out such other objects and duties as may be considered necessary for the purpose as stated in the Act, Rules and Regulations of the Board.
Every year, the board conducts following exams:
Annual secondary school examination in the month of February/March
Supplementary school examination in the month of August/September
Departmental examinations (not on yearly basis) such as diploma in physical education, certificate in physical education and teachers training examination on such terms and condition as laid down by the state government.
["Source-timesofindia"]