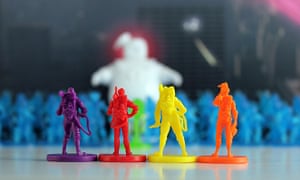 Ghostbusters: The Board Game allows you to play as paranormal investigators Dr Peter Venkman, Dr Ray Stantz, Dr Egon Spengler or Winston Zeddemore.
Nothing says "festive" quite like gathering round a board game, still the ideal gift to bring the family together for Christmas in loved ones' company through the mediums of escapism and nonsensical arguments. And 2015 has been another superb year for interesting, quality tabletop gaming.
One of the best for stoking a little seasonal togetherness is the new Ghostbustersgame (right), based on the original films. Here you'll find a wealth of plastic ghouls and heroes, who are the stars of this cooperative, scenario-based game. That means an experience you tackle as a group, undertaking various chapters of a story in separate sessions around an hour in length. Ghostbusters: The Board Game deftly captures the theme and tone of its source material, and excels in keeping all players involved. Assuming the roles of different characters with various strengths, team-mates will have to work together to prosper, in an experience that stands as a highlight of recent cooperative releases, and is lively and light-hearted.