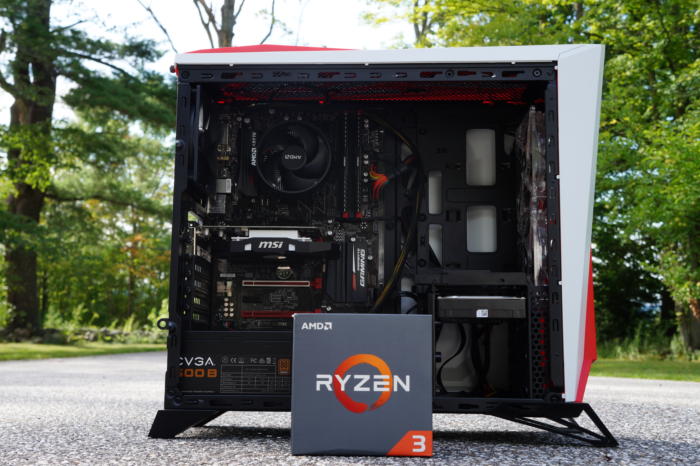 AMD's Ryzen processors sure are shaking up the status quo of computing, and now that disruption is extending to cheap gaming PCs.
The high-end Ryzen 7 lineup slashed the price of 8-core CPUs from $1,000 to as low as $330. Ryzen 5 overtook Intel's Core i5 chips as the best CPU for mainstream buyers, enabling truly versatile computer builds and 8-thread gaming PCs for previously unheard-of prices. Now the affordable Ryzen 3 series has finally arrived, and while its value proposition is a bit more mixed (as you can see in the discussion in the video below), it also unlocks new capabilities, offering competitive quad-core chips in a segment where Intel's dual-core Core i3 processors traditionally ruled the roost.
Time to see what Ryzen 3 is capable of.
Any processor can look good paired with potent hardware. To paint a more realistic performance picture, we built a quad-core Ryzen 3 gaming PC on an affordable $550 budget. This is the kind of budget desktop that a newfound or cash-strapped PC gamer would actually create. And beyond the mere act of testing a practical Ryzen 3 build, this exercise served as an excellent reminder of the flexibility of AMD's platform, this year's wild PC pricing fluctuations, and the minor headaches suffered when assembling a DIY system on a tight budget.
[Source"indianexpress"]