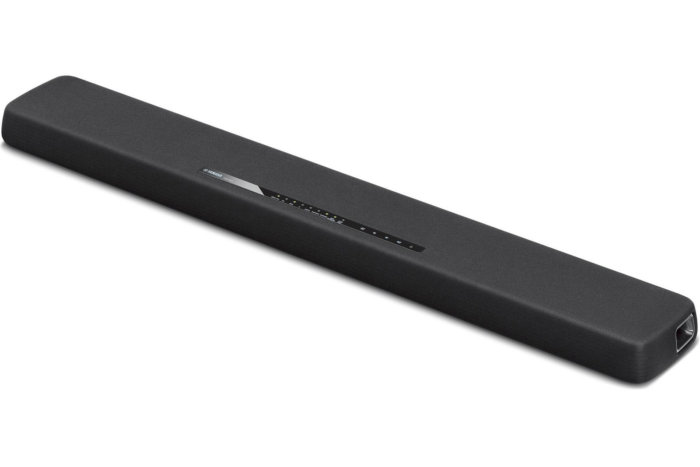 Other audio inputs include a Toslink optical digital and 3.5mm analog stereo input. The former allows you to feed audio from your TV to the soundbar if your TV doesn't support ARC. You can use the latter to feed audio from gaming consoles or use the analog output from other source devices.
If you're connecting a 4K UHD source directly to the Yamaha YAS-107, as opposed to your 4K UHD TV, you'll find this bit of information significant. Yamaha has improved the YAS-107's color support. For those of you who like to geek out on the details, the YAS supports 4:4:4 as opposed to the 4:2:0 the YAS-106 supported. This can be an important detail if you'll be serving up 4K UHD content with expanded color gamut. You can learn more about the differences between 4:4:4 and 4:2:0 chroma subsampling from this video overview.
DTS Virtual:X
Yamaha informed me that the YAS-107 will be among the first soundbars to add DTS Virtual:X. DTS Virtual:X is a technology that uses digital signal processing and psychoacoustic techniques to simulate an object-oriented audio experience in which sounds have height characteristics, even though there are no height or rear surround speakers available. DTS says DTS Virtual:X will up-mix any source signal from two-channel stereo to 7.1.4 channels. You can read more about object-oriented soundtracks in this story.
The firmware update should be available by the time you read this review. Current owners of the YAS-107 can download the DTS Virtual:X firmware update from here for free. Unfortunately, this firmware update was not available for me to test during the review window.
Control the soundbar how you want.
You can control Yamaha's YAS-107 in one of three ways: with the included remote, with your TV's remote, or via the Yamaha's Home Theater Controller app on your smartphone or tablet.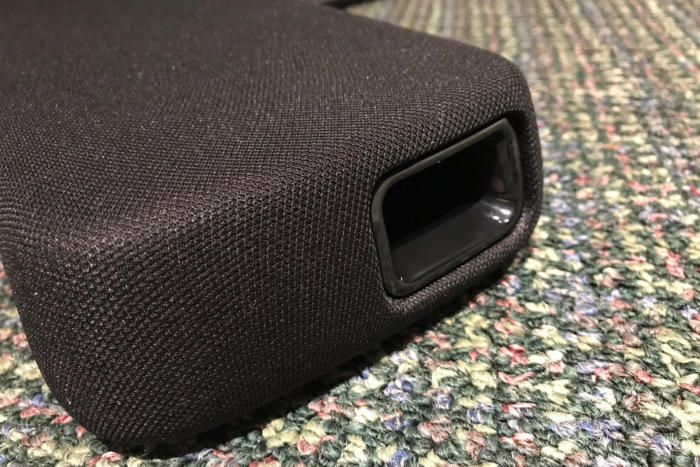 The included remote is excellent. Buttons and their functional text and icons are large, making it a good remote for older consumers. It's not backlit, but the input and power buttons are a different color making them easy to identify. The remote is close to full-sized, unlike some of the other soundbars at this price point that include horrible, credit-card sized remotes with poorly laid out buttons.
If your TV supports HDMI CEC and you connect the soundbar to the TV via HDMI, you can use your TV's remote to control for basic controls, such as power and volume.
Finally, Yamaha's Home Theater Controller app connects over Bluetooth and provides you with full control over the YAS-107's features, such as input selection, surround mode, and sound adjustments with real-time feedback. The app won't allow you to include YAS-107 in a multi-room audio system, however; you'll need to step up to Yamaha soundbars that support MusicCastfor that.
The Home Theater Controller app is cleanly designed and easy to use. Most soundbars at this budget price-point forego any app control, which may well be a deciding factor for some consumers. The app was my favorite control method of the three, because of the real-time feedback feature. Otherwise, you cannot readily tell how the Yamaha is configured.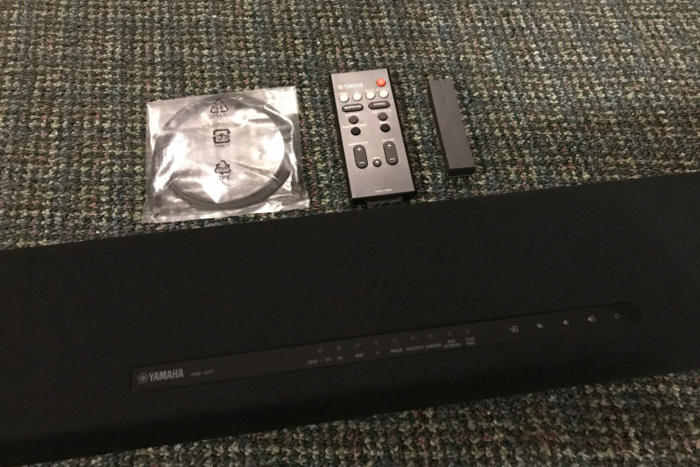 [Source"CNBC"]