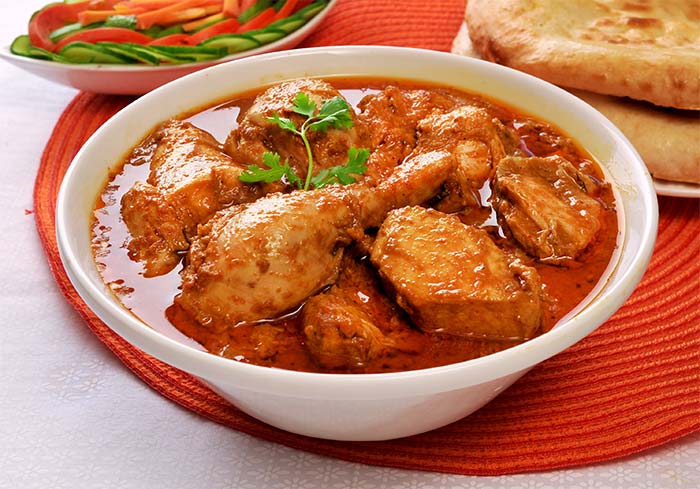 During one of our vacation trips, Sikander had this awesome seafood curry that he would not stop talking about until long. Me being a vegetarian could of course not taste it. But that didn't stop me from going to the restaurant again the next day and ask the chef if he could just share the spices he used for the curry. And well, to my surprise, he did entertain me. He didn't share the whole recipe but told enough for me to figure out.
Back home, I made the curry with chicken when a few friends were visiting. I made a small batch of the same curry with potatoes for me.
The best part about the recipe is all the whole spices render the dish a tantalising aroma and a beautiful look. Also while the ingredient list is long, once you have all of them in front of you, the actual cooking is really easy.
Chicken curry
Prep Time: 20 mins| Cooking time: 40 mins (+ 2 hours for marination) | Serves: 6
Ingredients
3 tbsp oil
1 tbsp green cardamom pods, lightly crushed
5-6 dried Kashmiri chillies
3 (~2 inch long) cinnamon sticks
1 tsp whole cloves
1 tbsp mace
1 tsp fennel seeds
3 medium onions, finely sliced
10 garlic cloves, peeled and grated
6 cms piece of ginger, peeled and grated
1 tbsp turmeric powder
1 tbsp ground cumin powder
1 tbsp coriander powder
1 tsp red chilli powder
1 tbsp sugar
½ tbsp tamarind paste soaked in ½ cup boiling water
1 cup vegetable stock (or chicken stock)
1/3 cup water
10-15 curry leaves
Salt to taste
Juice of 1 lime
Fresh coriander for garnish
½ kg chicken
For marinade: juice of 1 lime, 2 tsp kashmiri chilli powder, 2 tbsp fresh ginger-garlic paste
Method
• Clean and cut the chicken pieces and make slits on the outside
• Marinate with kashmiri chilli powder, ginger-garlic paste and lime juice
• Keep aside for 2 hours
• Mix together ginger, garlic and turmeric with 1 tbsp water to a paste
• Heat oil in a large stock pot over medium heat and add curry leaves (keep aside 5-6 curry leaves), cardamom, dried chilli, cinnamon, cloves, mace and fennel seeds.
• Cook for 2-3 mins, stirring occasionally
• Add ginger-garlic-turmeric paste, stir
• Add onions to the stock pot and cook for 5-7 mins, stirring occasionally.
• Add salt, cumin, coriander and chilli powder and cook for 1-2 mins (Be careful in adding salt as the stock itself will have some salt in it)
• Add sugar and cook for 3-4 mins, stirring occasionally.
• Pour in strained tamarind water and stock and bring to boil
• Simmer for 20 mins
• Pan fry chicken in 1 tbsp butter and add to gravy
• Finish curry with lime juice, remaining curry leaves and fresh coriander leaves
• Serve with rice or hot paranthas
Note: Instead of chicken, you can add potatoes or fish.
["source-indianexpress"]