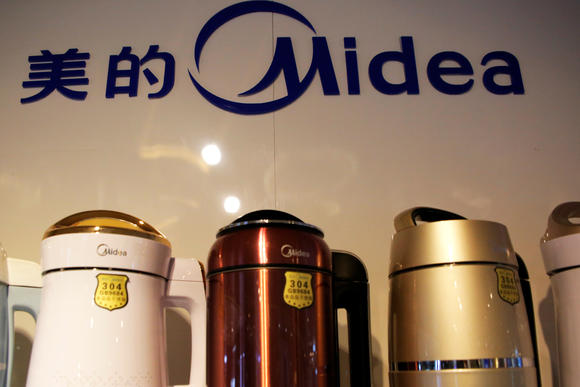 TOKYO — The top executive of Midea Group has joined the management team of Toshiba Lifestyle Products & Services, a white goods subsidiary that the Chinese consumer electronics maker acquired last year.
By making the unusual move, Midea Chairman and President Paul Fang could be signaling that the Chinese group is uneasy about possible collateral damage from Toshiba's nuclear power debacle.
Midea usually adopts a hands-off approach with acquisitions, allowing them a lot of management independence. This is the first time Fang has taken an executive post at a group company.
Fang took the title of part-time chairman at Toshiba Lifestyle on Feb. 8, replacing Andy Gu, a senior Midea executive in charge of the group's overseas operations. Gu, who supervised Midea's purchase of Toshiba's home appliance business, has become a part-time board member.
Toshiba Lifestyle President Toshiro Ishiwatari, who hails from Toshiba, and Vice President Lin Nan, sent in by Midea, will retain their positions.
Midea people now constitute three of the eight members of the Toshiba Lifestyle board.
When Ishiwatari visited Midea's headquarters in Guangdong Province in December, Fang asked him to help come up with effective ideas to "make Toshiba shine again."
There is frequent communication between Midea and Toshiba Lifestyle on both the executive and rank-and-file levels.
The change of ownership has led to higher efficiency at Toshiba Lifestyle. Since it came under the Chinese company's umbrella, decision making has become much speedier and the number of meetings has decreased by about 30%.
When Midea announced the acquisition at the end of last March, Fang said Toshiba Lifestyle would play an important role in Midea's globalization. "We hope," he said, "to grow it into a world-leading maker of home appliances."
Year after acquisition, Fang wants to make Toshiba brand 'shine again'
YUKIHIRO OMOTO, Nikkei staff writer
The two companies are currently focusing on developing new products for summer.
Toshiba Lifestyle in January brought together top executives of major consumer electronics retailers at a Tokyo hotel. The attendees were surprised that Toshiba President Satoshi Tsunakawa made an appearance. Tsunakawa at the time was handling a financial crisis, having just learned of tremendous losses at Toshiba's nuclear power business.
"Since products for consumers offer important points of contact [with customers], we will continue to put great value in the business," Tsunakawa said in his speech.
The pool of red ink spilled by its nuclear business is only the latest in a string of scandals at Toshiba. It was only in May 2015 that the company said it was looking into its poor accounting practices, a scandal it called as damaging as anything it had ever faced.
Even though it has not been linked directly to these problems, Toshiba Lifestyle is still feeling some negative side effects.
"Some of our customers are certainly worried," a Toshiba Lifestyle executive said. "We can usually ease their concerns by explaining [that the company has become part of Midea Group], but our sales are being adversely affected."
There are a couple of positive signs. Toshiba's personal computer business appears to finally be on a path toward profitability. And the company's TV unit one recent month actually did post a profit.
The nuclear fiasco hit as Toshiba's consumer electronics business was showing signs of life.
But consumers are sensitive to brand image, and Toshiba's brand is now tarnished.
Toshiba has adopted a new marketing strategy to get the shine back that includes a spirited TV campaign supported by Midea's financial muscle.
Fang has led Midea through some trouble of its own. His new role at Toshiba Lifestyle may show some angst about the future of the group's Japanese subsidiary.
["Source- nikkei"]