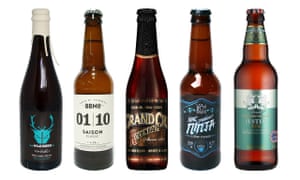 If the very thought of brandy and eggnog gives you a festive headache, take a risk this Christmas and swap the port for a pint of porter. Good beer pairs as well with food as wine does, and if you stick with lighter brews you'll skip the hangover that comes with cascading full-tilt from sparkling wine to whisky. Treacly stouts and porters are traditional, warming winter beers, but think outside that box on Christmas Day. Honey-coloured and caramelised ales match roast meat and veg, while crisp, light lagers work with fish. Start light and work towards dark to keep from overwhelming your palette. Here are some great new beers – and some old favourites – to crack open this Christmas.
Ninkasi, Wild Beer Company
(£8.28, 750ml, beerritz.co.uk, or £10 in Brewdog shops)
Sealed in to its tall bottle with long drizzles of wax, this special-event beer deserves to usurp sparkling wine on the Christmas Day menu. A saison – or farmhouse ale – brewed with wild yeast, apple juice and Champagne yeast, it's peppery and herby on the nose and crisp and bone-dry to drink. Serve very cold in champagne flutes to allow room for its rolling banana and clove aroma to grow.
01|01, Brew By Numbers
(£3, 330ml, brewbynumbers.com)
This Bermondsey brewery keeps things cryptic with its naming system – the first number denotes the style, in this case a saison, the second the recipe. This beer is the first in its range of 15 saisons, and uses juicy Citra hops to balance out and crisp up. If you're not usually a fan of wheat beer, which can sometimes be overwhelmingly fruity, this is a great gateway: it pours a cloudy blonde with citrus on the nose, but opens up in to a complex, grassy dryness that pairs beautifully with fish. Keep an eye out for Brew By Numbers' other recipes – particularly 03, which is brewed with cucumber and juniper – the perfect gin and tonic substitute – and 09, made with hibiscus and chamomile.
Rodenbach Grand Cru, Rodenbach
(£2.99, 330ml, beerhawk.co.uk)
This sour, red ale is a blend of young and oak-aged beer and, I think, one of the best beers in the world – beer writer Michael Jackson once described it as the "Burgundy of Belgium". It tastes overwhelmingly of sour cherries – which is all down to fermentation, not added fruit – and has a tart, funky and winey finish that sharpens the palette as an aperitif or cuts through rich, fatty roasts like pork. Refreshing and moreish.
Mac Spreadsheet Ninja, Weird Beard
(£2.56, 330ml, alesbymail.co.uk)
A bizarre name for a straightforward beer. This crispy pilsner – perfect for fish, turkey or chicken – is featherlight and golden, with just a hint of apple, berry and banana on the nose. It packs a fuller mouthfeel than you'd expect from its crystal-light clarity, with a twinge of grapefruit and a super-light biscuit base from the malt.
Jester IPA, Adnams for Marks & Spencer
(£48, 20 500ml bottles, marksandspencer.com)
If you've ever visited Adnams' seaside brewery in Suffolk, you'll recognise in this beer the characteristic, cereal-malt that hangs in the Southwold air. This quaffable ale showcases the relatively rare British hop Jester, the UK's attempt to take on the zesty hop superstars of the US. And it works: the beer is juicy, but it has the warm spice and caramelised malt you'd expect from an Adnams ale.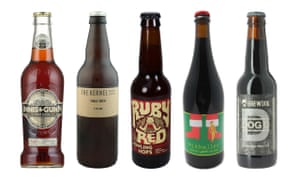 Rum Finish, Innis & Gunn
(£1.43, 330ml, waitrose.com)
A sweet, boozy ruby ale, the caramelised malts of which perfectly complement roast veg and sticky cranberries. The beer, from a Scottish brewery, is aged in rum barrels, which gives it a heady spice and a lingering banana and burnt toffee finish. If you find the rum too sweet, or you're pairing it with a stronger, gamier meat such as goose, try the brewery's Irish Whiskey Finish instead – or as well.
Table Beer, The Kernel
(£3.07, 500ml, beerritz.co.uk)
A big bottle of this juicy stalwart from London's Kernel brewery should comfortably see you through the main course. A sessionable IPA, it's juicy and uncomplicated, with bitter hops rounded out by lychee and zesty grapefruit. Punchy and refreshing, this would pair as well with a toothsome nut roast as it would meat – and, at an extremely polite 3.2% ABV, you can glug away without fear of snoozing through the Queen's speech.
Ruby Red Dinner Ale, Howling Hops
(£2.65, 330ml, alesbymail.co.uk)
All chewy toffee, caramel and spice, this accomplished east London ale picks up all the sweetness of caramelised roast veg and turkey. It's not too sweet – the buttery sugar is cut by dried orange and citrus zest – but it leaves behind a lovely, long, spicy taste of banana and rum.
Santa's Little Helper 2015, Mikkeller
(£10, 12fl oz, branches of Brewdog and Bottledog shops)
This year's incarnation of Danish brewery Mikkeller's seasonal Belgian strong ale is a treacle-like after-dinner treat. A deep, chocolate brown, it glows with the Christmas pudding spices with which it was brewed and the cognac residue from the barrels in which it was aged. It tastes every bit of its 11.6% ABV – of dried fruit, cocoa and alcohol – so it's best left until last, paired with the flaming brandy on Christmas pudding. Alternatively, if you're feeling confident, there's a red wine backdrop here that could work well with robust game or red meat.
Dog D, Brewdog
(£10.50, 330ml, brewdog.com)
A formidable, 16.1% ABV beer to treat like a liqueur. Brewed to celebrate the Scottish brewery's eighth birthday, this barrel-aged imperial stout pours pitch-black and tar-thick, with a rolling, boozy, whisky aroma. One for freezing winter nights, it's oily and lush, with a naga-chilli kick. Perfect with coffee and chocolates – or 40 winks.
[Source:- the gurdian]