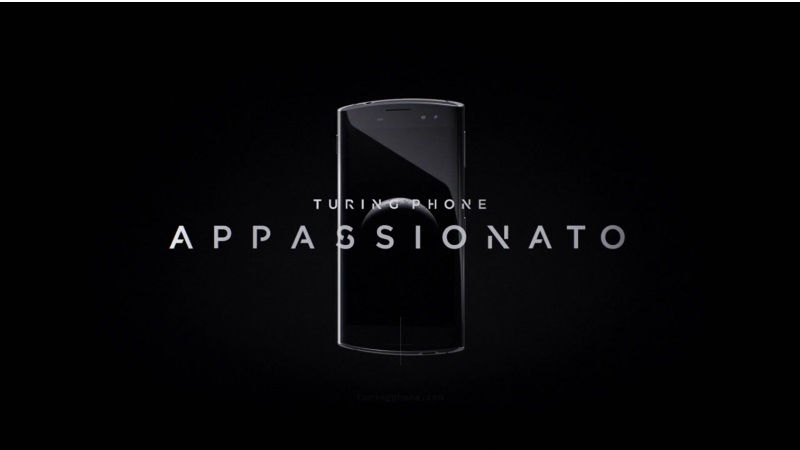 Talking about smartphone manufacturer Turing Robotic Industries, the story of 'The Boy Who Cried Wolf' comes to mind. The company caught everybody's attention when it announced that it has developed a phone that is unhackable, unbreakable, and waterproof but after several release delays, the final product turned out to be a running a different operating system than was promised earlier. Now the company has announced that it has partnered TCL Communication in order to produce its Appassionato smartphone.
It seems like the partnership with TCL has had an effect on Turing as the specifications announced for the device are believable to say the least. The Appassionato smartphone will run Android 7.1.1 Nougat out-of-the-box and will be powered by a Qualcomm Snapdragon MSM8996SG-AC SoC, which appears to be a version of the Snapdragon 821.
The Turing Phone Appassionato will feature "amplified intelligence" with a uniquely dedicated enhanced-concierge service, the company said in its release. Turing says that "Amplified Intelligence is the process by which artificial intelligence is used to supplement human intelligence in making decisions and choices, and will be the focus of TRI's intelligence amplification development going forward."
The phone comes with company's "enhanced-concierge" service called Sir Alan that works in conjunction with the AI engine to provide users with suggestions and recommendations on lifestyle and business.
"TRI's Appassionato leapfrogged passive voice command search tools of existing smartphones. Inspired by the work of American engineer and inventor Douglas C. Engelbart, TRI will advance amplified intelligence by incorporating the latest developments in AI and in human enhanced-concierge capabilities," Syl Chao, CEO of TRI was quoted as saying by the company.
The phone has been constructed of Liquidmorphium alloy and features diamond-like-carbon coating (DLC), which provides a high-tech ceramic feel and a scratch resistant surface, the company says.
Turing says that it will start shipping the two variants of the smartphone, the elite edition Turing Phone Appassionato PX8 and the premium-luxury edition Turing Phone Appassionato GX8, by September this year. The phones have been priced at $1,099 (roughly Rs. 70,800) and $1,599 (roughly Rs. 1.03 lakhs) respectively.
Usually, we ask users to take rumours with a pinch of salt but as we are talking about a company that has previously announced phone with multiple Snapdragon 830 processors, we would ask you to take this announcement with more than a small amount of scepticism. However, TCL is a well known manufacturer currently known for its Alcatel brand and for being BlackBerry licensee, thus this phone may actually hit shelves.
[Source:- Gadgets360]