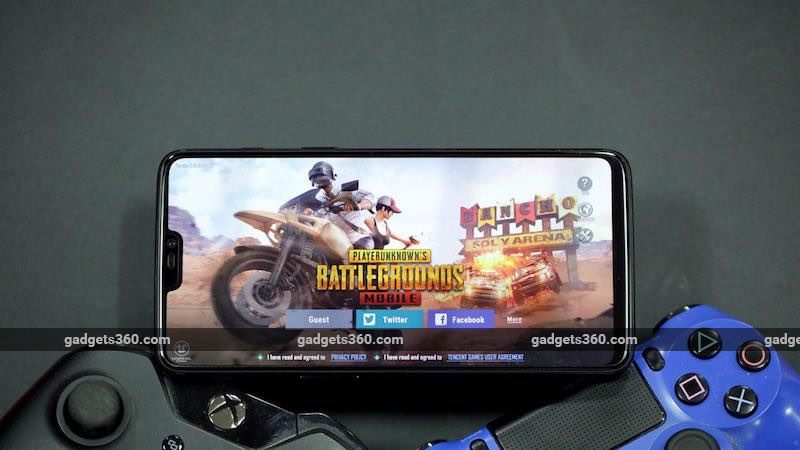 HIGHLIGHTS
OnePlus 6's gaming features are similar to the OnePlus 5 and 5T
Its performance in PUBG Mobile is solid
The OnePlus 6 did not heat up even in demanding games
The OnePlus 6 is officially here and apart from our usual in-depth review, we decided to take the smartphone for a spin in terms of gaming performance. After all, it's the first Snapdragon 845 SoC-powered device to be made available in India, and its 8GB of RAM is the highest amount available on any phone at this point. OnePlus 6 specifications include a Qualcomm Snapdragon 845 octa-core SoC clocked at up to 2.8GHz with an integrated Adreno 630 GPU, 6GB of RAM with 64GB storage (or 8GB of RAM with 128GB/ 256GB of storage), and a 6.28-inch full-HD+ (1080×2280 pixels) Full Optic AMOLED display with a 19:9 aspect ratio. For the purpose of this piece, we put the OnePlus 6 variant with 8GB of RAM and 128GB of storage through its paces by playing some of the hottest games such as PUBG Mobile and Arena of Valor – here's everything that we learnt.
OnePlus 6 Gaming mode explained
The OnePlus 6 has a few gaming-specific tricks up its sleeve. The Gaming Do Not Disturb mode is now simply called Gaming mode, similar to what we've seen on the likes of the OnePlus 5 and 5T thanks to recent software updates. All the new features that we've seen the updates add to the previous generation are available in the OnePlus 6 gaming mode as well.
So you get the option to block notifications while you are gaming, automatically route incoming calls to the speaker, or lock the brightness level during your gaming session. These settings can all be applied to apps that you classify as a game via the settings. The Gaming battery saver mode is still available as well, and we'll see in a bit how that performs on the OnePlus 6.
How the OxygenOS Gaming Mode has changed over the last 12 months
What's new with the OnePlus 6 is the ability to prioritise the bandwidth available to your games to ensure your experience is as lag-free as possible. Known as Network Boost, this setting ensures that titles with online connectivity like PUBG Mobile and Super Mario Run get priority access to the Internet connection.
OnePlus 6 gaming performance in PUBG Mobile, Arena of Valor, and more
As for the games themselves, we checked out a host of graphically demanding titles. Unlike Apple that's now demanding app developers update their apps to ensure iPhone X notch support, Google hasn't made any mandate just yet. So every game we tested covered the screen except for the areas on either side of the notch that were filled with black bars. You could go into the OnePlus 6's options and enable full screen viewing to have each and every inch of the game cover the screen, but during our testing that resulted in an experience that wasn't as immersive due to the notch coming in the way, though you may feel differently.
We started off with Asphalt 8, and were treated to stellar environments and gorgeous weather effects as well as detailed car models, similar to what we experienced on the OnePlus 5. This time around the Iceland and Tokyo levels were far from the sluggish affairs they were on that phone. We didn't have to turn down any setting, and even when while playing on the highest presets available, we got competent performance.
This extended to Breakneck, a futuristic racer in the mould of the Wipeout series of PlayStation games. Not only does it look fantastic on the OnePlus 6, the performance held up even in the busiest of segments with enemies and effects galore without dropping a beat.
Moving on from racing games, we played current Android hit PUBG Mobile. While the game defaulted to its Medium setting, we bumped it up to High, as the Ultra HD option isn't available yet, and it looked great. From the foliage to weapon models, and even its vehicles, PUBG Mobile is fantastic on the OnePlus 6. It helps that the big screen let us take in more of the surroundings without having to worry about the game's controls covering up areas we'd be looking at. The only issue is that minor screen elements present on the edges such as the option to change seats in a vehicle, appear to be cropped off. This was with both full screen viewing enabled and disabled.
Finally we tried out Arena of Valor, the mobile equivalent of Dota 2 or League of Legends, with an emphasis on quick responses. It's also one of the few smartphone games with a frame rate counter. With the highest preset (that gives you detailed textures, particles and effects) and with the High Frame Rate Mode toggled on (which isn't available on every phone, just those that have high enough specs, and pushes battery use to the maximum in order for the smoothest level of gameplay) we typically saw between 58 and 60 frames per second, dropping to around 56fps in demanding moments with multiple enemies on screen. Needless to say, it's best played with High Frame Rate Mode switched on, making for a superlative experience.
OnePlus 6's Gaming battery saver mode
Like we mentioned before, OnePlus 6's Gaming mode comes with an option for Gaming battery savermode. It has two choices aside from toggling it off. These are Low and High. Low limits resolution while High limits resolution and frame rate.
We decided to first play PUBG Mobile with the Gaming battery saver mode set to High. While it didn't result in any settings in-game greyed out (with graphics options set to their highest), there was a perceptible drop in frame rate that made aiming tougher than it usually is and it looked closer to the game's lowest preset with jagged edges galore and trees popping in as you walked through sections of the map. As for battery life, we lost five percent battery over 15 minutes of gameplay and around 10 percent battery in 30 minutes, which is the typical duration of a PUBG Mobile match.
Switching it to Low saw a slightly better looking game resembling its Medium preset. Frame rate wasn't as bad either with traversal and aiming working as they should. That being said, we lost the same amount of battery, five percent over 15 minutes and 10 percent over 30 minutes.
And when we played PUBG Mobile with battery saver off?  We lost the same amount. Five percent in 15 minutes and 10 percent in 30. With a much better frame rate and visuals, PUBG Mobile is best played with battery saver off, since there don't seem any battery savings to be had.
We turned our attention to Arena of Valor, a game where we saw OnePlus 6's battery drain by around 6 percent in 15 minutes with its high frame rate mode on, and 4 percent with the high frame rate mode off, all without invoking the smartphone's Gaming battery saver mode. Interestingly, we saw the exact same numbers with Gaming battery saver set to High as well as Low, though the quality was noticeably worse.
It's possible that Gaming battery saver mode works better with other games, but in our experience, it saved no battery life, though it did make the overall gaming experience worse.
How good is OnePlus 6 for gaming?
In terms of thermals, the OnePlus 6 just got moderately warm during strenuous skirmishes in Arena of Valor and ran surprisingly cool in everything else, even outdoors. The AMOLED display held up well in direct sunlight too and despite just a single bottom-facing speaker, the sound was decent if you decide not to use its 3.5mm headphone jack — an increasing rarity among flagships.
All in all, the OnePlus 6 is an excellent followup to last year's OnePlus 5 in terms of gaming performance with improvements across the board thanks to its generous specs and excellent heat management. Regardless of your affinity for the notch and a gaming battery saver mode that isn't as well-optimised as it possibly could be, this is one of the better phones for gaming this year.
["Source-gadgets.ndtv"]