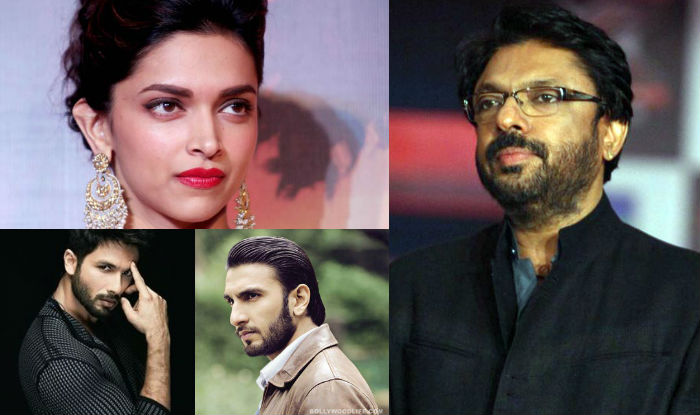 After months of protests and heated debates, there was finally some respite for Sanjay Leela Bhansali and his team as 'Padmavati' was finally certified with a 'U/A' rating by the CBFC. However, the censor board did ask for a change in the title to 'Padmavat' along with five 'modifications'. But even this has not satisfied members of the Mewar royal family who are now upset with CBFC's recommendations.
Arvind Singh Mewar, who was a part of the review panel, expressed his dissatisfaction with allowing the movie to release. He said that it was not a matter of how many cuts there are in the film, but more about whether or not it is historically accurate. The upset Mewar family has also written a letter now to the Information and Broadcasting minister Smriti Irani, with a warning that there could be unrest in Rajasthan if the movie is allowed to release.
In a fresh development on Sanjay Leela Bhansali's magnum opus 'Padmavati', the Central Board of Film Certification (CBFC) has decided to pass it with 'UA' certification if certain conditions are adhered to. News agency ANI tweeted that CBFC had an examining committee meeting on December 28, 2017 to review the film and decided to give it the 'UA' certificate along with some modifications and a likely change of the title to 'Padmavat'.
They further tweeted that the certificate will be issued once the required and agreed modifications are made. The tweet read, "Central Board of Film Certification had examining committee meeting on 28 Dec to review #Padmavati & decided to give it UA certificate along with some modifications & likely change of the title to Padmavat. Certificate to be issued once required & agreed modifications are made."
In further tweets, ANI quoted CBFC on how the committee arrived at the final decision of certification and modifications. "The film was approached with balanced view keeping in mind both the filmmakers and society. Considering complexities & concerns around the film the requirement for a special panel was felt by CBFC to add perspective to the final decision. Special panel consisted of Arvind Singh from Udaipur, Dr.Chandramani Singh & Prof K.K. Singh of Jaipur University. Panel member had insights and also some reservations regarding claimed historical events & socio-cultural aspects which were duly discussed at length" CBFC was quoted by ANI.
Sanjay Leela Bhansali's 'Padmavati', which was slated to release on December 1, 2017, got caught in a political storm, thus delaying its release. The film features Deepika Padukone as Rani Padmini, Shahid Kapoor as Maharawal Ratan Singh and Ranveer Singh as Sultan Alauddin Khilji. The film's release was opposed by fringe groups on the accusation of distorting historical facts. When asked about the project's current status, PTI reported that Shahid said, "I am sure we will have clarity by the end of this year about when the film is releasing. But we want it to release as soon as possible."
Asked if the controversy over the magnum opus put a dampener on his professional life in 2017, the 36-year-old actor said the year held a lot of excitement for him as he got to be a part of a "memorable" film like 'Padmavati'. "Of course, there has been the whole controversy around 'Padmavati' but it is such a special film. When I look back at this year, it has been one of the most exciting years in my career – to be doing 'Padmavati', to be a part of a film which I really believe is going to be historic and remembered, if I may say so," he said. "That's how I feel about it. So, I am very happy with this year. The wait is killing me. I am dying for the film to come out," Shahid added, reported PTI.
Sanjay Leela Bhansali's magnum opus 'Padmavati', starring Deepika Padukone, Ranveer Singh and Shahid Kapoor has been embroiled in controversy all year round. With the year coming to an end and the controversy surrounding the film seeming to have settled, it looks like fans eagerly awaiting the film will have something to look forward to in the New Year.

If rumours doing the rounds are true, then the film which is currently awaiting certification from the Central Board of Film Certification (CBFC) will reportedly be passed today. The film could not keep its December 1 date with the audience as it failed to meet the board's deadline apart from receiving numerous threats from fringe groups warning them against releasing the historical drama.

Online reports claim that the board refused to certify the film as the disclaimer stating whether 'Padmavati' was a work of fiction or not, wasn't mentioned clearly. However, it now appears that the film will get its certificate today with reports also hinting that the makers are eyeing an early January (5th or 12th) release, while others hint at a February release on the cards.
Most of us already know that Ranveer Singh has great regard for his mentor Sanjay Leela Bhansali. The 'Padmavati' actor has always said that the director is a creative genius and he believes in him fully.
Ranveer recently talked about his experience working with SLB for the third time and how the director has always given him the space to experiment and add his flavour to the film. Admitting that he was allowed to "freestyle" in previous ventures, he says this time, Bhansali had a clear vision of what he wanted, the way he wanted Alauddin Khijli to be. So, to take his direction and try and apply it was very challenging for the actor, some times. Ranveer even revealed that he would leave the set and cry if he didn't get it and come back in a while to try to finish it.
Despite 'Padmavati' facing innumerable obstacles, Ranveer has kept his cool as he feels the process itself is the prize.
The film that also stars Deepika Padukone and Shahid Kapoor, is awaiting its certification from the CBFC with reports hinting at a February release on the cards.
Director Sanjay Leela Bhansali's move to push the release of his controversial historical drama, 'Padmavati' from November 17 to December 1 sent the entire film industry into a tizzy. A number of smaller budget films made way for the magnum opus by postponing their release in order to avert a clash that would possibly affect their box-office business. One of the many films that reportedly bowed out of a box-office clash was the John Abraham starrer 'Parmanu: The Story Of Pokhran', which moved its release from December 8 to February 23, 2018.
With 'Padmavati' still at the CBFC awaiting its certification, many reports are now claiming that the film is eyeing a January or mid-February release. As the film is reigning on popularity charts, producers of other films are reportedly wary about the announcement of the final release date, but it remains to be seen if they stand their ground or bow out once again.
'Padmavati' stars Deepika Padukone, Ranveer Singh and Shahid Kapoor in leading roles.
Stating that a tourism-oriented state like Goa cannot afford law and order problems, Goa Chief Minister Manohar Parrikar on Thursday said he will "look into" the demand of the BJP state women's wing to ban the screening of Sanjay Leela Bhansali's film 'Padmavati'.
Parrikar was speaking to reporters in Panaji after a delegation of the Goa Bharatiya Janata Party (BJP)'s Mahila Morcha led by its president Sulakshana Sawant met him at his official residence to demand a ban on the film's screening in Goa.
The delegation also claimed that it was portraying distorted history. "The other issue about this controversy is a law and order problem, which Goa can't afford in the tourist season. A touristic state has to be peaceful. So we will look into both aspects of it."
"As of now, the censor board's certificate is not granted, so will take a call after it is granted…whether they take into consideration all these aspects and edit the film accordingly," Parrikar told reporters after accepting the memorandum submitted by Sawant.
The Chief Minister also said the issues raised by the delegation, including wrong portrayal of queen 'Padmavati', was also justifiable. "This is the country's history, where we believe that she committed 'johar' to protect herself. Anyway I will not go into what is there actually in the film. That is for the censor board to look into," he said, complementing the Morcha's members for raising a "right issue".
"My personal opinion is straight that history should be portrayed correctly. If history is portrayed in a wrong way, then people's sentiments might be hurt," Parrikar said. In their memorandum, the Morcha's members said the film "distorts history" and "wrongly links adored queen Padmavati with Muslim ruler Allaudin Khilji, who was an "aggressor".
"It has been a habit of filmmakers to distort Hindi(u) icons and traditions in the guise of creativity. History has depicted 'Padmavati' as having committed johar to escape dishonour. Large sections of the Indian people adore queen Padmavati for her valour and chivalry," the memorandum read. "The release of the controversial film is likely to hurt the sentiments of a large section of society creating unrest in peaceful Goa. The sentiments of women have also been hurt by the wrongful portrayal of queen Padmavati in poor light and association with Khilji is unacceptable," it added.
With protests from all quarters and the CBFC taking its time to certify the film, there seems to be no respite for the trouble-stricken Sanjay Leela Bhansali film 'Padmavati'. The release date has been pushed back for the moment and a panel is reportedly being set up to review the film. Now, it turns out that the ruling government is also stepping in the selection of the panel.
According to reports, the Union Information and Broadcasting ministry has now sought the help of the Human Resource Development ministry. Apparently, the I and B ministry wrote a letter to HRD ministry asking them to suggest some eminent historians who can be part of the CBFC panel that will review 'Padmavati' before clearing it.
Meanwhile, Deepika Padukone, Ranveer Singh and Shahid Kapoor have voiced their displeasure over the constant protests and threats but were happy with the unanimous support of the film fraternity.
Veteran actor and Member of Parliament Shatrughan Sinha slammed filmmaker Sanjay Leela Bhansali for holding a private screening of 'Padmavati' for select media executives even before the Central Board of Film Certification (CBFC) had certified the film. He spoke at an event organised by Rajput Karni Sena. According to reports, Sinha said that Bhansali promised that he will screen the film first to the members of Karni Sena but didn't keep his promise. The Bihar unit of Rajput Karni Sena felicitated Sinha by presenting a photograph of queen Padmini for opposing the film.
Sanjay Leela Bhansali's 'Padmavati', starring Deepika Padukone, Ranveer Singh and Shahid Kapoor was in the eye of a raging storm these past months, with certain fringe groups pushing to ban the film. During the tremulous time, the film's director and leading lady became targets with protesters offing bounties for their heads and others offering rewards for the star's nose. While Deepika and Bhansali reiterated that the film did not "distort" any facts, the leading men were reportedly asked to refrain from commenting on the situation.
The trailer of 'Padmavati' saw Ranveer Singh being showered with praises for his powerful brutish performance. On Tuesday, the 3D format of the film's trailer was released and the actor could not hold back his excitement.
Taking to Twitter, Ranveer posted a series of tweets gushing about his "jaw-dropping" experience watching his "pretty badass" character in the 3D format. Here's what he had to say about the whole spectacle, "Saw #Padmavati 3D trailer last night! Holy smokes! It was jaw-dropping! Also 1st time I'm seeing myself in 3D so..! Hahaa! Pretty badass. Also stung by a Bee 4 the 1st time earlier today. Thought I'd post a picture but then I was like I don't wanna make that Bee famoussss haha."
He then ended his little Twitter moment with a fairly philosophical statement, "In other firsts, it's also the first day of the rest of my Life. Ok, now I'm done."
Also starring Shahid Kapoor and Deepika Padukone, 'Padmavati' is all set to release on December 1st.
["Source-timesofindia"]