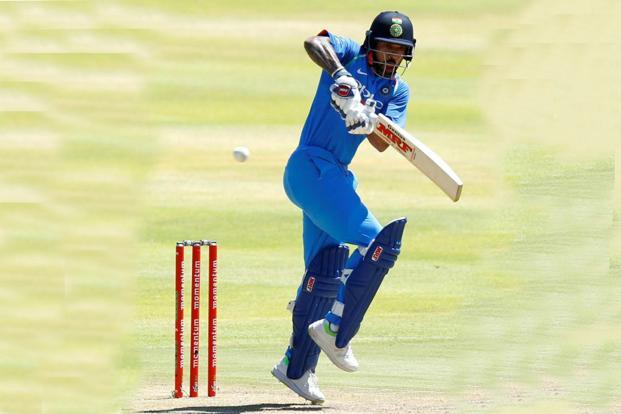 Murali Vijay (average of 17) and Cheteshwar Pujara (average of 16.66) had forgettable outings against South Africa in the Test series last month. Rohit Sharma (19.50), who is not a regular in the team, got more opportunities to revive his career in this format.
However, opener Shikhar Dhawan was not as lucky—he was discarded after one Test (32 runs in two innings). Yet, once the tour ended, it was Dhawan who managed to hold his head high after impressive numbers in the One Day International (ODI) and Twenty20 (T20) series that followed the Tests.
Had it not been for the exceptional form of captain Virat Kohli (558 runs in six matches), the ODI series could easily have been Dhawan's series (323 runs in six matches). Not for the first time in his career, the shorter formats have underlined the importance of the left-handed batsman from Delhi in this current Indian team.
"It was a satisfying tour. I was a complete failure on my first tour there (in 2013) and was determined to conquer the conditions," said Dhawan before leaving for Sri Lanka for the ongoing Nidahas T20 tri-series, where he made 90 in India's opening match against Sri Lanka on Tuesday.
In South Africa, Dhawan scored a century in his 100th ODI, a first-of-its-kind feat in Indian cricket. Only one batsman (Hashim Amla) has scored more runs than the Delhi player in his first 100 ODIs.
"It was my dream to perform on the tougher pitches of South Africa. I was happy with my show since I have been in good nick since the last IPL (Indian Premier League). I am now more aware of my game and my experience is helping me in sorting out weaknesses," Dhawan added.
The Indian opener has been equally prolific in countries like Australia, New Zealand and England. His average (51.33 in 42 matches) in these countries and South Africa is better than his numbers in Asian conditions (47.75 in 40 matches). Then there is the small matter of big ICC (International Cricket Council) tournaments like Champions Trophy and the World Cup.
He averaged 90.75 in the 2013 Champions Trophy in England, and was its leading scorer. In the 2015 World Cup in Australia, he was India's highest scorer and fifth overall. He was again top scorer in the 2017 Champions Trophy.
"My mindset is the same," explained Dhawan. "The formula is to stay longer at the crease and the runs will come. It's a nice feeling when I am told that my numbers are as good as Kohli's or Rohit's in those conditions (Australia, New Zealand and England). It has always been a big challenge for subcontinental batsmen to dominate outside Asia and I am glad that we have been doing that consistently."
If you leave aside his first few games in ODIs in 2010-11, Dhawan has been outstanding in this format. He is already among the top 15 scorers of all time for India, only Mahendra Singh Dhoni (51) and Kohli (58.10) have a better average than him (45.90). He may not have the aura of Kohli but there is little doubt among rivals that he is one of the main reasons for India's dominance in the ODI format. His opening partnership with Rohit Sharma, in particular, is one of the best in the game.
"I have a great understanding with Rohit. As sportspersons, we have always had a healthy competition to do better than others. It's not just Rohit, I also get inspiration from Lokesh Rahul. If I am not in form and they are doing well for the team, I am happy for them," said Dhawan.
Despite his impressive numbers in the shorter formats, critics point to Dhawan's relative struggle in Test cricket. Each hundred is invariably followed by a sequence of disappointing scores. Then there is the disparity in his record in Asia and outside it.
Yet few in Indian cricket have notched up six tons in 29 matches. Dhawan is not shy of admitting that he may not have done justice to his abilities in the longest format but still feels that he can turn it around.
Last year, he was recalled into the Test team (after Vijay got injured in Sri Lanka), and grabbed the opportunity. He hadn't been part of the Test team for almost a year and had missed 11 Tests, and was on a holiday, going to Australia when he got the call. Before his twin failures in the first Test in South Africa, he had two hundreds and two 50s in his last eight innings—all in the subcontinent—after his recall in July.
"I wish I can play 100 Tests for India (he has 29 so far) like I played 100 ODIs. I don't know what will happen in the next five years but my intent is to remain fit and play as many games in this format too," said the 32-year-old.
As a prodigious junior who had to wait many years for his India cap, he knows all too well what role destiny plays in shaping one's career. "I am a great believer in destiny. We all have to work hard and we need self-belief to overcome all odds. I have had my shares of ups and downs but failures have only strengthened me as a person and as a player. I have no complaints with anyone as I am happy with the way my career has progressed," he said.
He may be a giant in the shorter formats of the game but he still has to attain a level where no one can question his worth in the team. Former India opener Sunil Gavaskar succinctly advised (through his syndicated column in a newspaper) that Dhawan should keep piling up big hundreds so that when the axe is wielded, he doesn't invariably top the list.
In a tri-series where neither Kohli nor Dhoni is part of the Indian team (both have been rested by the selectors), Dhawan becomes the most important player for captain Sharma. Going by his recent exploits in South Africa, it should be a merry series for the batsman.
Vimal Kumar is the author of Sachin: Cricketer Of The Century and The Cricket Fanatic's Essential Guide.
["Source-livemint"]