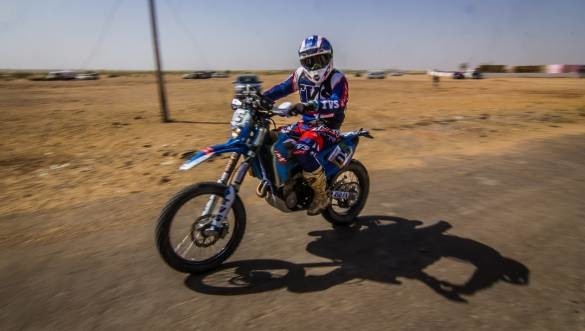 The 2017 Baja India has just concluded and the outcome has been really exciting. Abdul Wahid Tanveer got a ticket to participate in the 2018 Dakar Rally. This makes him the third Indian, after CS Santosh and Aravind KP, to ride in the world's most dangerous rally.
Abdul Tanveer who rode for TVS Motorsports, finished behind Joaquim Rodrigues from Hero MotorSports and Aravind KP who is his teammate at TVS. The winner – Joaquim Rodrigues finished the rally in 4:45:22 seconds, who was followed by Aravind KP at 5:10:46 seconds. Abdul Tanveer took the third spot at 5:25:44 seconds.
Other than getting the ticket for 2018 Dakar Rally, Abdul Tanveer also earned a ticket to participate in the Merzouga Rally in Morocco. The year 2018 will be an exciting one for motorcycle rallying in India. Three Indians to compete with the finest riders in such a huge event will not only put India on the global map for rallying, but also encourage more riders and sponsors in the country to show interest in this sport.
[ Source :- Bikewale ]