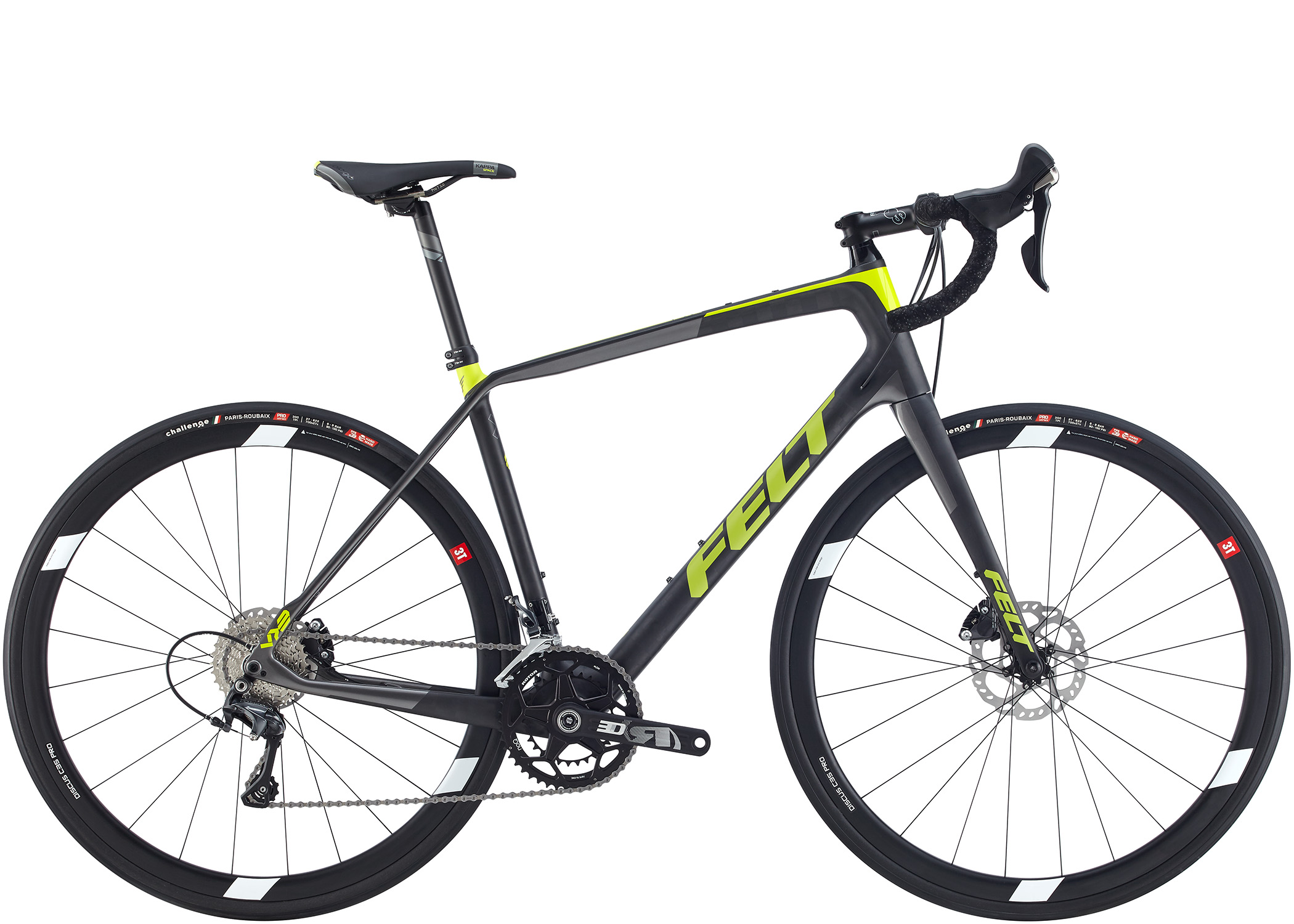 The Felt VR3 arrived for testing in late fall. For my rides, I was putting on more and more layers as temperatures dropped. As I thickened up from the clothes, it was good to have a road bike with wider tires (28 mm nominal, 30 mm actual). One of my last rides on the Irvine, Calif.-based company's new endurance bike was out of the city to bumpy country roads and patches of snow.
Felt Vr3
| | |
| --- | --- |
| Components | Shimano R685 Hydraulic shifters, Shimano Ultegra front derailleur and long-cage rear derailleur, Shimano 11–32 tooth cassette, Rotor 3D30 Adventure BB386EVO crankset with 46/30-tooth rings |
| Wheels | Wheels 3T Discus C35 Pro |
| Sizes | 43, 47, 51, 54, 56, 58, 61 |
| Price | $4,599 |
| Website | feltbicycles.com |
Felt launched the VR series at the beginning of August, in a sense updating the existing Z series of endurance bikes. Development of the new bikes, however, began in January 2015. Bryan Norvell, an engineer who's been with Felt for four years, remembers one particular topic that came up early on: should they use some sort of mechanical solution, whether a spring or a lever, for managing road vibrations and adding comfort?
"Felt's true roots are in the carbon," Norvell says. "We spend more time on the layup and good design. A lot of those mechanical dampers and gizmos, I feel, are extra complications. If you truly do a good job designing your bike, you don't need them." He also adds that tires do a large amount of the deflection work. With the VR, Norvell and his team made sure they exposed more of the seatpost for more flex. The intersection of the seatstays and the seat tube was also designed to facilitate that flex. Those stays are skinnier near the seatpost and widen toward the dropouts, a shape that is both esthetic and functional. At the fork, engineers and designers had to balance the comfort you want out of that part with the need to address the twisting forces created when the Shimano rotor is engaged. The frame uses Felt's second-tier carbon-fibre process, UHC Advanced.
While my rides on the bike took place on roads thousands of kilometres away from Norvell's, there are some similarities, minus the snow, between the surfaces on which we've ridden the VR. "They aren't worth riding a mountain bike on because they are too darn short," he said. "But when you're on a bike like this, you can link a lot. You find nuggets of dirt that make it fun to take that detour and find a little nature here and there. Then you jump back onto the road and find something new."
["Source-cyclingmagazine"]