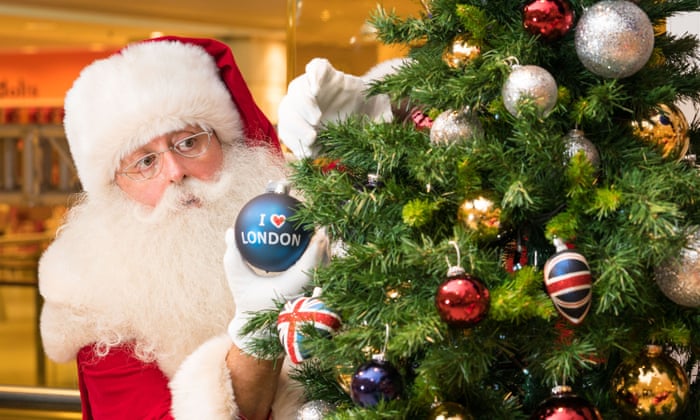 The opening of the Selfridges Christmas shop last week. Photograph: Dominic Lipinski/PA
"Any customers that aren't really into Christmas this early can always ignore it," said Eleanor Gregory, Christmas and home buyer at Selfridges, about the opening of its Christmas store last week. Am I wrong to project a slight tartness on to that remark? As if the first draft of "can always ignore it" had been "know where they can stick it"?
I probably am wrong. Eleanor seemed fairly upbeat in her other comments: "This new extension to our usual offer is addressing this growing demand for convenience – domestic customers who love to Christmas shop very early in the year to get it wrapped and taken off their to-do list."
At least, I think that was also her. The Guardian says it was, but the Telegraphattributes the phrase to a "Selfridges spokesperson" as part of a long speech that also includes this sentence – "We've been opening the doors to our Christmas shop during the summer for years now and have become a real destination for fans of Christmas and festive decorations", which both the Times and the Independent claim was spoken by Geraldine James. Not the actress, but the "Christmas home and decorations buyer at Selfridges".
So the whole thing is a bit of a mystery. Are Eleanor Gregory and Geraldine James the same person? Or deadly rivals? Why are both of their surnames men's first names? And has the fact that Geraldine James's name is the same as Geraldine James's held her back? Or has the actress been unaffected by the rise of the Selfridges buyer?
Whatever the truth, Gregory and James have had a great week. Selfridges opened the fake snow-sprayed doors of its Christmas store on Monday, 31 July, and the press has been lapping up the story like alcoholic cats around a splat of eggnog. Because it's so early, isn't it?! "147 days early", according to the Times and the Guardian, which presumably advocate doing your Christmas shopping on Christmas Day itself. It's still summer! It's ridiculous! Whatever next!? Driverless buses? A Tweeter laureate? A government using chemical weapons on its own people?