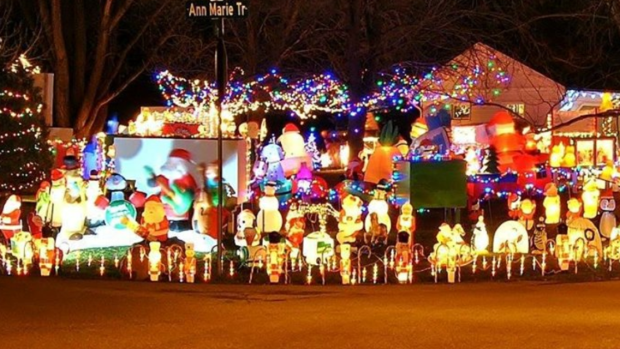 Rodney and Nancy Brown create an elaborate Christmas lights display at their home at 8450 Ann Marie Trail in Inver Grove Heights. (Courtesy photo)
Monday is Memorial Day, but it will look more like Christmas in one Inver Grove Heights neighborhood.
Rodney and Nancy Brown, who have presented an elaborate lights display every year since 1995, have decided they are done and are offering all their decorations in a garage and yard sale that runs Monday through June 3.
"People have told me, 'This has been a family tradition … you can't quit,' " Nancy Brown, 63, said Thursday. "We have to for our health."
Visiting the Browns' display at 8450 Ann Marie Trail, known by many as "Santa's House," was a tradition for many people, attracting hundreds on weekdays and several thousand a day on weekends.
But last year was a rough one, Brown said. In mid-December, a vandal or vandals damaged statues and yanked electrical cords from outlets. Wind and ice also did a number on the display, knocking down buildings and tearing inflatables.
"We are too old to be dealing with so many issues," she said.
The sale, to be held from 7 a.m. to 6 p.m. each day, will include about 225 plastic statues, 15 big boxes of lights, buildings and display units, Department 56 pieces, antique Disney items and 26 inflatables.
"We've priced everything to sell," she said.
Extension cords?
"We've got probably 300 of them," she said.
For the past 21 years, the Browns have spent every weekend and most nights from Labor Day until Thanksgiving setting everything up.
And every night, no matter the weather, the Browns became Santa and Mrs. Claus to greet visitors and pass out candy canes.
In March, Nancy shared the decision on a Facebook page "Santa's House in Inver Grove Heights," which has more than 4,100 likes. The news attracted lots of gratitude for the Browns.
"You have helped so many people, some in ways you may never understand," one Facebook user commented. "It's time now to take care of you."
After a year off, the Browns hope to continue to be Santa and Mrs. Claus at senior centers, hospitals and house parties.
"'Bittersweet' is a good word," Nancy said. "I'll have more time for baking cookies, but it's hard, especially when you hear comments from people. We're going to miss the little kids."
["Source-ndtv"]