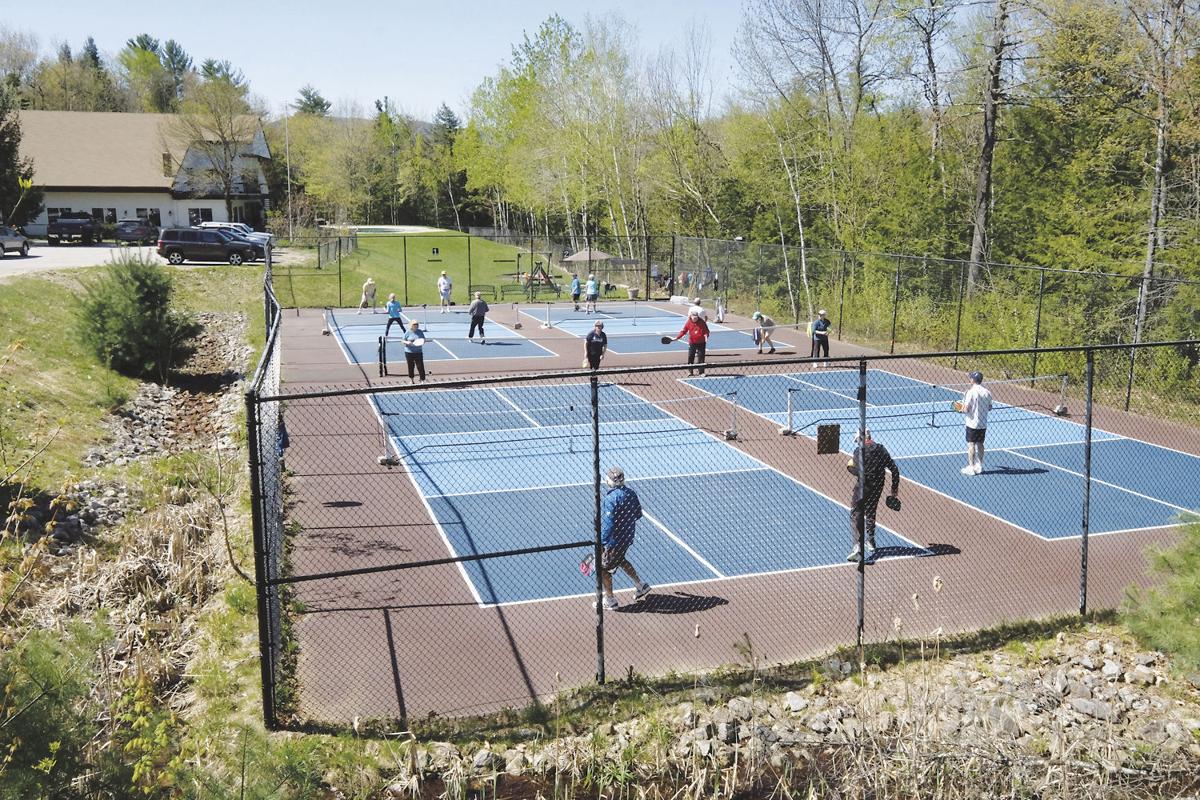 Pickleball players fill the courts at The Club at Christmas Mountain in Bartlett last Friday. (JAMIE GEMMITI PHOTO)
BARTLETT — Play ball — er, pickleball!
The Bartlett Board of Selectmen unanimously voted last week to grant the change-of-use permit sought by John Magazzu Jr., 63, a North Reading, Mass., Realtor and owner of the sports club at Christmas Mountain Resort in Glen.
"It needed to be complete, and now it is — the same we require of everyone," said Selectmen's Chair Gene Chandler, who had asked for an additional week to review the application when Magazzu appeared with a few local pickleball enthusiasts before the board April 30.
Joining Chandler in voting in favor were Selectmen David A. Patch and Vicki L. Garland.
Magazzu was not present at the board's May 7 meeting but was represented by local pickleball player Kevin McEnaney.
"It's been a long haul, but we are very excited," Magazzu said by phone last Wednesday.
The granting of the permit was the final hurdle before Magazzi could open the club to operate to the public through monthly memberships.
Built in 1988 to serve Christmas Mountain Resort condo owners, the club at 100 Christmas Mountain Road is accessed by the Linderhof residential development in Glen, just north of Story Land.
The granting of the permit followed voter approval, 575-97, at annual town meeting March 13 of petitioned Article 3.
Then Magazzu had to first go to selectmen for a change-of-use permit. The board was required to deny it because it does not have the authority to change the town's zoning ordinance, Chandler said.
The next step was for Magazzu to appear before the zoning board of adjustment for a special exception. That board unanimously approved the special exception April 23, leading Magazzu to return to selectmen for the change-of-use permit.
Magazzu  bought the 11-unit property at foreclosure in 2000. He later bought the 4-acre property with the club from Commercial Investments LLC.
Magazzu reiterated to the Sun that he envisions working with the town through the Bartlett Recreation Department to offer supervised activities at least one day a week in addition to the weekly pickleball activities and uses of the indoor and outdoor pool by members.
Those plans are still taking shape, said Magazzu, who intends to meet with Annette Libby, Bartlett Rec director. Libby told the Sun she is looking forward to meeting with club officials to go over possible swim programs, game room use and basketball programs. She will then report back to selectmen for input.
Under Magazzu's proposal, the club will not operate a bar or restaurant — a key provision that differed from an earlier failed effort by a previous owner in 2010.
"The previous owners went about this for the wrong reasons," Magazzu said in March. "My whole thing has been to have a recreational facility for people who live in or vacation in the area. I consider this as more of a clubhouse."
The issue arose last fall after an article about blossoming new sports was published in The Conway Daily Sun in September.
The article profiled recreational pursuits throughout Mount Washington Valley, including pickleball sessions being held at such locations as the North Conway Community Center and Christmas Mountain Resort.
After reading the article, Bartlett selectmen interpreted the use of the Christmas Mountain Resort club by the pickleballers as a commercial use — and subsequently sent a cease-and-desist order to Magazzu.
He hired Randall F. Cooper of Cooper Cargill Chant of North Conway and they appeared in September before the selectmen. After several weeks, selectmen sent a letter that said unless you owned a condominium at Christmas Mountain, you couldn't even play Frisbee on the premises.
That, in effect, said proponents, would shut down the 30-year old business, as the small number of condominiums could never support the health club. Magazzu has said he would have closed the club and converted the space to condominiums.
The club features two tennis courts, one of which has been converted to four pickleball courts, with another four planned for the other tennis court. The club has an outdoor basketball court and a small indoor and outdoor pool. It also has an outdoor bocci court, indoor racquetball court and indoor weight rooms.
Growing in popularity throughout the country, pickleball combines many elements of tennis, badminton and table tennis but is played on a smaller 20-by 44-foot court and using paddles and plastic whiffle balls.
McEnaney said pickleballers are ecstatic to get the approval, noting that the Sunday sessions evolved last summer into a fun social form of recreation.
"It's really been a good thing, with people coming to play pickleball and bocci and have cookouts. We asked selectmen if we could begin playing once again, and they said we could," said McEnaney.
An open house is planned. For more information, go to theclubatchristmasmountain.com or call (603) 687-1213.
To get pickleball information, email mwvpickle@middlemtn.com and ask to be added to the mailing list.
["Source-conwaydailysun"]