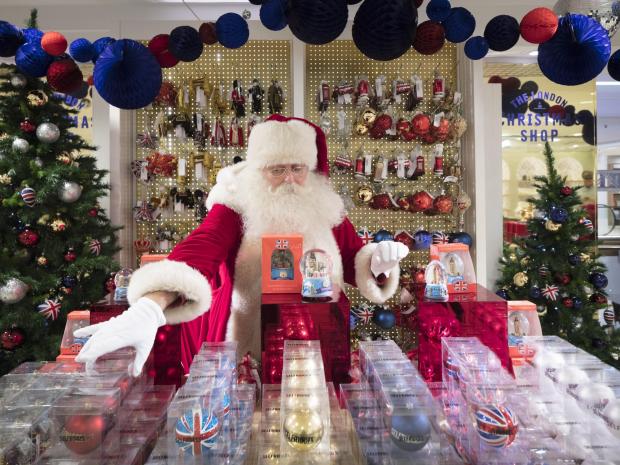 The festive season beat other contenders for most searched term, including 'curtains' and 'lingerie' Selfridges
The summer holidays may barely be over, but thousands of Brits are already thinking about Christmas, according to the latest data from two of the country's biggest retailers. "Christmas" was the biggest search term on the John Lewis website in the week ending 10 September, beating even the new iPhone (hotly anticipated that week), "curtains" (regularly one of its biggest search terms) or "Halloween".
At its rival Marks and Spencer, Christmas has become the most popular search term on its website since 4 September, and stayed there, beating even "lingerie", "bras" or "school trousers", which was the biggest search term the week before.
John Lewis sold "a substantial amount" of Christmas trees last week, believed to be well over 100 – up 17 per cent on the same period last year.
Though many consumers say they dislike high street shops blaring out Christmas songs and decking their stores in tinsel before Bonfire Night in November, the data proves there is a determined minority who start to plan for the big day the moment their children return to school for the autumn term.
Dan Cooper, a senior John Lewis buyer and "head of Christmas" at the department store, said that when he started 20 years ago, the first big spike in demand used to come when the clocks changed at the end of October as the evenings became darker.
However, Christmas demand has edged earlier in recent years. "I think people lead ever busier lives and they like to plan," he said.
He added: "We also see a lot of people who are real Christmas enthusiasts, who are waiting for September to start shopping. Baubles often start selling early."
"But this year, I think, demand has been pushed higher by a lot of foreign visitors in London, in particular – helped by the exchange rate – who want to buy a souvenir to take home.'
The fact that 2017 had been filled with a large dose of geopolitical turmoil and terrorism is also a contributory factor, he believes. "Christmas always tends to prosper in years when people have had enough of what's going on elsewhere in the world. People want to cheer themselves up, I think."
Last week, shoppers mocked Tesco and Morrisons for selling mince pies at the start of September. Both retailers pointed out they only did so because there was healthy demand from customers for this Christmas treat.
Back in 2014, the Royal Statistical Society found that Britons were starting to think about Christmas as much as three months earlier than a generation ago, with many people searching for Christmas-related terms as early as August.
["Source-independent"]