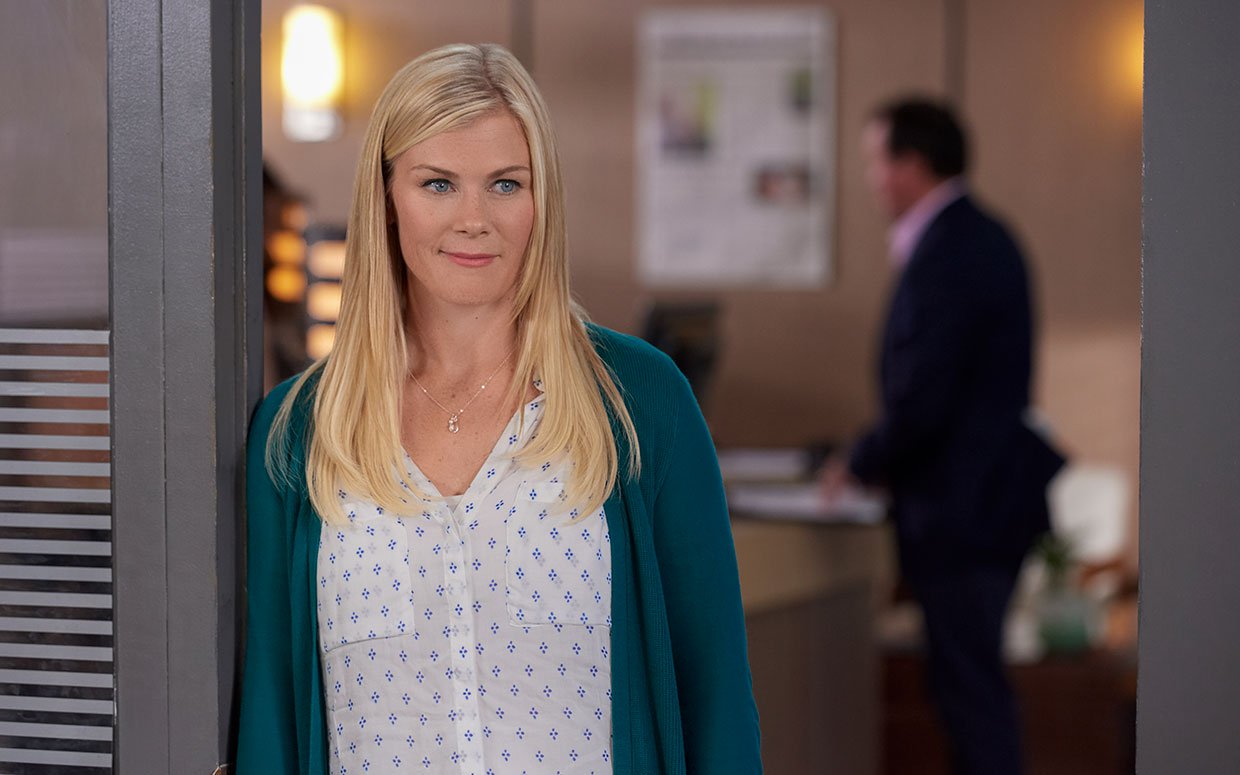 (©2019 Crown Media United States LLC/Photographer: Dean Buscher)
Get cozy by the fire with your cup of hot cocoa and other favorite snacks and get ready for a major announcement of Hallmark's 2019 holiday movie offerings.
As reported by EW, Hallmark Channel and Hallmark Movies & Mysteries are revealing details about the first three films of 2019.
Kristin Chenoweth and Scott Wolf will star in The Christmas Song, which is planned for the Hallmark Channel in November. In the movie, directed by Eric Close (who directed last year's Christmas at Graceland), a youth choir director (Chenoweth) needs to write a big song for the Christmas Eve show but "finds herself distracted" when a boy with a golden voice (Kevin Quinn) joins her choir. This is big news to his widowed father (Wolf).
For the next holiday offering, Melissa Claire Egan, Marc Blucas and Patti Murinstar in Holiday for Heroes, which debuts on Hallmark Movies & Mysteries in November. The plot revolves around a woman (Egan) and a soldier (Blucas) who exchange letters for a year before their worlds collide.
Hallmark Movies & Mysteries is planning a Christmas movie that is executive produced by Blake Shelton, as part of a development deal with the country star. Shelton served as executive producer of 2018's Hallmark Movies & Mysteries movie Time for Me to Come Home for Christmas. This new film will center on another emotional homecoming journey around the holidays and music fans will be excited to find that it will include some of Shelton's songs. The movie will feature new lead characters.
The Hallmark Channel's "Countdown to Christmas" is expected to be an ambitious 10th Anniversary campaign this year. "The 10th year will be the biggest, boldest Christmas in Hallmark Channel history," Crown Media executive VP of programming Michelle Vicary told EW. "Over the 10 years, we have endeavored to be the No. 1 holiday destination, and achieved that over the last several years," she said.
Parade.com recently asked several Hallmark stars to weigh in on why they believe their movies are so appealing. This is what they had to say:
Jen Lilley – In Winter Love Story, the Days of our Lives star played a novice author, who finds her confidence on a book tour with a best-selling writer. "I absolutely love Hallmark movies with all my heart. I don't like really super sappy romances but I love Hallmark's message. To me, it's sort of the Meg Ryan-Tom Hanks charming and funny (Nora Ephron) romantic comedies like Sleepless in Seattle and You've Got Mail. It goes perfectly with hot cocoa and popcorn.
Paul Greene –The star of When Calls the Heart, (Season 6 debuts on February 24), has made several Hallmark holiday movies. "I loved making the movie The Wish For Christmas, with Lacey Chabert. The women of Hallmark are very strong and charismatic. You look at Lacey, Candace Cameron Bure, Danica McKellar,and Erika Christensen and they are all super. Their roles are written very smart and very strong and sometimes they're trying to rescue the man from himself, it seems. A lot of my characters can't get their act together and then it's the relationship that really helps them. So, I think they're very balanced in that way."
Alexa PenaVega – Star of the recent Hallmark movie Christmas Made to Order, PenaVega found herself helping an architect host his family for Christmas in his home. He turns to her character, a holiday planning expert for help. "Hallmark is one of my favorite parts of the holiday. We have these diehard fans and I think it's because Hallmark makes shows that feel so good and stands behind its family values. The content has great lessons for you at any point in your life."
Alison Sweeney – Sweeney is star of many Hallmark movies (Christmas at Holly Lodge) and co-creator, executive producer and star of the Chronicle Mysteries, a new series of movies for Hallmark Movies & Mysteries that debuts on Feb. 17. "Hallmark is a happy place for so many of us. It's a place where you can go, and you feel safe knowing that the story you're in for is going to be rewarding, and you're going to feel good about it. I think it's true of all of the programs that Hallmark works so hard to create."
["source=parade"]