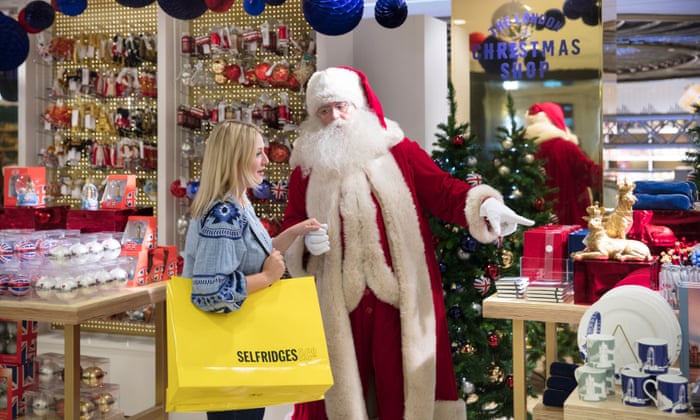 Selfridges is launching its festive shop early for the benefit of shoppers who 'love to Christmas shop very early in the year'. Photograph: Selfridges
It might be 147 days before Christmas but on the fourth floor of Selfridges on London's Oxford Street there are six fake fir trees decked out with fairy lights and £50-a-pop corgi and union flag baubles.
A Father Christmas on Monday opened Selfridges' annual festive shop, making it the first department store in the world to open a dedicated Christmas department in July.
For some people five months of Christmas cheer might be almost too much to bear, but Anne Thomas, who was manning the surprisingly busy tills, said she was excited about her recent switch from the dining department. "I am going to have to be full of the Christmas spirit and full of energy for the next few months," she added.
Many customers were surprised that Christmas glitter was already on the shelves, but several who were visiting from overseas or from out of town said they were pleased to be able to take home British decorations, including Selfridges branded baubles costing £6.
Lisa Lew, a 41-year-old branding expert from Melbourne, bought one of the £50 corgi baubles for her mum. "She collects them, I get one every year." she said. "Whenever I see a particularly nice one I just grab it."
Lew acknowledged that £50 was quite a lot to spend on a bauble. "I mean I wouldn't spend that on one for me, but it's a gift and these are beautifully boxed."
Robyn Killpatrick, who was also visiting from Australia, said selling decorations in July smacked of the "over commercialisation of Christmas", but added: "Some people only visit London once in a lifetime and it's nice for them to be able to take something home."
Killpatrick, 63, said she had not chosen what to buy yet but that she would try and get something to fit in her suitcase before flying out tomorrow.
Visiting the Christmas shop was a family affair for the Westbury family, with four-year-old Thomas visiting from Northampton joining his mother and grandmother for the first time on what has become a family tradition. "We come every year in the summer holidays," said his mother, Julie Wesbury, 41. "We pretend it's the start to Christmas and get over excited. We love Christmas and Thomas already wants to write his letter to Santa."
From Friday Selfridges will also start selling festive food, in a move that may horrify traditionalists. Those who simply cannot do without festive jewelled fruit cake (£12.99) or a glass of summer eggnog (£5.99) before the start of the Premier League football season are in for a treat.
Selfridges, which also has branches in Manchester and Birmingham, will at its peak stock 130,000 products including 51,000 baubles, 65 light and tree options, and 80 different varieties of crackers.
The retailer's Christmas food range includes festive white chocolate and pistachio biscuits (£7.99) and traditional Christmas cake (£11.99).
Eleanor Gregory, Selfridges Christmas and home buyer, said: "The fact that we're also going to be selling some of our most requested Christmas food lines from Friday for the first time ever, is complementing the Christmas selection we make available in the summer perfectly.
"This new extension to our usual offer is addressing this growing demand for convenience – domestic customers who love to Christmas shop very early in the year to get it wrapped and taken off their to-do list."
The food products have been specially selected for their long shelf life due to a combination of water, sugar and alcohol levels.
A spokesman said: "We have chosen to launch with these products due to the fact they have a naturally long life."
["Source-theguardian"]