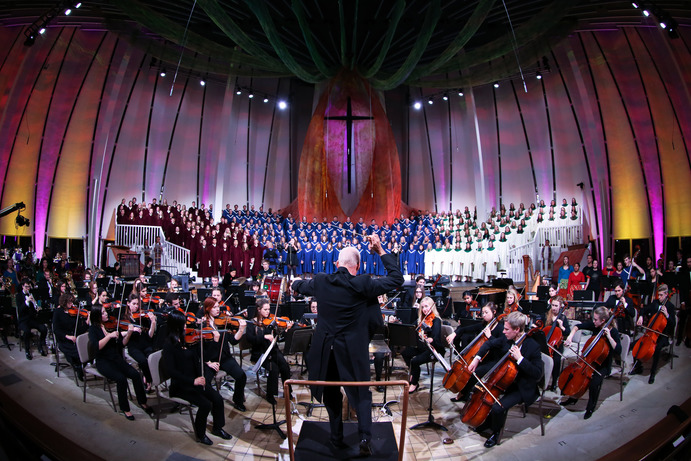 This weekend, musical ensembles of Gustavus will be participating in the annual Christmas In Christ Chapel concert.
This concert includes musical pieces sung by the Gustavus Choir, the Choir of Christ Chapel as well as the Lucia Singers, in addition to the choirs, there will also be music produced by the Gustavus Symphony, Chapel Ringers and other ensembles will also perform.
The theme for this year's performance circles around Martin Luther and the Reformation.
For the 500th year anniversary of the nailing of the 95 theses, Gustavus will celebrate the Christmas season with the intention of using the Lutheran heritage and history to intertwine within the performance.
"This year's [Christmas In Christ Chapel] is a fun, reflective and classic Christmas celebration through music and song," First-year Tyra Ericson, member of the Lucia Singers, said.
Students are putting in a great amount of passion, time and energy in order to spread a beautiful and festive message.
"I'm hoping it will be something I never forget," First-year Carrie Bather said.
Bather is part of the Chapel Choir and is excited to be a part of the performance that she has heard is very unifying.
"I'm excited for [Christmas In Christ Chapel] because I've heard from people in the choir that it's not only spiritual but a very emotional and binding experience for the choir and community," Bather said.
For others, this concert has been something they have looked forward to being a part of after attending before.
"I've seen [Christmas In Christ Chapel] multiple times and being able to sing in it is very exciting for me," First-year Isabel St. Dennis said, who sings in the Lucia Singers.
All ensembles, both choir and instrumental, have been working on this concert for weeks and have had numerous rehearsals, with the most intense being in the week leading up to the performances.
"[The choirs] have been practicing all year, and this week in preparation for the performance, we have mass choir rehearsals every night that can last up to four to five hours," St. Dennis said.
For some participants, however, the amount of work pales in comparison to feeling the religious and spiritual connection and energy during the concerts.
"There's something about the chapel and the feeling of Christmas and God's presence as the choir sings that's truly an amazing experience," St. Dennis said.
Bather is excited to perform a specific few pieces and the different aspects of those pieces.
"[I am excited to sing] this song called "Alleluia because there's clapping," Bather said.
Other students share some concerns, but are mostly eager to perform. "…we have practiced [the concert] so many times, I do however hope I remember all [of the] words," St. Dennis said.
Students are encouraged to see this concert and experience the beauty and passion the singers feel when performing for their community.
"People should come and watch [Christmas in Christ Chapel] because it is not only a beautiful concert to watch and listen to, but it is an incredible thing to be [a part] of," St. Dennis said.
This concert, with the performances beginning on Dec. 1 and running through Dec. 3, will be a great opportunity to bring together the Gustavus community and celebrate this time of year.
"I'm excited to see everyone's hard work come together for a heart-warming weekend to ring in the holiday season," Ericson said.
["Source-weekly.blog.gustavus.edu"]