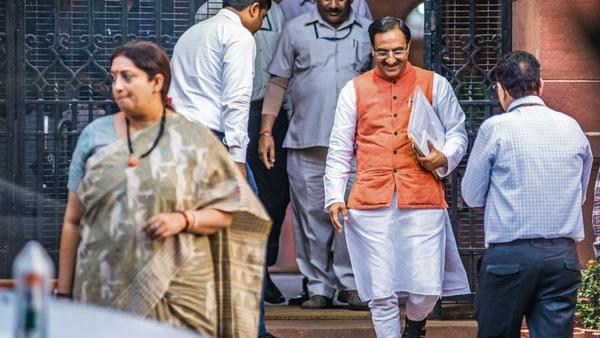 New Delhi: Draft education policy report will undergo at least two rounds of review before it becomes a policy and no language will be imposed on schools in any state, the Centre clarified as opposition against indication of the draft favouring learning of Hindi gets louder in southern states.
"This is a draft Policy submitted by the Committee and is placed for views of the general public. It is not the Policy announced by Government. After getting feedback from general public, and after consulting state governments, the National Education Policy will be finalized," the human resource development ministry said again on Monday.
The Centre is committed to equal development and promotion of all Indian languages. There will be no imposition of any language in educational institutions, nor discrimination against any language, newly-appointed human resource development minister Ramesh Pokhriyal Nishank told news agency ANI.
Political leaders from southern states including Karnataka Chief Minister HD Kumaraswamy, Congress parliamentarian and former junior HRD minister Shashi Tharoor, former finance minister P. Chidambaram and DMK leader MK Stalin, among others have warned against the forced imposition of Hindi in school syllabus in southern states.
"Most of us in the south learn Hindi as a second language but nobody in the north is learning Malayalam or Tamil," Tharoor told ANI.
But various central government ministers over the last couple of days have tried to address the concern. "Only after hearing public opinion, the draft policy will be implemented. Only to nurture all Indian languages PM launched EkBharatSreshthaBharat. The Centre would support to honour and develop the ancient Tamil language," Finance Minister Nirmala Sitharaman said in a post on Twitter.
Vice president Venkaiah Naidu asked people to study and debate the draft policy without jumping to any conclusion.
On Friday, a committee led by scientist K Kasturirangan submitted the draft education policy to the new HRD minister. The ministry has put up the draft policy online for consultations and feedback from public for a month. Besides, it will take suggestions from each state before taking the policy to the Union Cabinet for discussion and approval, higher education secretary R. Subrahmanyam has said.
The draft policy has mooted several suggestions, including restructuring undergraduate education, bringing back four-year undergraduate programmes, promotion of multi-disciplinary education, categorizing higher educational institutions on three parameters, promotion of research through better funding, segregation of accreditation, regulation and funding responsibilities and extension of right to education from pre-school to senior secondary level among others.
["source=livemint"]