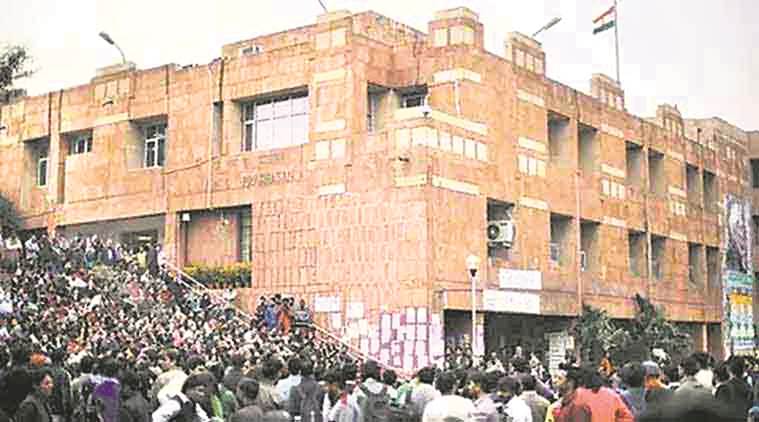 The Jawaharlal Nehru University Teachers' Association (JNUTA) on Thursday released truncated data, allegedly of its first round of admissions for MPhil and PhD courses, which shows that only 53 per cent of its total seats have been offered for admission. Moreover, of these, only 17 seats have been offered to reserved category students.
The JNUTA has alleged that the disparity in intake (the number of seats available) and on offer (the number of seats offered for admission after entrance and interview of candidates) is because of arbitrary rules made by the administration which are not mentioned in the UGC gazette notification of 2016. The data suggests that of the 139 seats across schools — announced as intake in the prospectus — only 74 have been offered. The adoption of the notification had led to over 80 per cent cut in seats this year.
In a statement, the JNUTA said the current admissions were "all set to go down in JNU's history as ones in which the Constitutional guarantees of reservation were not implemented, and where the whole effort of the JNU admission policy was to ensure no admissions". Of the 17 seats offered for reserved categories, two are for SCs, two for STs and 13 for OBCs.
"The decision not to give any relaxations for social disadvantage in the 50% qualifying marks (at the entrance level) has proved to be disastrous for social justice. It is safe to conclude, given the final numbers, that hardly any SC, ST, OBC candidates made it to the viva. The ones that did, undoubtedly suffered further by the completely unwarranted decision to abandon the deprivation points system for research admissions," JNUTA president Ayesha Kidwai said in the statement.
"In most cases, there were enough candidates called for the viva-voce, all of whom, it must be remembered would have got over 50% in the written examination. Yet, shockingly, only 53% of the seats specified in the intake have been offered," she said. For example, the Centre for Russian Studies had an intake of nine, of which six appeared for the viva-voce, yet only three have been offered admission. Similarly, the Centre for German Studies had an intake of 11 and interviewed 11 students, yet only seven have been offered admission.
The situation is particularly bad in Science Schools. The School of Computer and Systems Sciences had an intake of 25 but has offered only three seats. Similarly the Special Centre for Molecular Medicine had an intake of 15 but only offered three seats.
JNU Registrar Pramod Kumar said he had no knowledge of passing marks being imposed at the viva level. Kumar added that "everything was being done according to the UGC gazette notification". Rector Chintamani Mahapatra said admissions were not over and that a second list would be out soon.
[Source"timesofindia"]