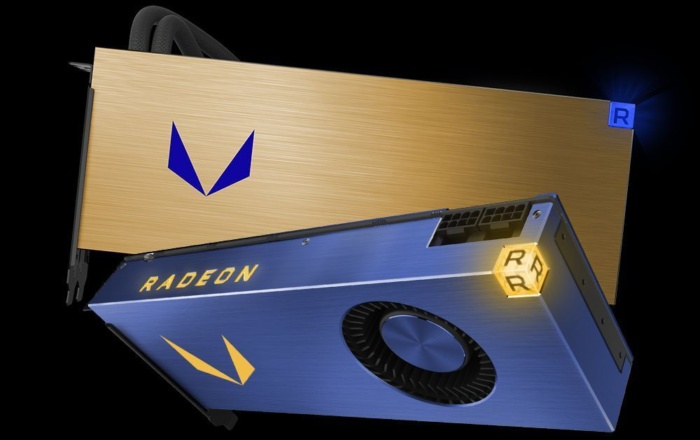 After months of trickles and teases, the full hardware details about the first Radeon Vega graphics card are finally here as AMD formally launched Radeon Vega Frontier Edition on Tuesday.
Don't get too excited though. This hardware is intended for "data scientists, immersion engineers, and product designers" rather than gamers. That professional focus reflects in the pricing: The air-cooled Frontier Edition costs $1,000 and the liquid-cooled Vega goes for a cool $1,500 on Newegg. (That's cheaper than initially expected, however, as online retailers like SabrePC, Newegg, and Exxact originally listed earlier preorders at $1,200 and $1,800, respectively.)
While it's capable of gaming, AMD's new graphics card is very much workstation hardware, as PCWorld's extensive Radeon Vega Frontier Edition hands-on revealed. Still, its specs give us a ballpark glimpse of what we might expect from consumer Radeon RX Vega graphics cards when they launch at the very end of July.
Here are the key Radeon Vega Frontier Edition technical details. The air-cooled and liquid-cooled configurations have identical specifications aside from the thermal design power (TDP) rating.
Stream processors: 4,096
Compute units: 64
Clock speed: 1382MHz "typical," 1600MHz peak
Single precision floating point performance: 13.1 TFLOPS
Double-precision floating point performance: 26.2 TFLOPS
Pixel fill rate: 90 gigapixels per second
Memory: 16GB HBM2 in two stacks
Memory bandwidth: 483GBps
TDP: 300 watts (air-cooled), 375W (liquid-cooled)
Display outputs: three DisplayPort 1.4, HDMI "4K60"
At $1,000, the Radeon Vega Frontier Edition has Nvidia's similarly prosumer-focused Titan Xp squarely in its sights. Here's how the two cards stack up in a handful of workstation scenarios, courtesy of Exxact.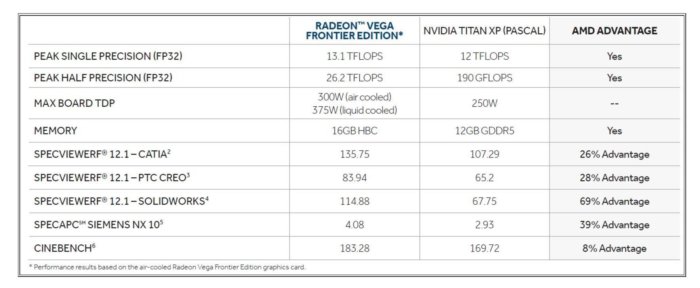 What it means for gamers
Puzzling out what these specs portend for consumer graphics cards is tricky, especially because Radeon boss Raja Koduri already said that the Frontier Edition doesn't represent Vega's pinnacle of gaming performance.
"Consumer RX will be much better optimized for all the top gaming titles and flavors of RX Vega will actually be faster than Frontier version!" Koduri said during a Reddit AMA in May.
That likely means a higher core clock, which could strain the 300W maximum TDP of the air-cooled version—even though it's already 50W higher than the TDPs of Nvidia's Titan Xp and GeForce GTX 1080 Ti. AMD told us that the Frontier Edition could've been designed with more modest power connectors, however. The final version uses dual 8-pin connectors (hence the 300W TDP) for additional headroom.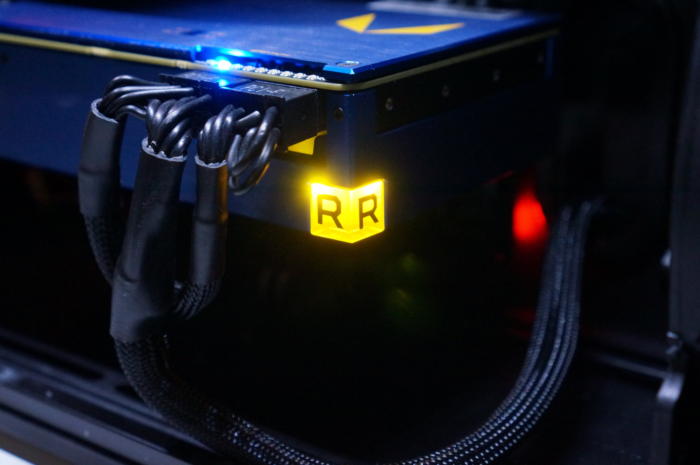 [Source"indianexpress"]