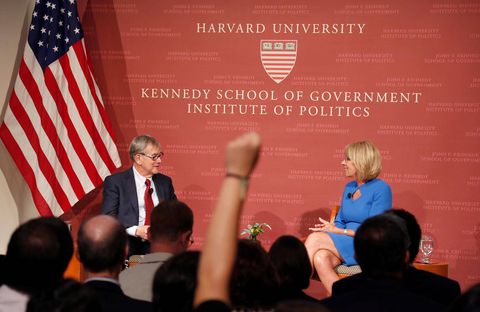 A protester holds up a fist as U.S. Education Secretary Betsy DeVos (R) speaks with moderator Paul E. Peterson, Director of the Program on Education Policy and Governance, at Harvard University's Kennedy School of Government in Cambridge, Massachusetts, on Sept. 28, 2017.
U.S. President Donald Trump's education chief, who has been accused of wanting to "destabilize and privatize" public schools, is expected to visit Toronto for a tour of Ontario's school system, The Globe and Mail has learned.
A source familiar with the trip said that Secretary of Education Betsy DeVos plans to visit local schools, meet with Ministry of Education officials from Ontario and other provinces and learn more about U.S. and Canada higher education linkages.
The trip, believed to be taking place later this week, comes days after Ms. DeVos's appearance at Harvard University drew hundreds of protesters who denounced her advocacy of for-profit schools and for rescinding Obama-era guidance on how colleges handle sexual-assault allegations because the Trump administration believed students were being denied due process.
It is unclear which schools Ms. DeVos will tour in the Toronto area. Several school boards contacted by The Globe, including the Toronto District School Board, the Toronto Catholic District School Board and both the Peel public and Catholic boards, said she was not visiting their schools.
The York Catholic District School Board did not return calls or e-mails, and the Durham District School Board, east of Toronto, was not direct when asked if Ms. DeVos would be visiting its schools. "We are unable to confirm details at this time," a board spokesman wrote in an e-mail.
A spokesman for Ontario Education Minister Mitzie Hunter said he, too, was unable to confirm any details of Ms. DeVos's trip. But Richard Francella said in an e-mail statement that the provincial government receives dozens of requests from other jurisdictions every year to visit Ontario's publicly funded schools system. Former U.S. education secretary Arne Duncan visited Ontario to see the steps taken to increase the province's graduation rate, Mr. Francella said.
"We welcome international dignitaries to visit Ontario and learn more about all the excellent things happening in our schools," Mr. Francella said. "And we appreciate the opportunity to showcase all of the good work in Ontario's publicly funded education system – one that focuses on equity, well-being and student achievement."
There has been a reluctance among public-school officials in Canada to welcome Ms. DeVos, a polarizing figure who has drawn protests and who many in education circles see as the centre of a movement to use public dollars to pay for tuition at private and religious schools.
Ms. DeVos once referred to America's public education system as a "dead end," according to the Washington Post.
Ms. DeVos, a billionaire, has used her financial means to support efforts to expand school choice, and the Trump administration has made it a priority. Critics say it amounts to privatizing public education. School choice means that students have options other than their local public schools, such as private and religious schools, and can attend using public funds in the form of vouchers and similar programs.
Ms. DeVos has said that public money should be invested in individual children.
But public-school advocates say it erodes the publicly funded system because wealthier and mainly white families leave their local public schools and move into largely unaccountable private schools or to schools in mostly white communities. They also argue that it leaves low-income minority students in even more racially segregated schools.
American Federation of Teachers president Randi Weingarten called Ms. DeVos the "most anti-public education secretary of education ever" in a speech made in July to her union.
She added that Ms. DeVos was an "ideologue who wants to destabilize and privatize the public schools that millions of Americans value and rely upon."
"Betsy DeVos called public schools a 'dead end.' Our public schools aren't a dead end. They're places of endless opportunity," Ms. Weingarten said in her speech.
["Source-beta"]