Union Finance Minister Nirmala Sitharaman serving halwa to her colleague Anurag Thakur. (Photo: Twitter/Finance Ministry)
Preparations for the Union Budget 2019-20 are on full swing with the Union finance ministry organising the traditional 'halwa ceremony' today.
Every year a halwa ceremony is organised at the finance ministry to mark the beginning of printing of documents related to the Union budget. Finance minister Nirmala Sitharaman will be presenting the first budget for the new Narendra Modi government on July 5.
On Saturday, Nirmala Sitharaman, along with MoS finance Anurag Thakur attended the traditional halwa ceremony at the finance ministry.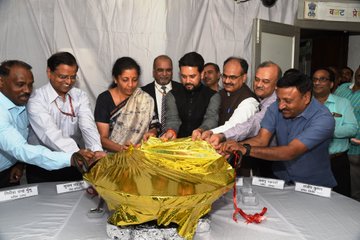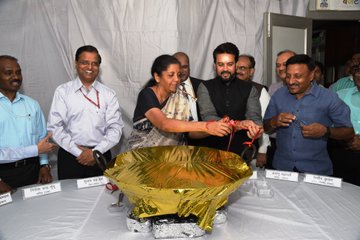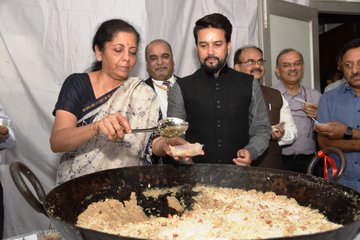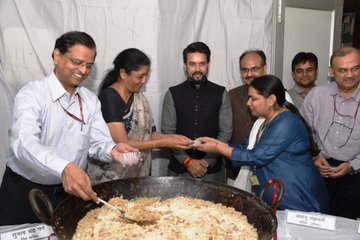 The printing of budget documents starts nearly a week ahead of the budget day at a printing press in the basement of the finance ministry. The occasion is flagged off by preparing halwa when large quantities of the sweet are served by the finance minister to nearly 100 officers and staff of the ministry.
As part of the ritual, halwa is prepared in a big kadhai (cauldron) and served to the entire staff in the ministry.
The significance of the sweet dish is that after it is served, a large number of officials and support staff, who are directly associated with the budget making and printing process, are required to stay in the ministry and remain cut off from their families till the presentation of the budget by the minister in the Lok Sabha. They are not even allowed to contact their near and dear ones through phone or any other form of communication, like e-mail.
Only very senior officials in the finance ministry are permitted to go home.
In a press note, the finance ministry today said, "To maintain the secrecy of budget, there is a 'lock-in' of the officials involved in making the budget. Budget press situated in North Block, which houses all the officials in the period leading up to the presentation of the Union budget. These officers and staff gain touch with their near and dear ones only after the budget is presented by the Union finance minister in Parliament."
["source=indiatoday"]