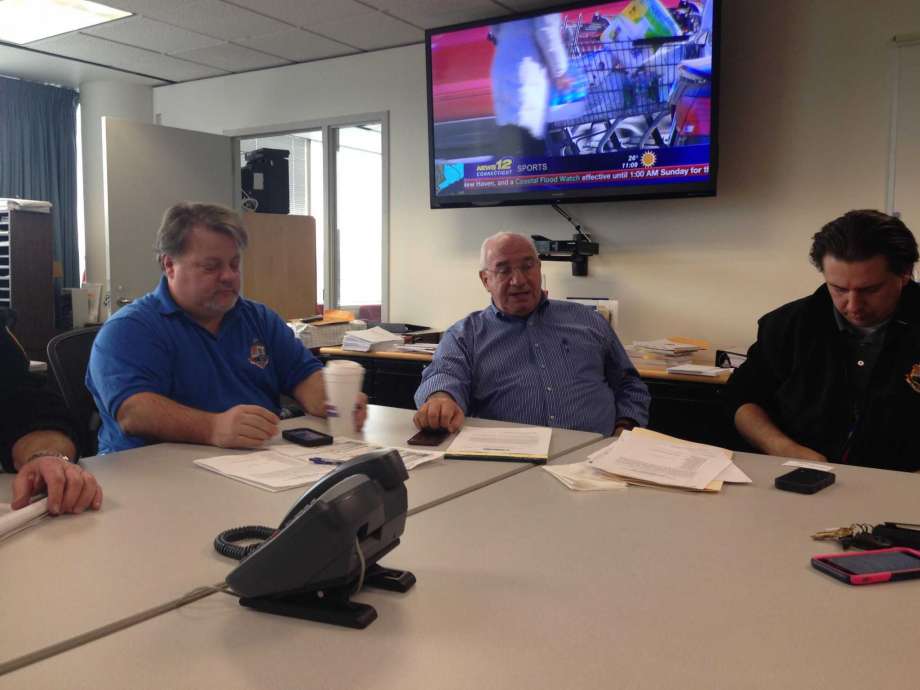 STAMFORD — Taxpayers who wonder how their money is spent would be interested in a discussion among officials crafting the next city budget.
It was about Indians vs. (bureau) chiefs, good managers vs. bad.
Board of Finance members last week were asked to consider a request from Office of Operations Director Ernie Orgera to fund a position – chief of the parks and recreation bureau — at a starting annual salary of $91,000.
The job has not been filled for more than five years, Orgera said, and since the layoffs that came with the recession of 2008, the Office of Operations lost its public services bureau chief, two secretaries, two account clerks and an office support specialist.
"All I have is me, my secretary and a clerk," Orgera told the finance board during budget presentations last Thursday night.
The problem is that he has 10 direct reports, Orgera said – the heads of the departments of engineering, buildings, parks, recreation, transportation, land use, highways, fleet management, solid waste, and cashiering-permitting.
"Right now I put out fires," Orgera told the board. "I handle a lot of complaints about the building department, the cashiering and permitting department. There's a lot of complaints about people (in the departments) that don't respond, don't return calls. I do just about everything I can to keep this place together."
A finance board member asked why citizens don't bring their complaints to the department managers.
"The problem is they've gone to those people and they still can't get their problems solved. So they either go to me or the mayor," Orgera said. "And if they go to the mayor, it comes to me anyway."
'More bureaucracy'
He was asked for an example. If, say, he gets a complaint from a contractor having trouble obtaining a permit, he goes to the building department manager to ask about it, Orgera said. If he learns that the permit got hung up in the environmental protection bureau, he visits that manager, Orgera said.
"He may tell me, 'Well, it's because there's a drainage problem and it's not repaired yet,'" Orgera said.
Board member Sal Gabriele asked why a department manager couldn't explain that to the contractor.
"That's a good question," Orgera said.
"It appears to me you're saying we have people in place that can't manage," Gabriele said. "And the only thing we're doing is putting in more bureaucracy to look after people that can't manage?"
"That's correct," Orgera said.
Another board member said individual departments can have a difficult time resolving problems that cross between them, and a bureau chief can help.
"But it's been a longstanding problem, so you would have figured out a solution by now," member Shelley Michelson said. "It's a question of accountability."
$100K salaries
A finance board member asked whether the city could deliver better service if a new bureau chief were hired. Orgera said yes, and it would free up a lot of his time.
He was asked what he would do with the time.
"I would like to be a little more creative and get some work done to enhance the divisions," Orgera said.
"I understand that," Gabriele said. "But … we're going to have to … explain to taxpayers that we have managers that are working 40 hours a week pulling in over $100,000 a year with all these benefits and yet they can't manage their departments. And you have the taxpayers saying … I work above 40 hours a week and I'm not making that kind of money. And in the corporate world if I didn't get the job done, I would be replaced."
The number of six-figure earners in Stamford government has been skyrocketing, The Advocate has reported. In 2010, 80 municipal employees earned at least $100,000 a year. By 2015, it had jumped to 821 employees – a 926 percent increase.
'Look to replace'
"People are struggling," said Gabriele, who favors more hires at the customer-service level. "Every year managers want their salaries, they want their 2 percent (raises,) their 3 percent, their pensions. Well, you know, the public wants you to deliver the service. Maybe it's time we look to replace."
"I hear you," Orgera said.
Board member Dudley Williams acknowledged that the Office of Operations does not have much of a hierarchy, but he questioned whether filling it is the answer.
"When I think about … some of the departments … and the challenges, I don't know whether another layer of management will solve the problem," Williams said.
Orgera agreed. But managers in civil-service jobs can't be replaced as easily as in the corporate world, he said.
"It would be a replacement of the management that would help in some cases," Orgera said. "I would like to have different managers, but I don't."
The budget must be finalized in the next month, so taxpayers soon will learn what the Board of Finance, and later the Board of Representatives, decide about the $91,000 request for a parks and recreation bureau chief.
["Source-stamfordadvocate"]