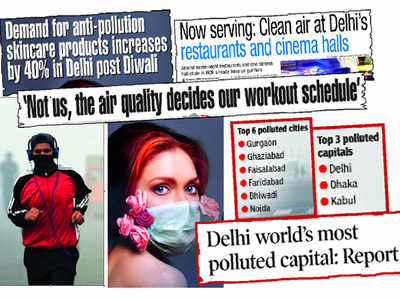 Over the last few months, our stories showed how Delhi has adapted its lifestyle to deal with the toxic air
A recent report by Greenpeace and IQAir AirVisual has put Delhi and Gurgaon on top of the world's most polluted cities list. While Delhi is the most polluted capital, Gurgaon is the most polluted city. But this does not come as a surprise to NCR residents and in the last few years, clean air has become a luxury here. The toxic air has been dictating lifestyle choices as well – from picking a restaurant with air purifiers and buying skincare products that fight the effects of pollution to changing fitness schedules and adding anti-pollution masks to the daily wardrobe. We take a look at how the Air Quality Index (AQI) changed Delhi's lifestyle in the last year.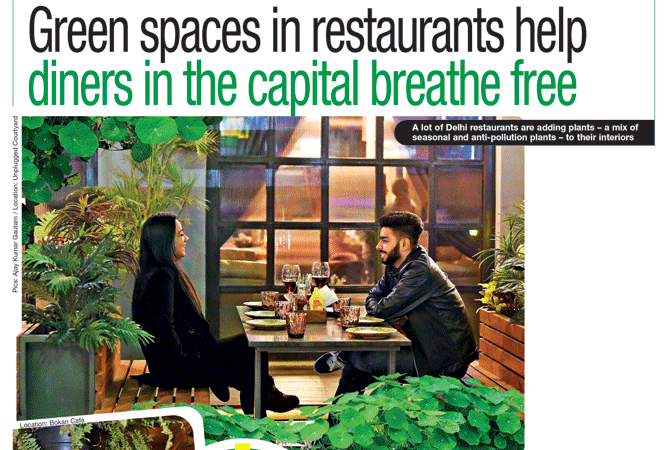 Restaurants and cinema halls have installed air purifiers to combat air pollution
Air purifiers and anti-pollution plants in restaurants add to the dining experience
With the rising pollution and smog level in NCR, a number of restaurants and hotels have started providing an additional service – fresh air. Restaurateurs tells us that having an air purifier is now as important as maintaining their food standards.
Piyush Jain, co-owner of Decode in Rajouri Garden, says that air purifiers are an important factor for customers, especially those dining with families. "At a time when people are installing air purifiers at home, it is almost necessary for restaurants in NCR to have air purifiers. It is not just about making an effort to improve our guests' experience, but also to help them breathe easy. Guests do appreciate and notice if the restaurant has air purifiers, especially those who come with families," says Piyush.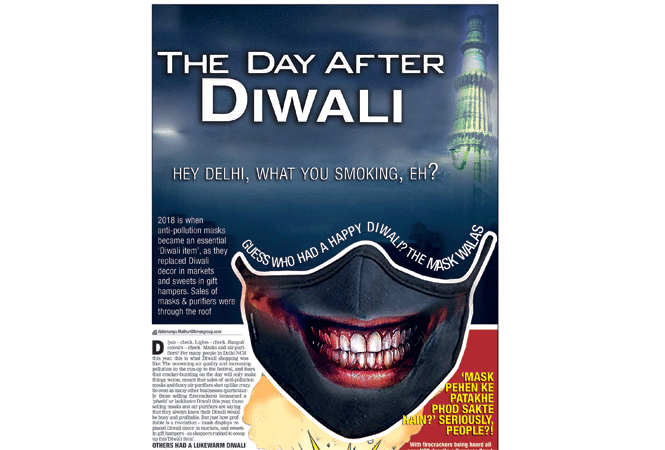 Rohan Kumar, managing director, Fantom Bar & Brewery at Golf Course Road in Gurgaon, adds that now any restaurateur who is planning to open a new outlet in NCR has to think about installing air purifiers, which was not the case till a few years ago. "We all know that pollution in NCR has reached alarming levels and it is important to take steps like installing air purifiers or having anti-pollution plants as part of the interior decoration. Like music, service and food, air purifiers have become an added feature in restaurants across NCR. I already have air purifiers at my outlet in Gurgaon and if I plan to another outlet in NCR, I can't do i without an air purifier," says Rohan.
Another major change that restaurateurs have noticed is that now guests prefer indoors over open-air dining. Because of the pollution, people now make reservations in advance for the indoor section.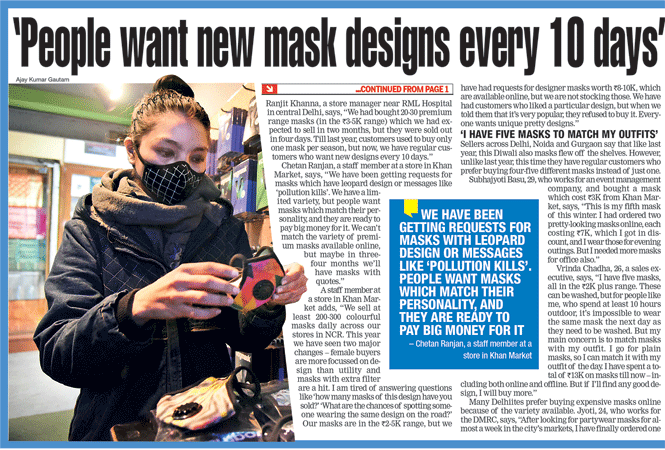 Masks have become an essential fashion accessory
Clean air at cinemas
If you go for a movie, you spend around three hours inside the theatre. And if the quality of the air in the hall is as bad as it is outside, it is certainly a health hazard. Taking a note of this, several cinema halls have been taking corrective measures. While the staff at multiple cinema chains tell us that this is one discussion that can't be avoided anymore, PVR Cinemas has retrofitted central air-purification systems in three of its theatres to combat indoor air pollution.
Talking about it, Sanjeev Kumar Bijli, Joint Managing Director, PVR, had earlier told us, "The need to install air purifiers in cinema halls is obvious because if you live in Delhi now, you can't wake up without looking at the grey sky. The air is so bad that it is impacting the health. Now, when people are installing air purifiers at their homes, they should get fresh air at cinema halls too. It's not a luxury, it's a necessity. We are planning to extend it to other screens too." Other cinema halls in NCR are also planning to install air purifiers.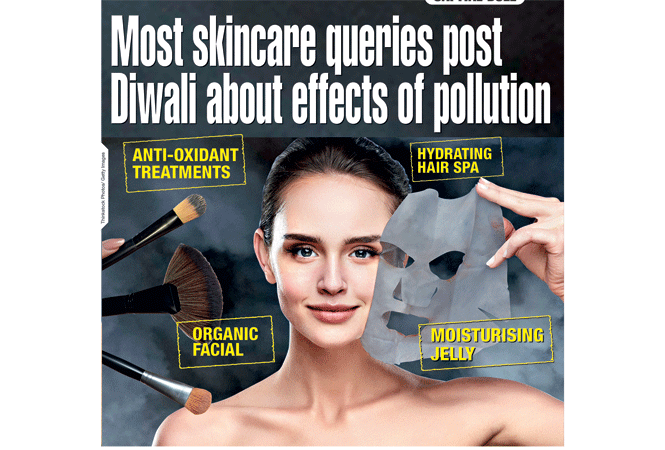 Salons have started offering anti-pollution beauty treatment
Now, pollution protection a must in skincare products, too
Last year, dermatologists and skincare consultants in Delhi saw a 30-40% increase in queries about pollution-related skincare issues. The sale of anti-pollution skincare products and treatments also saw a rise.
Nykaa.com, one of the biggest aggregators of beauty products, saw over 30% increase in demand for anti-pollution beauty products, while brands like Kama Ayurveda, The Body Shop, Forest Essentials, and VLCC said that products and services which promised to combat effects of pollution were also more in demand. Salon owners add that post-Diwali, there was a huge increase in queries about beauty products that protect the skin from pollution, and a number of salons started offering oxygen facials, which they say help fight the effect of pollution.
A staff member of a Forest Essentials store tells us, "Most customers enquire about products that have pollution protection and we guide them accordingly. Now, pollution protection has become the most important factor, whatever else the product does is secondary."
Seema Nanda, owner of a salon which has branches across NCR, says, "Now, instead of suggesting treatments based only on skin type, we also advise clients on how to protect their skin from pollution. You can protect your skin from UV damage with sunscreen, but that isn't effective against pollution. So the demand for Vitamin C and E-based facials and products have increased."
A staff member at a Body Shop outlet says, "We suggest to our clients that they focus on cleansing the skin as tiny particles that attach to your skin daily can cause damage in the long run. Hence, having a skincare routine is helpful, and that's the reason why most brands have seen a rise in demand for face cleansers than any other product."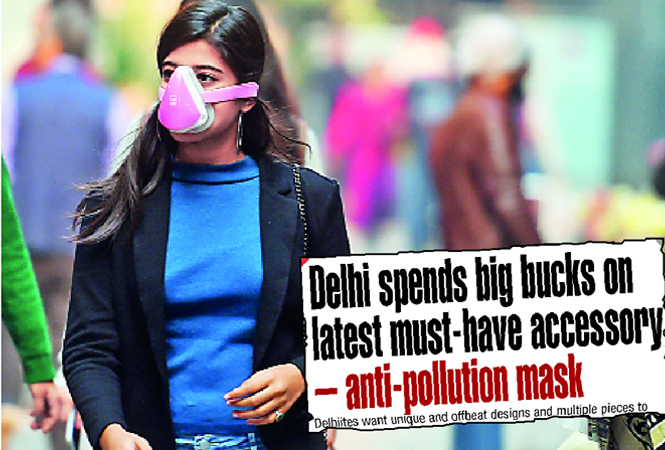 Masks have become must-have fashion accessories
Till a few years ago, mask-wearers were a minority in NCR, but due to the worsening air quality it became a must-have accessory. Now, masks also make fashion statements, and demand for expensive and unique masks has increased many folds. In Delhi's markets, masks are available for Rs 3K-5K, however, the city's fashionistas prefer buying premium range masks online where there is a huge variety available. A staff member at a store in Khan Market tells us, "Masks are the latest fashion accessory. Last year, in terms of both demand and supply, premium masks ruled over the regular black and white masks. In the beginning of 2018, we didn't anticipate that masks could also become a fashion statement. The demand for masks has kept increasing over the last two-three years."
Sellers from across NCR say that they have regular customers who buy masks in four-five different colours and patterns. Vrinda Chadha, 26, a sales executive, says, "I have five masks, and all are in the Rs 2K plus range. For people like me who spend at least 10 hours outdoors, it's impossible to wear the same mask the next day as they need to be washed. But my main concern is to match the mask with my outfit of the day. I go for plain masks in different colours, so I can match them with my outfits. I have spent a total of Rs 13K on masks till now – including both online and offline. But if I'll find a good design, I will buy more."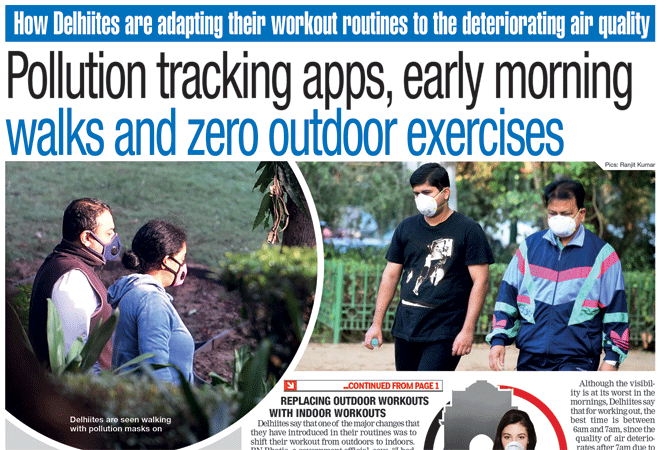 People are planning their fitness routine according to the air quality index
AQI determines fitness routines
Fitness enthusiasts tell us that the rising pollution level has changed their morning workout schedules to the extent that they do not step out of their homes now without first checking the AQI. Jitender Mishra, a web developer who's a part of several citizen groups that protest against felling of trees, says, "We are seven-eight friends who meet at Nehru Park daily for jogging. But we don't step out without first checking the AQI and discussing whether we should be out jogging or not."
A number of other joggers also say that they do not step out without masks. Last year, a number of marathons and runs in the city have also been postponed as people have reduced their outdoor activities and can't even go out to practice for marathons. Delhiites say, "We don't decide our workout schedule, the air quality does."
["source=timesofindia.indiatimes"]