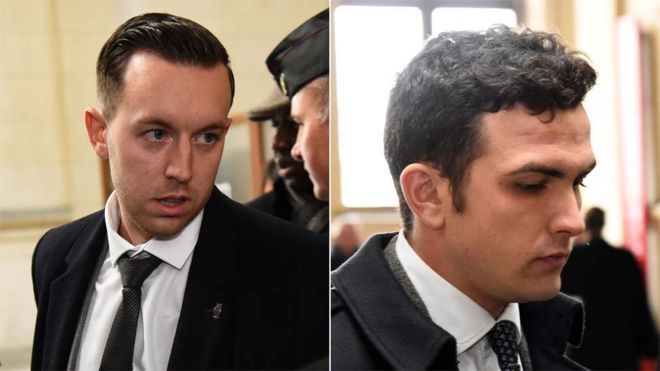 Four Chelsea fans accused of aggravated violence against a black man on the Paris Metro have been given suspended one-year sentences by a French court.
Joshua Parsons, 22, and James Fairbairn, 25, had denied their actions of February 2015 were racist in nature.
Their co-accused, fellow Chelsea fans Richard Barklie, a 52-year-old former policeman, and William Simpson, 27, were tried in absentia.
They were also ordered to pay the victim 10,000 euros in compensation.
Souleymane Sylla was targeted at Richelieu-Drouot station as football fans made their way to a Champions League match between Paris Saint Germain and Chelsea.
The hearing at the Palais de Justice saw a video recorded by a passenger of fans pushing him off the Metro train.
Supporters can be heard chanting "we are racist, we are racist and that's the way we like it".
The AFP agency reported that after giving evidence Parsons apologised to Mr Sylla, a Frenchman of Mauritanian origin, but denied there was any racist aspect to what had happened.
Turning to Mr Sylla in court, Parsons said: "I am very sorry to Mr Sylla, but I was not racist in any way."
[Source:- BBC]