Four-month operation to clean waterway that has attracted tourists, fans of the film Amélie – and tonnes of rubbish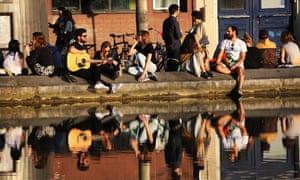 Authorities in Paris are to begin draining the canal St-Martin, a favourite haunt of hipsters in the city's north-east, in an attempt to refurbish its locks and remove rubbish.
Commissioned by Napoleon in the early 19th century to provide fresh drinking water, the canal in the 10th arrondissement was paid for with a new tax on wine. It went on to become a transport artery, but faced being decommissioned when boat traffic declined in the 1960s.
It survived, however, and is now home to trendy shops and restaurants and featured in the film Amélie, when Audrey Tautou skimmed stones along the surface. The canal is particularly popular in the summer when locals and tourists sip drinks while watching barges cruise by.
Popularity has its downside, though, and the three-mile canal has become a huge rubbish tip, much to the anger of local residents and business owners who have organised efforts to clean up the waterway complete with their own Facebook page.
The official cleanup, which starts on Monday, will last four months and cost €9.5m (£7m). In the past, items such as car chassis, fridges and household goods as well as tyres and Vélib hire bikes have been retrieved.
"An important part of these works concerns the locks, but it also an opportunity to clean the canal of objects that Parisians and tourists throw into the waters of Paris," said the office of the city's mayor, Anne Hidalgo.
The canal will be emptied from the first lock at Place de la Bataille-de-Stalingrad and the eighth lock at rue du Faubourg du Temple . There are nine locks in all with a variation of 25 metres in water level. The ninth lock allows vessels to navigate the three metres between Port de l'Arsenal and the Seine.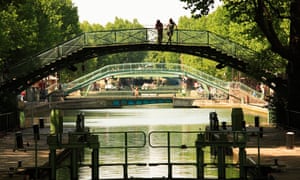 The canal will be drained by installing a waterproof dam upstream of the lock at La Villette and allowing the water to flow downstream, under the arch at Temple and to the Seine.
Fish will have to be collected before the canal is drained. In the last cleaning operation in 2001-02, 18 tonnes of fish were recovered and 40 tonnes of rubbish gathered. The detritus will be transferred by lorries to barges on the canal St-Denis.
Among objects found in previous cleanups in 1993 and 2002 were bicycles, scooters, motorbikes, paving stones, police barriers and bottles – empty and full. Two 75mm shells from the first world war, two empty safes, gold pieces, a pallet truck, two wheelchairs and a toilet bowl.
[Source:-the gurdian]