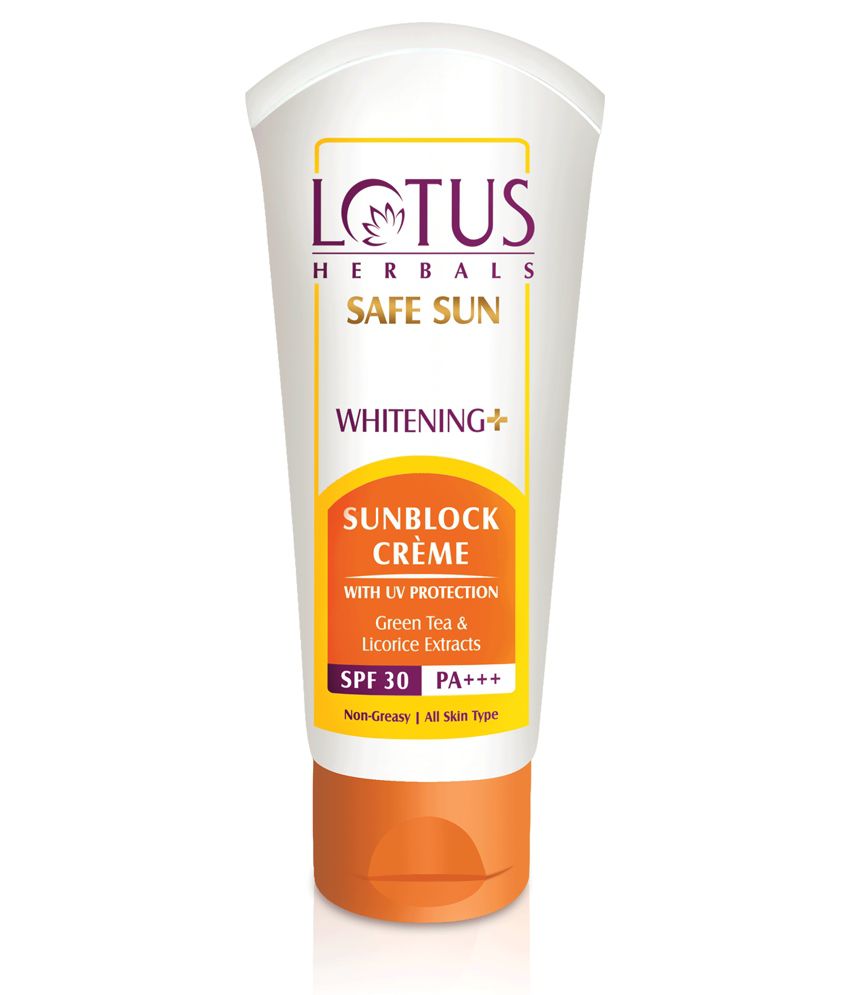 Did you know that sunscreen should be worn even when you are indoors or in a car and that even when it is a cloudy day or a rainy day? Most of us are unaware of the facts that UVA rays and UVB rays don't just cause tanning or sunburn, but these rays can also cause premature ageing of skin, dullness and even lead to skin cancer. Most of us just neglect how important sunscreen are specially during summers. In a tropical country like India, the importance of using sunscreen is even higher and even on a shady day one should not skip using sunscreen. Also, it is a big misconception that a sunscreen can be substituted with makeup with SPF. Further, we sometimes use sunscreen as a moisturiser and thus don't apply it in an adequate quantity. If you learn a little about the importance of sunscreen for our skin, you will add it in your daily skin regime.
The next important thing is to choose the best sunscreen from the vast variety and brands that are available in the market. We all have different skin type, texture and exposure to sun. There are some who have more field work and they tend to remain in sun more than others and thus need a sunscreen which has more SPF and is sweat proof. Then there are people who are swimmers etc., an ordinary sunscreen will wash off and will not be of much good to them. Some people stay more indoors and they are less exposed to direct rays. It becomes difficult for people to choose which sunscreen will suit them the best and most of the times end up using the wrong one. Often, we spend too much on the expensive ones still we see no good results. Lotus Herbal is a trusted Indian company and it has the vast range of sunscreen to pick from according to the skin type and purpose.
HERE IS A LIST OF TOP 10 LOTUS HERBAL SUNSCREENS IN INDIA-
Lotus Herbals SafeSun Sunscreen Gel – SPF 20
Most of the time sunscreens make our skin oily. But with this, you don't have to worry about making your skin oilier. Unlike lotion-based cream, this cream has a gel-based formula which will ensure that your skin doesn't become sticky and you have smooth texture. Plus, if you check the ingredients, you will find Aloe Vera extracts, seaweed extracts and many more natural ingredients which will not just protect your skin but also nourish your skin. This cream has SPF 20. The bottle is quite handy and comes in a pump bottle.
PRICE- Rs. 260/-
Lotus Herbals Safe Sun Daily Multi-Function Sunblock SPF 70 PA++
For those who remain outdoors for long and who work in sun this sunscreen will be their best mate. SPF 70 will provide you a greater shield against the harmful rays of sun. It is enriched with carrot and avocado extracts which is good for the skin. The best part is it has light tint and a very light consistency which will not make you look white or grey. This cream is suitable for all skin types. For your convenience, avail great deals using Myntra code and purchase the best set of sunscreens for yourself.
PRICE- Rs. 535/-
Lotus Herbal Safe Sun Whitening+ Active Tan Prevention Crème SPF 50 PA+++
This cream will not just prevent tanning but will also provide a whitening effect and will make your skin tone lighter. It is neither too oily nor will give a very matte texture. Because of it ideal base, it is suitable for all skin type- from too oily to dry skin. It has an off-white colour which gives a glow to the skin.
PRICE- Rs. 365/-
Lotus Herbals Safe Sun Anti-Ageing, Anti-Tan Ultra Sunblock SPF 100+ PA+++
With SPF 100, this screen can provide the extreme protection against the sun. It is best suited for the people who stay outdoors. It has a light tint and gives a bright look to the face without making it look grey. It absorbs quickly and doesn't oxidise or clogs your skin. Apart from the extreme protection this cream will also heal your sunburns, and fix other skin related problems like ageing, reduce tanning. Also, it can control the high formation of melanin.
Lotus Herbals Safe Sun Kids – Sun Block Cream – SPF 25
We all know heat and sun can't stand between kids and games and we don't want sun to be the reason to stop them from playing. Most of the sunscreens have ingredients which are not healthy for the delicate skin of the children. Thus, keeping this in mind this cream is specially made for children which is mild on their skins and will give them protection against harmful rays.
PRICE- Rs. 175/-
Lotus Herbals Safe Sun 3 In 1 Matte Look Daily Sunblock – SPF 40 PA+++
As the name suggests, this sunscreen has 3 in 1 benefits. Firstly, it gives a matte texture and doesn't make your skin look too oily or dry, thus it can be used on all skin type. Secondly, it is not at all greasy and doesn't give an odd shine to the face. Thirdly, it gets absorbs quickly and doesn't need a lot massaging like other sunscreens. It has SPF 40 which can be used for every work type- be it indoor or outdoor.
PRICE- 296/-
Lotus Professional Phyto-Rx Sunblock Mist SPF 50 PA+++
This is a kind of sunscreen in a mist form and can be sprayed directly on the skin. It does not need to be applied like a lotion and massaged. After spraying you can gently rub for few seconds and with absorb in the screen. It has no preservative and artificial fragrance and is thus completely harmless. Since its is sweat and water proof, you can use it even when you are in water ad it will prevent any sort of tanning. SPF 50 is good enough for harsh summers also.
PRICE-595/-
Lotus Herbals Safe Sun Skin Lightening Anti Tan Sunblock – SPF 30 PA+++
Unlike other sunscreen which only provides a shield against the harmful rays, this cream also helps in lightening the already tanned skin. It will help you restore your natural complexion without any side effects. This sunscreen is very mild and the natural ingredients in it will improve the texture of the skin. With regular application of this cream you will have a lighter skin tone.
PRICE- Rs. 245/-
Lotus Herbals Safe Sun Men Advanced UV Shield – SPF 30 PA+
Mostly sunscreens have a very fruity and flowery fragrance and for this reason many men avoid using it. With lotus herbal, however this problem also has a solution. This particular sunscreen with SPF 30 is specially made for men and has a very masculine fragrance. It is doesn't make skin greasy and is suitable on the tough skin of men. It has many anti septic properties and therefore can be applied after shaving as it will protect and heal cuts.
PRICE- 310/-
Lotus Herbals Safe Sun UV-Protect Body Lotion Nourishing Whitening Milk SPF 25PA+++
It is not just our face and neck that needs protection against sun, but every inch of the skin which is exposed to the sun rays needs protection. Often, we forget about our legs and hands while moving out in sun and end up with brutal sun burns and tanning. This special type of sunscreen has a lotion base and can be applied onto the skin just like any other moisturiser. It will make your skin smooth and moisturises your skin without making it feel sticky and greasy. The best part is it doesn't cast any white effect on your skin and gets absorbed easily.
PRICE- 240/-
CONCLUSION
We have shortlisted the best sunscreens for you.So, this summer don't shy away from sun and face the sunlight without any fear of tan. Flaunt your skin and remove those scarves because lotus herbal sunscreen has your back. Remember to apply the sunscreen generously because ultimately the results will show on your skin. Also, keep in mind to apply it 20 mins before leaving the house for the best results and you are good to go.