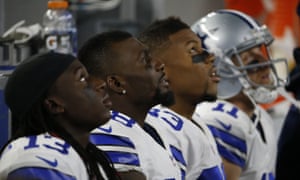 No more maybe for the Dallas Cowboys. They are finally eliminated from the playoff chase.
Maybe no more Matt Cassel, either.
Kellen Moore replaced an ineffective Cassel and threw a touchdown pass to Dez Bryant in his first game action in four seasons as a pro, but the Cowboys lost 19-16 to the New York Jets on Saturday night after Randy Bullock kicked a 40-yard field goal with 36 seconds remaining.
Dallas (4-10) is done in a division that doesn't have a winning team, a year after winning 12 regular-season games and the NFC East title.
"We've got a long time left here this month and of course a long January. You want to be a part of this thing at this particular time. It's very disappointing," owner Jerry Jones said. "This is nothing like I could have envisioned. Our plan sitting here was we'd really have it together at this time."
Washington, Philadelphia and the New York Giants are all 6-7 going into home games Sunday. The Redskins and Eagles each have two division games left, including head-to-head in Philadelphia next Saturday night, so at least one of them is assured of avoiding 10 losses.
Bullock missed a 45-yard field goal at the end of the first half, but kicked the winner eight plays after Dan Bailey's tying 50-yard field goal, which hit the right upright and barely ricocheted through and over the crossbar with 1:55 left.
Ryan Fitzpatrick and the AFC wild card-contenting Jets (9-5) have their first four-game winning streak since 2010.
Cassel once won 10 games filling in for Tom Brady in New England. But he has won only one of his seven starts for the Cowboys, the latest with two bumbling plays and not playing past the first series of the second quarter against New York.
After faking a throw and stumbling when he tried to change directions, Cassel threw blindly to a spot where Darrelle Revis was by himself for an easy interception.
Cassel came out the series after taking a 19-yard sack, which wasn't long after he left the field to loud boos following a three-and-out. He finished 3 of 8 for 37 yards with the pick.
"Didn't seem like we were able to get in a rhythm," coach Jason Garrett said. "At that time wanted to give Kellen a chance to see if he could jump start the offense."
Moore went 15 of 25 for 158 yards with the 10-yard touchdown to Bryant to put the Cowboys up 10-9 at halftime. The lefty also had three interceptions ending his first series, another picked off in the end zone midway through the third quarter after driving to the Jets 6, and then a desperate deep heave in the closing seconds.
Garrett said he wasn't ready to talk about whether Moore or Cassel would start next week at Buffalo.
"It was not an easy situation just because I've been here to support Matt in any way and help him," Moore said. "I felt good. I felt like communication was pretty good. … We'll see what happens. Obviously, I took this opportunity for what it was. We'll grow from it and learn from it and see what happens."
Tony Romo started only four games this season, the first two games in September before breaking his collarbone, and then two games after his return before suffering the same injury.
Brandon Weeden lost his only three starts before being replaced by midseason acquisition Cassel. Moore, the former Boise State quarterback, was moved from practice squad to active roster after Romo got hurt again Thanksgiving Day against Carolina.
[Source:-the gurdian]