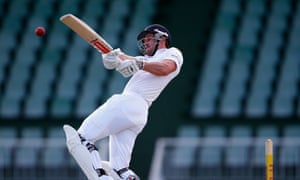 Nick Compton is back in an England shirt for what he is calling his second coming; the resumption of an international career he once feared may go no further than the nine Test caps won before he was dropped two and a half years ago.
It begins for real on Boxing Day in Durban, the city of his birth and at the Kingsmead ground where he played cricket in the car park as a youngster. But first comes Sunday's second warm‑up match against South Africa A here, 20 miles from Hilton College where that early enthusiasm for the sport was schooled.
Compton, a right-hander for whom attack-blunting obduracy comes as the default setting, is inked in to bat at No3 in the first Test against the world's No1 side, South Africa, and provide England with a safety net should the new ball, as has largely been the case in recent times, expose an end early. It is an insurance policy that has paid off already on this tour, with his 58 in the first warm-up in Potchefstroom last week spanning three hours and helping turn 10 for two into 470 for seven declared.
"It's a second coming for me," said Compton, after training at the picturesque City Oval on Saturday. "I'm not going to put too much pressure on myself but it's great to be back in the environment and the team. When I get out there, I will be as ruthless as possible."
Compton's previous spell at the top table was something of a curiosity. As an opener, his alliance with Alastair Cook at the top of the order averaged almost 58; the highest by a regular England opening pair in the past 53 years and helped set up a historic 2-1 series win in India.
He scored back-to-back centuries on the 2013 tour of New Zealand, only for a paralysed performance at Headingley in the return series – and a behind-the-scenes falling out with the team director, Andy Flower – to leave him replaced as Cook's partner by Joe Root on the eve of the summer's Ashes series.
During his time out of the team he spoke honestly about a chance half-taken – he averaged 31 in 17 innings –and the reasons beyond the numbers, never more so than when he told the Guardian in March about his relationship with Flower that deteriorated over a rib injury suffered in his last Test match, the severity of which was questioned during a heated dressing-room exchange.
Flower had also voiced some disquiet from the bowlers about Compton's approach in the field and, while whispers that Cook did not fancy him remained just that, there was a lingering sense that in the eyes of the old regime his face, rather than his cricket, was what did not fit.
Asked about the events that led to his being dropped, Compton said: "I would rather not comment on that; it was two and a half years ago. There were a few niggles here and there but the bottom line is I didn't play as well as I would have liked and didn't take my chance with both hands. There's only ever one person to look at in sport and that's yourself so hopefully this time I can put that right."
Compton, who scored 1,123 championship runs for Middlesex last summer after a move back from Somerset, never feared such openness would count against him. He is keen to stress that he detected no such issues with Cook, whom he believes has blossomed under the head coach, Trevor Bayliss.
"I've never felt I was unfair and thought that the comments I was making would ever put a line through my name; we all move on. It took me a while to get through it, there's no doubt about that, because I lost a place I'd worked for for a number of years and dreamed about as a kid.
"Getting back into the side is great. It's been an easy and professional environment. There's a good group of guys who all work incredibly hard under Cooky, who has had a few years now as captain and has grown in stature. He's got a nice group of guys and the environment now is a very positive one."
Such positivity will be tested over the next three days in humid conditions and against a South Africa A side with five internationals in its ranks. A first-class match, unlike their opening tour game, England will give their Test batting lineup a second and final run before Dale Steyn and company make the Christmas festivities a short-lived experience.
Steven Finn, back in the squad and stepping up his rehabilitation from a bone-stress injury to his foot, comes in for the rested Jimmy Anderson, while the left-armer Mark Footitt gets a second chance to stake his claim for a Test debut.
The ground features a weather vane depicting one of Pietermaritzburg's most famous sons, Jonty Rhodes, performing his famous flying run-out against Pakistan in the 1992 World Cup on its colonial-style pavilion and is one of two first-class venues, along with Kent's St Lawrence Ground in Canterbury, to feature a tree within the boundary rope.
England (v South Africa A) A Cook (c), A Hales, N Compton, J Root, J Taylor, B Stokes, J Bairstow (wkt), Moeen Ali, S Broad, S Finn, M Footitt
[Source:-the gurdian]