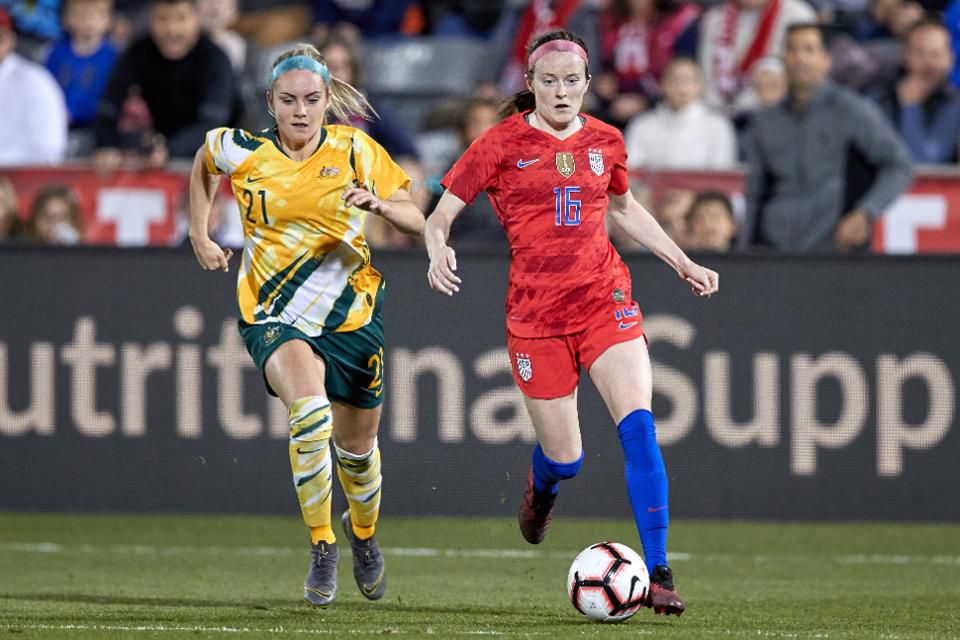 The Women's Sports Foundation, founded in 1974 by tennis legend Billie Jean King, was created to ensure all girls and women have access to sports.
In its continued efforts to provide those opportunities, the Women's Sports Foundation (WSF) partnered with KT Tape to release a limited edition sports headband ahead of the 2019 FIFA Women's World Cup this summer.
All proceeds will go to the Women's Sports Foundation to implement programs and initiatives giving girls and women access to sports.
"I think it's really cool because there's a lot of buzz and excitement around women's soccer," U.S. women's national team midfielder Rose Lavelle said. "We're going to be at the forefront of sports this summer and a lot of young girls can look up to that and use it as inspiration to get to where they're going."
The America-themed headband is currently available for purchase and will continue to be throughout the 2019 FIFA Women's World Cup from June 7 to July 7 in France.
"Just from an athletics perspective, it gives another platform for women to be on the world's greatest stage," WSF president Elana Meyers Taylorsaid. "We've seen the growth of soccer in the U.S. in general over the last few years and it's exciting to have the Women's World Cup coming up this summer. We're excited to see how much more it can grow as more and more people recognize the importance of women and girls participating in all sports, not just soccer."
Lavelle is the epitome of what sports are about, according to Taylor, a three-time Olympic medalist in bobsled. The midfielder has battled through countless injuries and obstacles in her young career to be on the cusp of her first FIFA Women's World Cup; head coach Jill Ellis is scheduled to announce her 23-player squad later this week.
Since earning her first cap with the USWNT against England on March 4, 2017, Lavelle, who plays her club soccer with the Washington Spirit (NWSL), has six goals in 24 appearances.
"It's definitely been a long, bumpy journey the past three years," she said. "It's nice to see all I've went through pay off, but at the same time it's business mode now. Maybe I'll have a moment when we're first walking out onto the field to warm up but after that we have a job to get done, so I'm more focused on that."
The pressure is certainly on the defending FIFA Women's World Cup champion USWNT not only to repeat its feat from the 2015 tournament in Canada, but also with many players in the midst of a gender discrimination lawsuit against the U.S. Soccer Federation. The U.S. opens its title defense against Thailand on June 11, with matches against Chile (June 16) and Sweden (June 20) rounding out the group stage.
"I don't think we look at it like we're defending something, I think we're more so working toward something," Lavelle said. "This is a very different team than the 2015 World Cup team and we're playing a different way, so it's very different than before.
["source=forbes"]