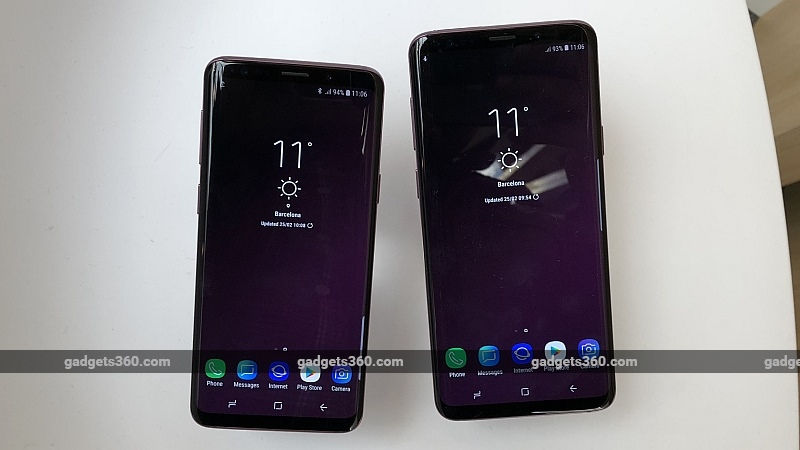 HIGHLIGHTS
Samsung Galaxy S9 and Galaxy S9+ launching in India on Tuesday
Nokia's slate of MWC phones will start launching in India from April
OnePlus 6 leak promises an iPhone X-like 'notch'
Welcome back to our weekly roundup of all the tech news that you can use. The biggest event of the week was probably the launch on Sunday of the Samsung Galaxy S9 and Galaxy S9+, just ahead of Mobile World Congress (MWC) 2018 in Barcelona. The launch largely delivered on what we had already learned about from leaks beforehand, though we can now put a price and a launch date on the S9 duo.
The Samsung Galaxy S9 starts at $719.99 (roughly Rs. 46,600) in the US, while the Samsung Galaxy S9+ will be available at $839.99 (roughly Rs. 54,400). In India, the two phones are set to launch on Tuesday, March 6. Samsung's newest phones will be available via the Airtel Online store, while pre-orders on Flipkart go live on March 6. Although the India price was not announced, Gadgets 360 has learnt that the Samsung Galaxy S9 will be priced at Rs. 57,900 for the 64GB variant, while the Galaxy S9+ will start at Rs. 64,900.
ALSO SEESamsung Galaxy S9 and Galaxy S9+ First Impressions
The Galaxy S9 duo features a dual aperture setup on the primary camera, with a f/1.5 option that improves low-light performance and reduces noise, according to Samsung. It has also introduced a new feature called AR Emoji, which is an answer to Apple's Animoji. While Apple maps your facial expressions to emoji, AR Emoji turn you into a virtual avatar with different expressions on a 3D picture of yourself. The phones also pack dual speakers that make it 1.4 times louder than the previous flagships.
The Galaxy S9 duo is powered by the Qualcomm Snapdragon 845 SoC in US and other select markets, while in other regions (including India), it will be powered by the Samsung Exynos 9810 SoC. The phones will be available in 64/ 128/ 256GB storage options globally, though as of now, Samsung doesn't seem to be launching the middle-tier option in India. The Galaxy S9 has a 5.8-inch QHD+ display, comes with 4GB of RAM, and a 3000mAh battery, while the bigger Galaxy S9+ has a 6.2-inch QHD+ display, 6GB of RAM, and a 3500mAh battery.
ALSO SEESamsung Galaxy S9 vs Asus ZenFone 5Z vs Sony Xperia XZ2
According to DisplayMate, the Samsung Galaxy S9 has the best smartphone display ever, with excellent colour accuracy, brightness, outdoor visibility, and reflectivity. However, Galaxy S9 benchmarks show that the Exynos 9810 SoC is slower than recent iPhone processors, which will be a cause for concern to some. We were quite impressed with the little time we got to spend with the phone at MWC, in our first impressions we noted that the fingerprint sensor placement is better this year, and Samsung seems to have done a good job overall, though expect a detailed review very soon.
HMD Global had a busy MWC too, launching a full slate of Nokia phones, from the smart featurephone Nokia 8110 4G, to the new flagship, the Nokia 8 Sirocco. In all, the company has announced the launch of five new phones, which are also going to make their way to the Indian market.
The Nokia 8110 4G is a smart featurephone that shares a name with the classic handset, though with an updated design. It has a curved slider design, and although it's a feature phone, it will get apps, and support Google Assistant and Google Maps. However, the Nokia 8110 4G feels plasticky and if you haven't used a feature phone in a while, you will find text input to be painful.
Next in the list is the Nokia 1 – a simple entry level phone that's part of the Android Go initiative. Releasing in April, the phone has 1GB of RAM, 8GB internal storage, and a 4.5-inch display, along with a 2150mAh battery. It's also good looking and very comfortable. It has a removable battery as well, and while there was a little bit of lag when using the phone, it wasn't too bad.
The next phone from Nokia was the Nokia 6 (2018). The phone is made from a single block of aluminium, and is available in two variants – a 3GB RAM/ 32GB storage model, and one with 4GB RAM/ 64GB storage. Our first thought on handling the phone was that it's absolutely solid. The new phone certainly has more personality than the original, and hopefully the company will also be aggressive with its pricing.
Adding to the lineup is the new Nokia 7 Plus, also made from aluminium but with copper accents around the border, camera bump, and buttons. The phone has an 18:9 aspect ratio display, and dual rear cameras. Nokia might launch single-SIM and dual-SIM versions of this phone in different countries. The battery capacity is 3800mAh, and there's support for quick charging.
ALSO SEENokia 7 Plus vs Nokia 7: What's New and Different?
Closing out the list is the new Nokia 8 Sirocco, which is a pretty thorough upgrade over the Nokia 8launched last year. It features a curved 16:9 display, and when we tried the phone out, we found that it looks great, feels good in the hand, and is pretty high-end in terms of specifications, though it runs last year's flagship chip, unlike the new smartphones by Sony and Samsung. Also, the black body is a complete fingerprint magnet. It packs a Snapdragon 835 SOC, 6GB RAM, and 128GB internal storage, along with a 3260mAh battery.
ALSO SEENokia 8 Sirocco vs Nokia 8: Here's Everything New and Different
As to when you can expect these phones – some launch dates have already been revealed. First to launch in India will be the Nokia 1, in April. Next up, expect the 3GB RAM/ 32GB storage model of the Nokia 6 (2018), with the 4GB variant around end-May/ June. The Nokia 8 Sirocco will also come to India in May, while the Nokia 7 Plus will follow in end-May/ June. As to the Nokia 8110 4G? Expect it to launch in July 2018 or later.
Apart from these, Sony also had a couple of launches at MWC 2018. It announced two new phones in its flagship series – Xperia XZ2 and Xperia XZ2 Compact. Both are powered by the latest Qualcomm Snapdragon 845 SoC, and they will be available this month. The Xperia XZ2 has been priced at around EUR 800 (roughly Rs. 63,700) in Germany, while the Xperia XZ2 Compact will be available for around EUR 600 (roughly Rs. 47,800) in Q2 2018 The bigger Xperia XZ2 has a 5.7-inch display, and a 3180mAh battery, while the Xperia XZ2 Compact has a 5-inch display, and a 2780mAh battery.
ALSO SEESony Xperia XZ2 and Xperia XZ2 Compact First Impressions
Asus also launched a number of phones at MWC 2018. The Asus ZenFone Max (M1) launched in two variants which have either a Snapdragon 425 or a Snapdragon 430, coupled with up to 3GB of RAM. In both cases, the phone, which has a 5.5-inch display, comes with a 4000mAh battery. It also launched the new ZenFone 5 family, which includes three phones, the ZenFone 5Z, ZenFone 5, and ZenFone 5 Lite. The smartphones all offer AI-enabled features, "all-screen" 18:9 displays that deliver a 90 percent screen-to-body ratio, and dual camera systems. Also new are ZeniMoji, the company's own take at Apple's Animoji. We found the ZenFone 5Z and ZenFone 5 easy to hold and use, and while they have glossy exteriors that pick up smudges easily, they aren't too slippery either.
But perhaps one of the most eye-catching devices out there was the ZTE Axon M dual screen smartphone. It's practicality is questionable, but we got a chance to try out the phone, and felt that the dual display design could be useful for multitasking. The phone itself is of course quite chunky, with a screen on the front and the back. The rear screen is switched off, but when you flip it open, the two line up and you can either use this as one big screen, or use each display independently. The square shape means that one big screen isn't useful for movies or games, and the seam between the screens is also aggravating, but using each screen independently seems useful.
ALSO SEEMWC 2018: The Highs, the Lows, and the Many New Faces of Android
And while MWC dominated the news, there was a lot more that was going on this week as well. For one thing, there's an interesting leak showing images of the upcoming OnePlus 6. The new phone will apparently sport an edge to edge display, have 6GB RAM, and 64GB inbuilt storage, but the interesting part is that it will also sport a notch, like the iPhone X, apart from having a vertical rear camera setup. The company has already confirmed that the phone is expected in the latter part of 2018, so the phone could be announced this June.
Meanwhile, OnePlus has also fixed an issue that was preventing HD streaming of content on OnePlus 5and OnePlus 5T, affecting HD streaming from Amazon Prime Video, Google Play Movies, and Netflix. There's just one big problem with this – the fix isn't an OTA update. Instead, you'll need to mail in your device to OnePlus in order to get the update installed, and if you're not in one of its service regions, you're out of luck.
Meanwhile, there were also some interesting telco offers announced this week. For one, BSNL is now offering 30GB data, unlimited calls, and free roaming, for Rs. 399. Aside from that, it also has a Rs. 448 recharge offer, under which users get 1GB data per day, and unlimited calls for 84 days. This offer is only available in the Kerala circle however.
Airtel also has a new offer, bundling unlimited voice calls, with no caps on daily or weekly calls. However, you get only 1GB of data per month under this new offer, which is priced at Rs. 995, with 90 days validity. Not to be left behind, Vodafone has also announced that it's going to launch two new prepaid packs, of Rs. 799 and Rs. 549. The first of these will offer 4.5GB data per day, while the latter gives you 3.5GB data per day, both for a 28 day period.
Meanwhile, Reliance Jio also has an offer for its personal hotspot, the JioFi 4G hotspot. The price of the JioFi is being raised from Rs. 999 to Rs. 1,999, but buyers will get data worth Rs. 1,295 bundled with the device, and also vouchers worth Rs. 2,300 – and if you don't want the bundle, you can still get the hotspot for its original price.
ALSO SEELive TV Apps to Watch Cricket and TV Shows on the Go
Speaking of Reliance, Big TV will be offering HD channels effectively free to customers who purchase its HVEC set top box. The customers will get access to pay channels (including HD channels) for one year, and to free-to-air channels for five years.
Once free access to pay channels ends after the first year, Reliance Big TV customers will need to recharge their set-top box with a monthly amount of Rs. 300 from the second year onwards to get the refund of the initial amount of Rs. 2,000 on completion of two years of successful monthly payments. This means that customers will be eligible for a refund three years after the initial purchase. The amount will be refunded in the form of account recharge value.
Aside from this, we also got to know a little bit more about Xiaomi's upcoming flagship, the Mi MIX 2s. First, the company confirmed that the handset with a Snapdragon 845 SoC will debut on March 27. Next, a screenshot that reveals the new Mi MIX variant's bezel-less design – without any notch or space for a front-facing camera sensor. It is also now rumoured to support wireless charging with 7.5W power.
ALSO SEEXiaomi Teases Launch of New Mi TV Series in India, Hints at Smaller, Cheaper Option
Further, according to a couple of leaks, the Mi MIX 2s, as well as the Mi 7, might also have an under-display fingerprint scanner. The company also released a video teaser reconfirming the Snapdragon 845 SoC, and the March 27 release date. t was also tipped to sport a 5.99-inch display, up to 8GB of RAM, 12-megapixel dual camera, 256GB of built-in storage, and support for global 4G LTE bands. It is said to bear a 4400mAh battery – though another leak claims it bears a 3400mAh battery.
ALSO SEEWith Experience Stores, Xiaomi Wants You to Decide What Products It Should Launch in India
Meanwhile, there was also some interesting news from the world of payments back home. Google Tezwill be launching deeper SBI integration soon, allowing its users to create @oksbi payments addresses. At present, although the company does not share exact monthly figures, Google Tez seems to be at the number two position in the Indian payments market, and access to SBI's massive customer base could help strengthen that.
Meanwhile, Paytm is claiming that it holds the number one spot, citing growth from 33 million transactions in December, to 51 million in January, and 68 million in February. That's a growth of 17 million in February, which closely mirror's the UPI's overall growth from 151.8 million to 171.4 million. However, with WhatsApp payments waiting in the wings for a wide roll-out, it's far too soon to call a winner, in our view.
["Source-gadgets.ndtv"]