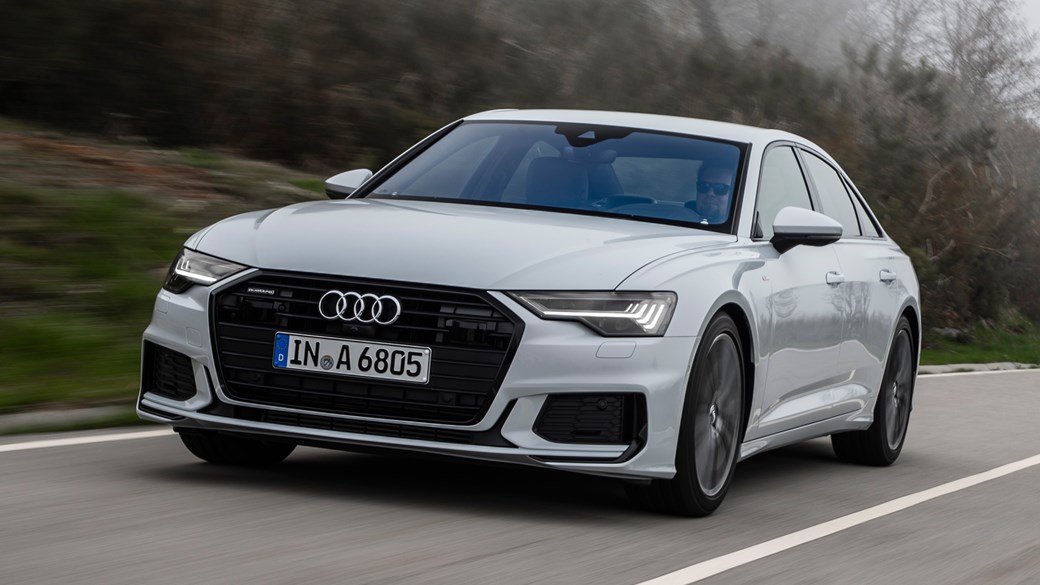 Audi is piling a lot of pressure on its new A6 saloon. It's promised the world of the new mid-size exec: more space inside, more tech, better refinement, a less Russian doll-like design and, most crucially, better handling.
The new A6 takes the fight, once again, to the BMW 5-series, Mercedes E-Class and Jaguar XF, with the A6 Avant estate due later in the year.
Keep reading for our full review of the new 2018 Audi A6 range.
Remind me of the A6 configurations…
Are you sitting down? You'll be here a while. There are three engines available in Europe: a 2.0-litre four-cylinder diesel (40 TDI), a 3.0-litre V6 diesel available with either 228bhp or 282bhp (badged 45 TDI and 50 TDI respectively) and a 335bhp 3.0-litre V6 petrol (55 TFSI). Audi is also considering adding a lesser-powered four-cylinder petrol (likely named 40 TFSI) and a plug-in hybrid within the next year or two.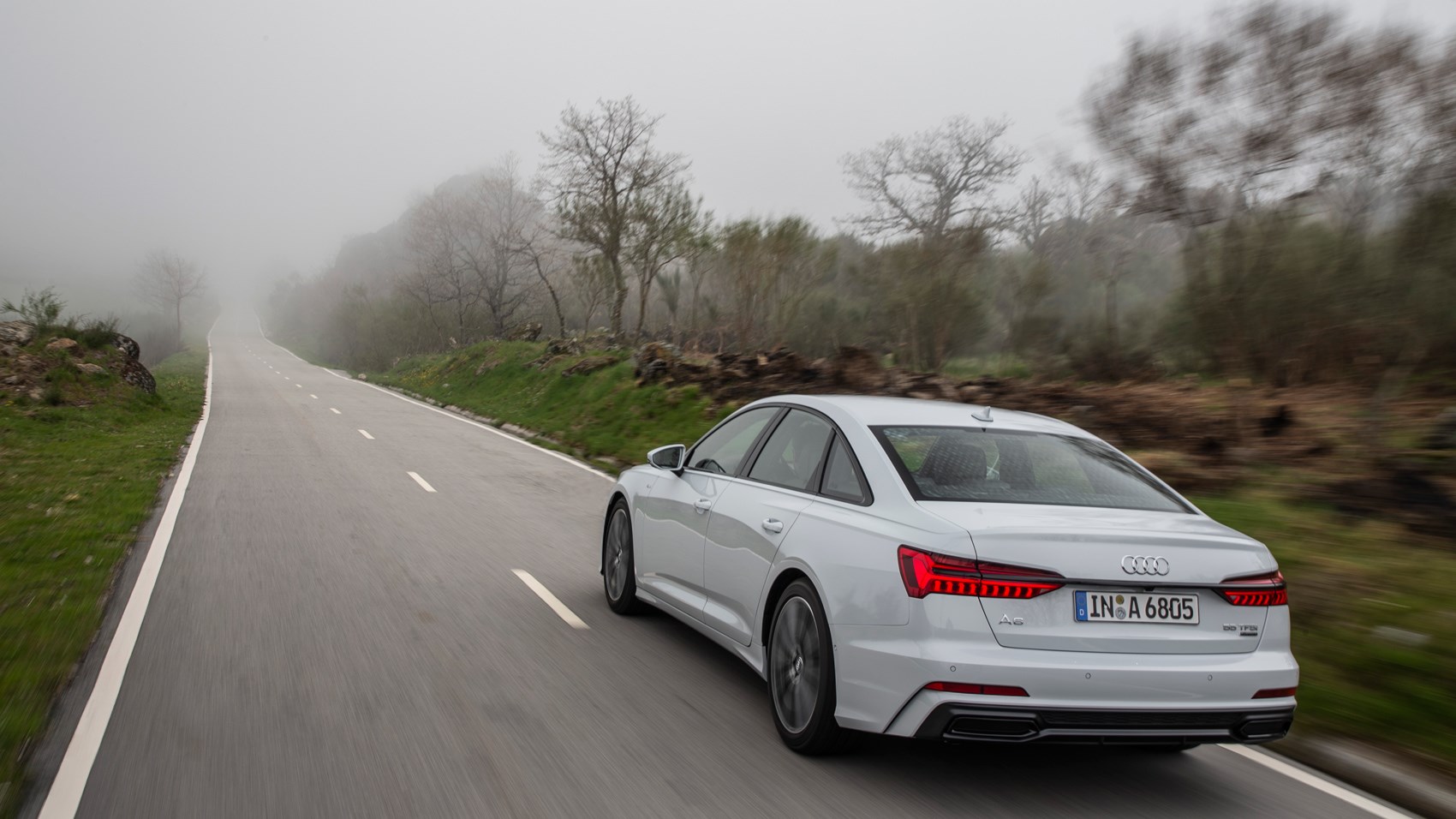 The four-pot diesel and V6 petrol are equipped with seven-speed dual-clutch auto 'boxes, with the V6 TDI options using a ZF eight-speeder instead. There are four suspension options depending on your Sport or S line spec choice: conventional steel springs are standard on Sport, with a 10mm lower set-up standard on S line. Adaptive dampers or air suspension are optional.
Plenty to choose from, but it can get a little confusing…
You're telling me – what are the engines like?
We tried the four-cylinder diesel 40 TDI, V6 diesel 50 TDI and petrol V6 55 TFSI.
The entry-level 40 TDI is probably all you really need if you have to be sensible. The engine is a new introduction into the VW Group, dubbed EA288 Evo and uses an alloy block. Performance is strong enough for potent overtakes and while there's still a bit of diesel din, it's not intrusive.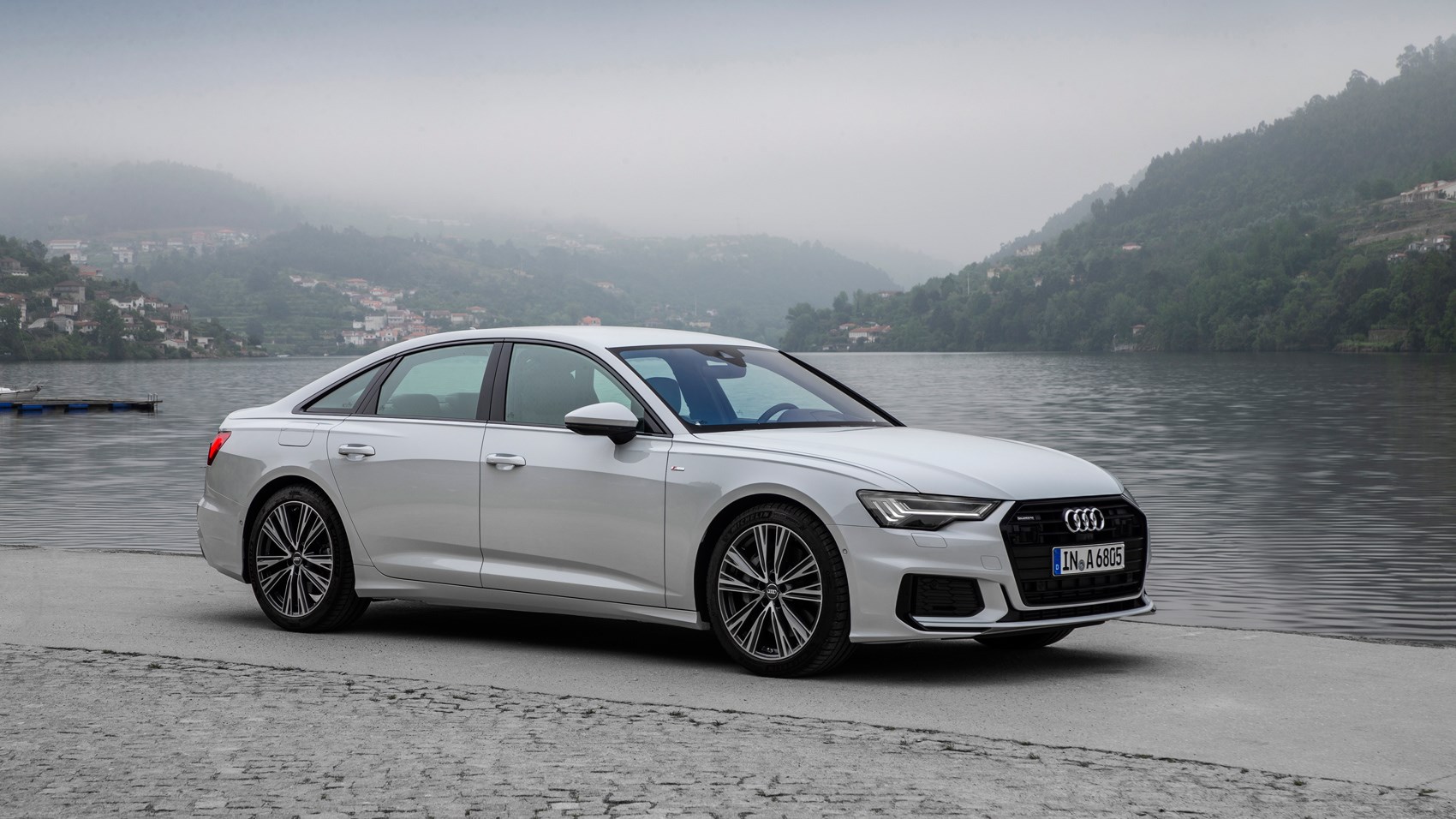 The 50 TDI feels like the best all-rounder. The 3.0-litre V6 diesel in 282bhp form doesn't feel all that different from the previous-gen A6 3.0 TDI; it's still got loads of torque on offer, feels super-smooth and delivers a claimed 50.4mpg – the only economy figure we had available at the time of writing.
For now, until the 40 TFSI or S6/RS6 arrive, the 55 TFSI is the only A6 sipping from the green pump. It's really smooth, swift (a 5.1sec 0-62mph launch time is quoted) and makes a tuneful, if restrained, noise. It's unlikely to find many buyers in the UK as, although pricing and BIK rates are still to be announced for this one, we suspect they'll be hard to justify for penny-conscious taxpayers.
All A6s have a mild hybrid system equipped as standard. Four-cylinder versions use a 12v MHEV format while the sixes have a more powerful 48v system across the board. It means the A6 can coast with the engine off even up to motorway speeds, the start/stop can kick in earlier and it even aids the engine to reduce any turbo lag. Particularly with six-cylinder cars, we even noticed a little whine like a Tube train as the car pulls away.
Is the new Audi A6 still dead behind the wheel?
This is probably the A6's biggest improvement, and one that Audi engineers were losing sleep over during the development process. Steering is not quite pin-sharp – this is an exec saloon remember, not a Lotus – but compared with the previous-generation A6 the front end is actually connected to the disc-shaped thing you have to keep a hold of and politely offers you a little feedback. Grip is good and (mainly due to the Quattro all-wheel drive) it's difficult to un-stick it if you're going some. The rack is incredibly light in Comfort mode, and weighs up a little more in Dynamic.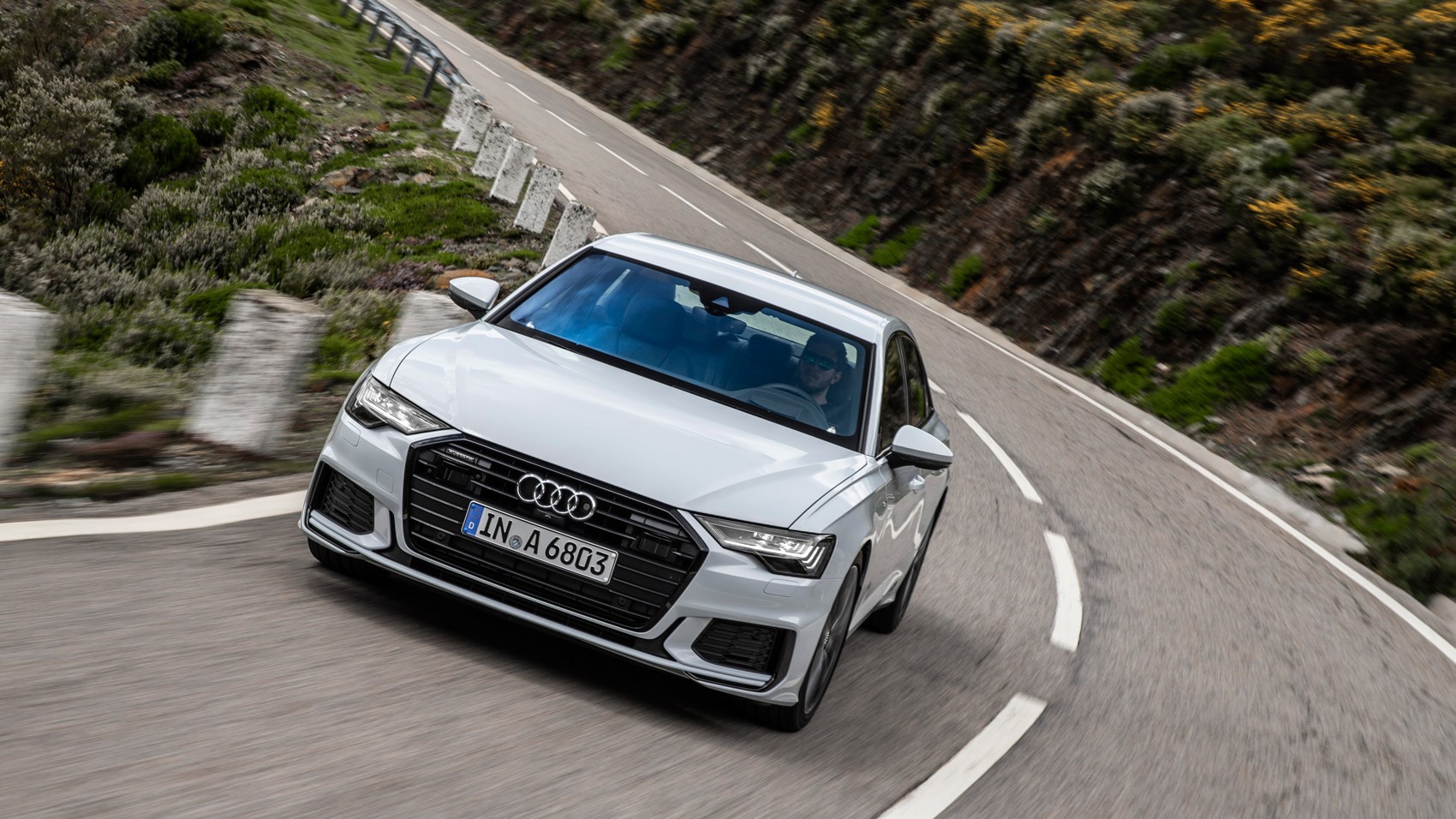 Audi also offers rear-wheel steering as an option for the first time on the new 2018 A6 range, which turns the rear wheels against you at low speeds and with you at higher speeds. Unlike some systems we've tried with all-wheel steering, the A6's is fluid and almost unobtrusive – allowing the car to pivot around bends with uncanny ability. Anton Obermüller, the A6's chassis development engineer, told us that the rear-wheel steering allows the turning circle to almost match that of an A3 hatch.
I spend most of my life on the [insert motorway number here]
Then the A6 will be a pretty solid companion. Regardless of your engine choice, or even the suspension option you opt for, the ride is at the very least well damped. The standard springs are good enough on their own, and the lowered S line set-up now doesn't shatter your spine when driving over a two pence piece. If you go for the air suspension, it's almost A8-like in its floatyness but can have that water-bed effect of becoming unsettled after a series of road lumps.
As for the interior, it's a lovely place to be; material quality is up to Audi's usually solid standards and can be specced with a few different panelling options including brushed aluminium or wood veneer.
Regardless of your engine choice, the A6 is a very hushed thing on the move – almost as if the powertrain unit is locked up in a padded cell, which you can supplement even further with optional double glazing.
The twin-screen touchscreen looks crisp and blends seamlessly with the whole dashboard but solid slabs of glossy glass will naturally smudge quickly after just a couple of swipes and prods. The touchscreen-only interface works up to a point, but you spend a lot of time looking at it instead of where you're going if you operate it on the move – something a rotary MMI dial like the A6 of old will have easily solved.
Also, the navigation had a habit of telling us a little too late of impending junctions, which admittedly could be a local thing during our test drive in Portugal, but a bit more advanced warning would be nice.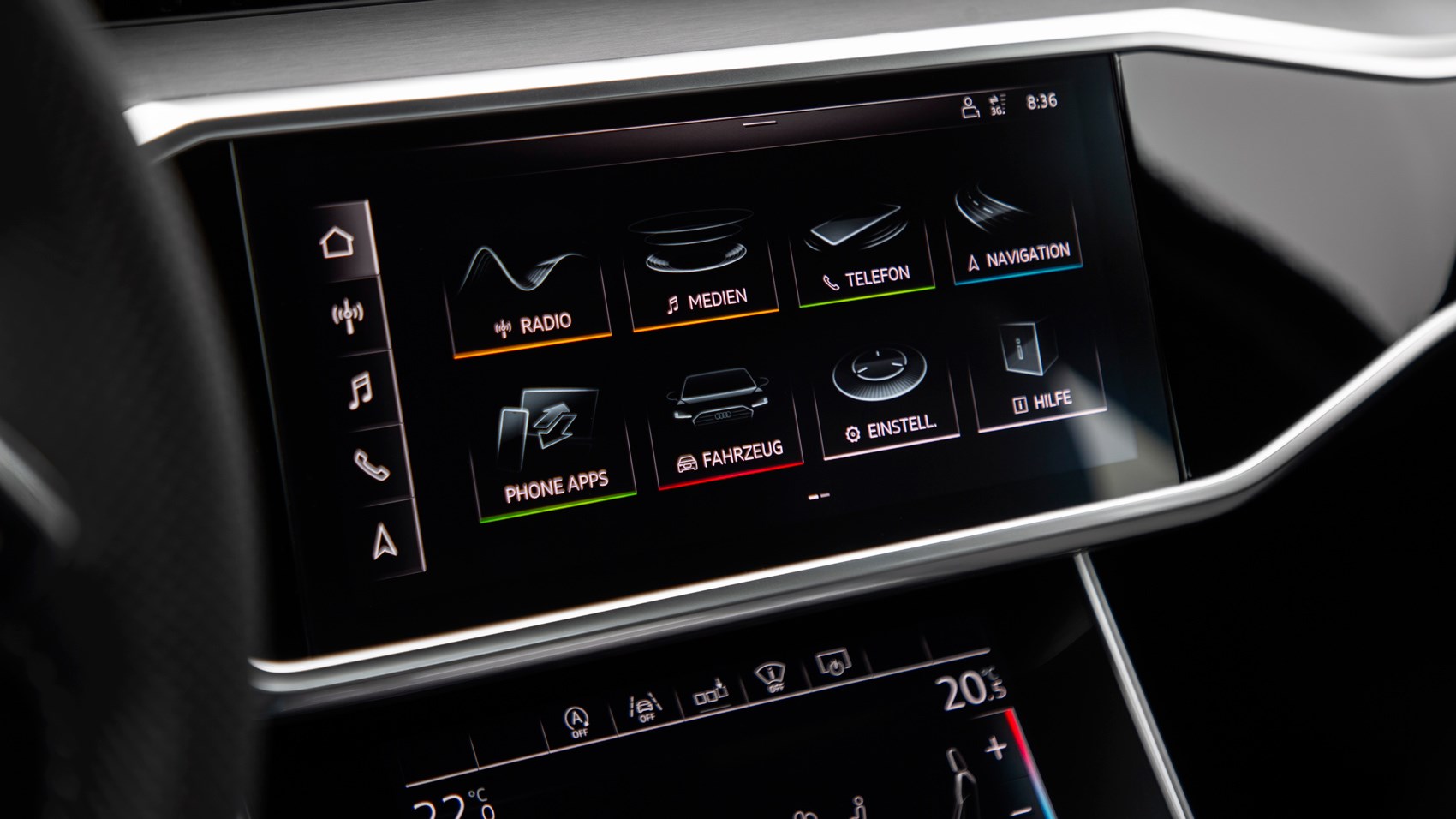 Another niggle is a common Audi problem: a lengthy options list. While we don't know the full story, Audi told us how much a few of the option packs are and what's in them – some of which you'd think should be standard even on basic cars. Want the Virtual Cockpit system? You'll have to stump up £1495 for the Technology Pack that throws in the larger 10.1in infotainment screen for the upper of the two panels, some bonus Audi Connect stuff and the Phone Box with a wireless charger and signal amplification. It's a pricey business…
Anything else I should know?
The longer wheelbase benefits those in the rear most, as they'll benefit from more headroom than before and loads of legroom. With a 6ft 3in driver, someone of the same height can sit behind and still have loads of room. The boot is large at 530 litres – the same size as the outgoing A6 saloon's.
2018 Audi A6: verdict
In isolation, the A6 is a great place to spend time. It's quiet, comfortable, well-appointed inside, has a tech list just this side of the USS Enterprise and is very spacious – all you need if you're a middle management type.
It's a very sober beast and still not quite the final word in handling dynamics, though, but Audi's engineers can finally get some sleep at night when it comes to how their aspirational exec handles.
When we finally find out the whole pricing range of the new Audi A6 in summer 2018, it could make for a particularly compelling executive saloon package.
Check out our Audi reviews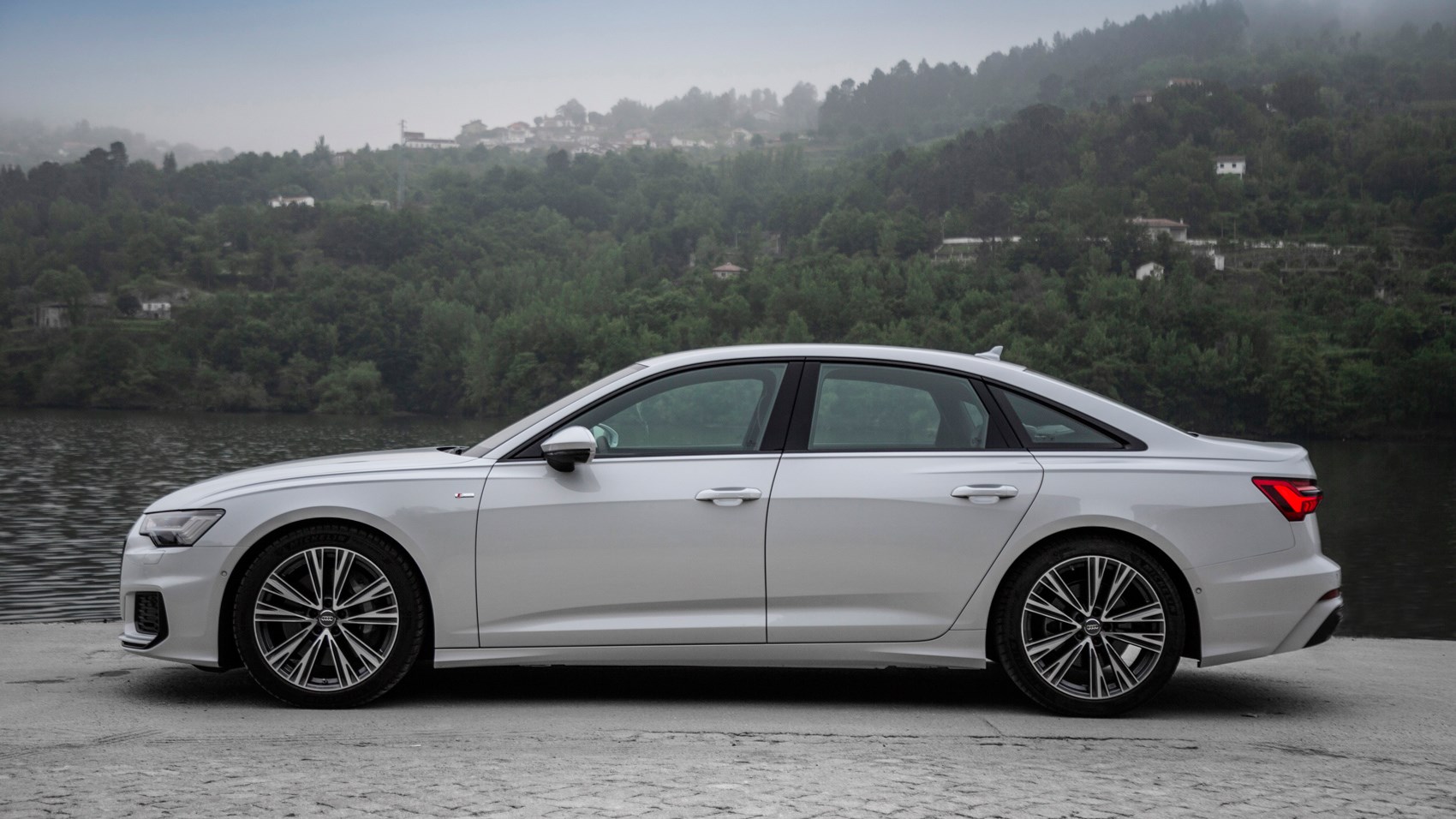 Specs
| | |
| --- | --- |
| Price when new: | £38,000 |
| On sale in the UK: | Autumn 2018 |
| Engine: | 2967cc V6 diesel, 282bhp @3500rpm, 457lb ft @2250rpm |
| Transmission: | Eight-speed auto, all-wheel drive |
| Performance: | 5.5sec 0-62mph, 155mph (limited), 50.48mpg, 146g/km |
| Weight / material: | 1825kg/steel and aluminium |
| Dimensions (length/width/height in mm): | 4939/1886/1457mm |
["Source-carmagazine"]