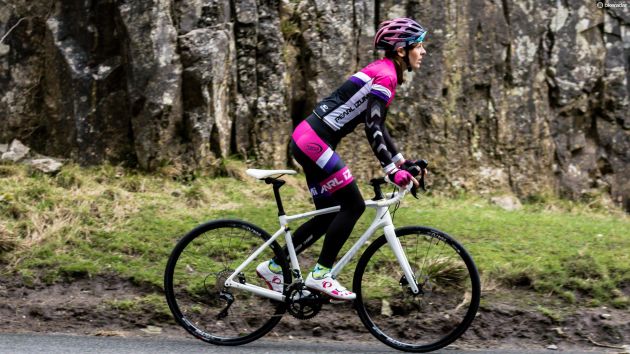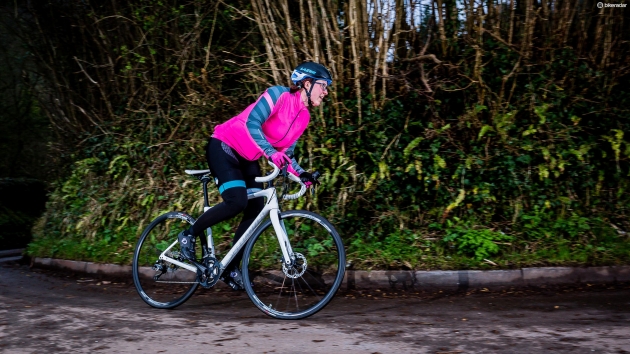 The Ruby Comp features the Future Shock, a spring-based suspension system that cushions the bars against rough road surfaces
It's a radical theory, but it works like a charm. Give the bars an experimental pump before you start riding and the bike feels unnervingly bouncy — but then sprint over a broken road surface, hammer up a gravel track or descend via a patch of particularly rough tarmac and the Ruby Comp feels smooth and swift and sure. Proving once and for all that it's the interface between bike and body that causes the most discomfort, rather than between bike and road.
There are three different spring options, each providing a different level of compliance: a light option at 13lbs, medium option (and the spring the bikes are supplied with) at 25lb and a harder spring at 40lbs. Springs can be easily switched over by a mechanic to suit riding style or the terrain that's likely to be encountered.
At the rear end of the bike, a similar effect is offered by a staggered seat cluster, with the seat post clamp and seat stays 65mm below the juncture of top tube and seat post, giving the CG-R ('Cobl Gobl-R') seat post — which like the Zertz inserts is a polymer block cushioning a kink in the carbon seat tube — room to flex both laterally and longitudinally. This certainly increases the comfort of the ride, but I felt it didn't retain quite the same sense of stiffness as Trek's Isospeed decoupler (which only moves backwards and forwards, and not from side to side) and occasionally felt a bit saggy and sloppy when I climbed in the saddle.
In terms of fit, the Ruby Comp differs slightly from more traditional road bike geometry with a taller stack (the vertical distance between the centre of the bottom bracket and the top of the head tube) and a shorter reach (the horizontal distance between the same two points).
This, along with the 15mm rise of the Hover handlebar, makes for a more upright riding position that may take some getting used to, but it's worth persisting because the lower bottom bracket, thru-axles and excellent cornering traction of the Turbo Pro tyres make this a supremely stable ride, even on wet, winding descents.
Quality performance components
The Ruby Comp might be the spendiest bike in our Bike of the Year test, but it boasts both an excellent frame and quality parts.
A Shimano Ultegra 2×11 group with 105 cassette and Praxis Zayante crankset provides an ample range of gears for sprinting, climbing and everything in between. Up front, the chainring offers 50/34t and the cassette range is the fairly standard 11-32t.
The Ultegra shifters provide a smooth, reliable and satisfyingly accurate shifting movement, with gears switching easily with no slipping or dropped gears experienced.
Along with the Liv Avail Advanced, the Ruby is specc'd with hydraulic disc brakes; flat-mount Shimano 505 in this case. They provide plenty of easy to use, subtle control with good modulation, allowing you to easily and accurately shave off speed without expending lots of pressure, which is great for long descents. Thru-axles keep the hub and brakes stiff and stable, allowing for more consistent performance.
Wheels are of the DT Swiss R470 disc-ready variety — a good set, if not the lightest available — and the Specialized Turbo Pro tyres with a 26c width are a reliable, grippy choice.
The Ruby is finished off with a Ruby Comp saddle and Cro-Mo rails, a popular choice among the reader test panel, although of course saddles are a matter of personal preference. The Specialized Hover Comp alloy handlebars have a slight raise to them and in combination with the S-Wrap Roubaix with stickygel make for a very comfortable contact point, particularly with the smoothing action of the Future Shock.
Specialized doesn't seem to have cut any corners with the spec, with most components contributing to the sheer delight that this bike is to ride. There's generously padded bar tape, a Praxis Zayante crankset and Ultegra derailleurs front and rear, as well as hydraulic disc brakes for the rare occasions when you'll want to stop.
All in all, a dream of a bike, and one that'll take you further than you ever planned on going.
Pricing, sizing and availability
The Ruby is available in sizes 44, 48, 51, 54, 56 and 58, which covers a huge range of rider height and means that both shorter and taller women have access to the Ruby.
It's available to purchase via Specialized dealers, concept stores and various retailers.
I have to point out that the price of the Specialized Ruby jumped considerably during the test period. At the start of the test it was retailing at £2,400. At the time of publication, it had jumped by £250 up to £2,650. We've seen price increases across most of the brands, although Specialized does seem to have experienced the biggest jumps.
Price: £2,650 / $3,400 / AU$4,100
How we tested
This bike was tested as part of BikeRadar's Women's Road Bike of the Year, run in conjunction with Cycling Plus magazine, also published by Immediate Media Co.
The main tester was Emily Chappell. Chappell, a member of the Adventure Syndicate, is a former bike courier, long distance cyclist and author. In 2016, she placed 40th in the Transcontinental Race, an annual ultra-distance bike race that crosses Europe, and was the first woman to cross the line. If anyone knows about performance and comfort when cycling it's her.
Chappell tested the bikes in Wales and Scotland, covering a variety of terrain and conditions including mountain climbs and descents, flat, smooth sprint sections, uneven road surfaces and twisting roads.
In addition, all bikes tested as part of Bike of the Year were put through their paces by a panel of six BikeRadar Women readers over several days in the Mendip Hills in South West England. Each bike has been ridden by at least three testers and their feedback and verdicts have been incorporated into the reviews and overall judging.
["Source-bikeradar"]