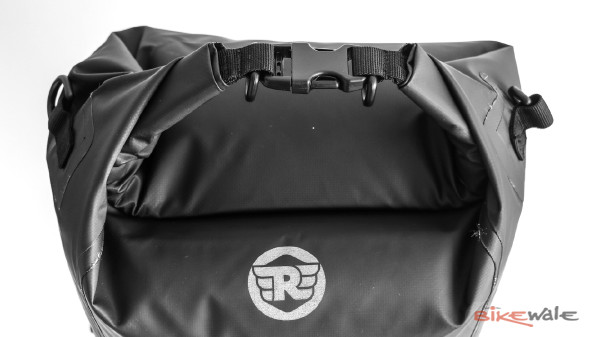 I was recently out on a motorcycling trip where the organisers had arranged for a support vehicle for our luggage, among which was my Royal Enfield Hill duffel bag. Having collected my bag at the end of the day, I noticed that the buckle of the duffel bag was broken. This was surprising, as the buckle seemed robust and it must have clearly taken the handlers a good amount of effort to break it in such a way. Fortunately I was carrying some zip ties which helped me bind the broken ends as a temporary fix for the rest of my journey.
When I contacted my local Royal Enfield Gear Store (posing as a customer and not a journalist) and explained the situation, they had the duffel bag replaced in the matter of a week, no questions asked. It doesn't take a lot to launch a foreign-made product in India, but it is the after-sales service that matters. And in this aspect, full points to Royal Enfield.
What I liked
Unlike saddlebags, the Royal Enfield Hill duffel bag is easy to carry around. With a 36 litre capacity, you can fit in a lot of luggage. Also, you can adjust the dimensions according to the luggage you are carrying, you can roll the top as far as you want to make it as small as possible when it's not full.
The Hill duffel bag can be fitted lengthways or sideways across the bike. It ships with detachable straps, which means you can convert it into a backpack once it is off the motorcycle, making it easy to carry around.
Unlike some luggage systems which need to be shielded with a cover to keep water out, the Hill duffel bag is waterproof. I haven't had a chance to use it during rains. However there was an instance where I had parked under a window, and someone thought it appropriate to water the flower pots to an extent that it overflowed right onto my motorcycle. Nevertheless, the bag proved its mettle by keeping the contents dry. Also, being waterproof means that the surface is very easy to clean – just splash some water and wipe it down.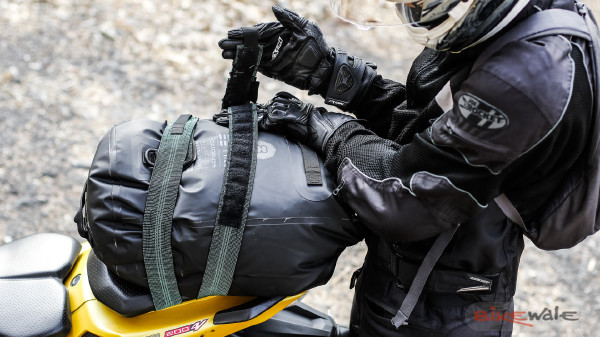 What I didn't like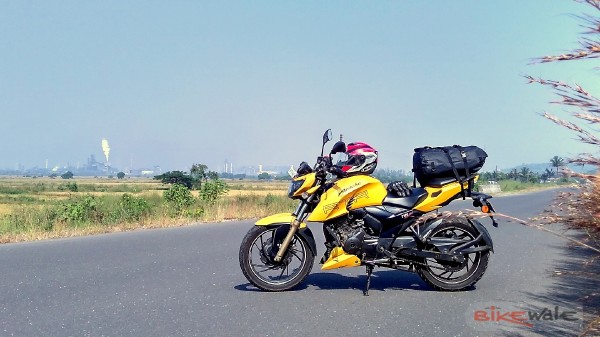 The straps to secure the Royal Enfield Hill duffel bag on to your motorcycle aren't very convenient to use. They aren't tough or grippy enough to tightly secure heavy luggage, and I have preferred using the Andy Strapz Flat Strapz or bungee cords instead. Also once you tie the bag onto your motorcycle with the straps, you are left with excess loose ends which keep flapping around once on the move. Even if you loop them around something, then tend to come undone easily.
There is only a single main compartment and no external pocket. As such, you need to pack carefully, placing things that you might need quickly on top of the stack.
Although it is easy to install on the bike, the duffel bag moves around a lot, especially when you mount it on the rear seat (the Royal Enfield Himalayan has a tail rack for luggage). This is due to the lack of grip between the bag and the seat. Also, no more pillion rides.
Verdict
For those who want a soft luggage with the benefits of a dry bag, the Royal Enfield duffel bag fits to the tee. It's a very simple system which can be used on any kind of motorcycle. We have used it on a Ducati Scrambler, Royal Enfield Himalayan, TVS Apache RTR 200 4V and Honda CBR250R without any problem. It doesn't matter if you travel light or like to take your house along with you, there is always enough room. Of course, you have to be an expert at organising the things you carry, else it can take you an eternity to find a toothbrush (I had to learn this the hard way). I just wish it was less spartan and had a few external pockets, this would have saved me the trouble of carrying a smaller backpack to store all my essentials.
Bag Specifics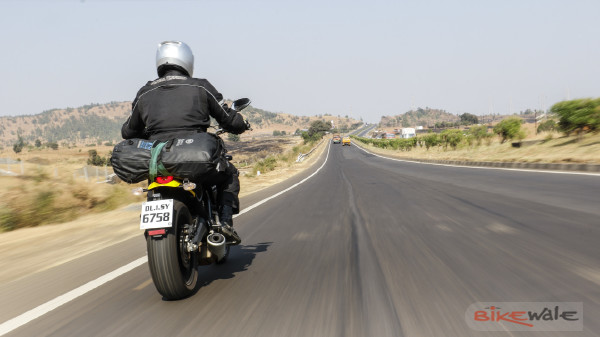 Make: Octopuss
Model: Hill duffel bag
Price: Rs 5,000
Sold via: Royal Enfield Online Store
Positives: Versatile, spacious and easy to use. Also, good support from manufacturer.
Negatives: Lacks external pockets, surface isn't grippy, and expensive.
[ Source :- Bikewale ]