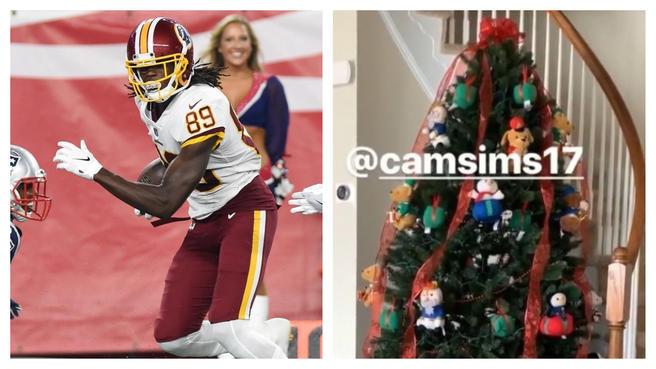 Cam Sims has been a standout on the field at Redskins OTAs so far this offseason, catching passes all over Washington's secondary and showing Jay Gruden that he was worth keeping even after his early injury in 2018.
Sims is also standout off the field and that's because he. still. has. his. Christmas. tree. up. and. it's. summer.
Sims' loyalty to his holiday decoration is something Daron Payne has reported on a few times via Instagram in the past couple of months. But with Payne now busy with his primary career, it was important to get the second-year receiver on the record about what's going on.
After confirming that the tree is in fact still a part of his life and calling it a "year-round Christmas tree," Sims was asked to explain why that's the case. As it turns out, it's not because of laziness or because he himself is a lover of Dec. 25.
Instead, he does it for a much sweeter reason.
"My daughter, she'll get mad if I take it down," Sims said. "And I can't do that."
As for Payne, Sims isn't worried about his fellow Alabama product, who seems more than happy to expose what's going on in the pass catcher's house.
"He's the police," Sims called Payne.
As for what Sims says to Payne when Payne starts giving him a problem?
"Just get out of my house."
His daughter probably agrees.
["source=nbcsports"]