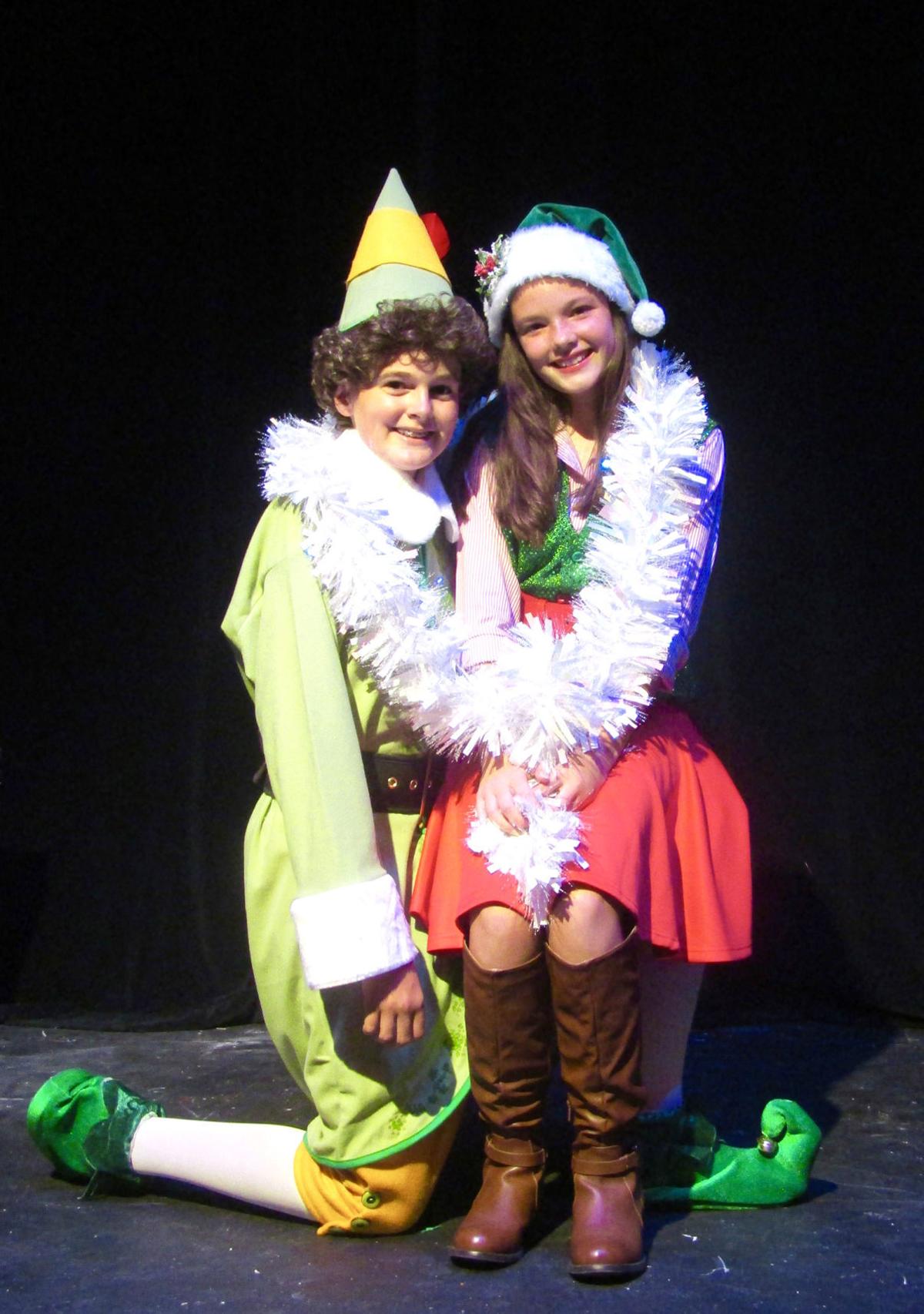 Cooper Hassman, 13, portrays "Buddy the Elf" while Emma Lavery plays "Javie" in the upcoming youth theater production of "Buddy the Elf," which will be performed at the Orpheum Theater for two shows on Aug. 30.
Juri Love
In the tale of this summer, you can experience Christmas one day in August in Foxboro as Australians' do the hot summer Christmas.
LRC production, founded by Laura Canfield presents its first production "Elf Jr." at The Marilyn Rodman Performing Arts Center on Aug. 30 2 p.m. and 7 p.m. This is part of the production's summer intensive two-week program.
"I am thrilled to let you know that I am directing a Christmas show in August. 'Elf Jr.' is a Christmas classic," Canfield said.
Canfield said due to popular demand she decided to direct a middle school show this summer for the first time and what makes this so special is that they are fully decorating the theater for Christmas.
Emma Lavery, 12, is playing the main character "Jovie."
"I love musicals and Elf is one of my favorite movies and it's really funny," said Lavery who appears as a featured soloist at Children's Choir at St. Mary's Church.
Lavery started musical theater in third grade. Her first outing was through the town recreation department, and since then she has participated in several productions every year.
Her mother, Kerry Lavery, is excited to see her daughter on the stage and loves hearing her daughter sing.
"Elf has always been very special to us," Kerry Lavery observed. "It is one of our favorite Christmas Movies and I think it is fun to do it August. Just seeing all the lights and decorations at the time of year might get us in a mood a little early."
Cooper Hassman, 13, is performing as "Buddy the Elf." His first musical experience came as third grader at Burrell Elementary School.
"I am really excited to be in Elf Jr. because 'Buddy the Elf' is such a hilarious part to play and I just want to make people laugh and brighten their day," said Hassman.
The young actor thinks it is kind of ironic because the Elf is so Christmasy and in August it is not really relevant but it is.
"The theme of the show is to be kind to everyone," Hassman said. "But in August it is especially important because it is so far from Christmas we tend to forget that."
According to Canfield, the most cast members are Foxboro middle schoolers. They have been rehearsing five days a week for six hours a day to put the show on just two weeks.
"We are decorating the theater for Christmas from outside in," Canfield said. "We are going to put up lots of lights and Christmas decorations, play some Christmas music and offer hot chocolate and candy canes. We want people to feel Christmas from the moment they walk into the moment they walk out."
She hopes people come and feel the joy that the show is all about.
"I am grateful for the support that the Foxboro community gives to me and to musical theater. Our community is a great supporter of the arts and this is an example of how we all come together and enjoy what we do," Canfield quoted.
All tickets are $10 the day of the performance. $10 adults and $8 students in advance. Tickets can be purchased at the Marilyn Rodman Performing Arts Center or at www.brownpapertickets.com.
["Source-thesunchronicle"]