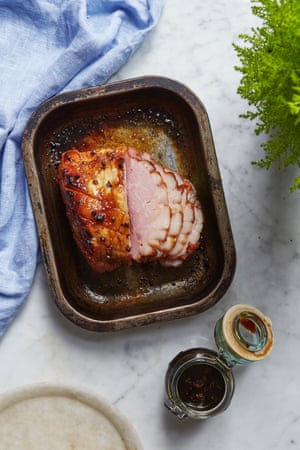 Christmas is a pressured time of year, but I still always want to make it as much like a fairytale as possible – mostly for the children, but not only them. I want family and friends to eat the most delicious food, unwrap the most spoiling presents and sit under the most magical tree. The trick, as with so many things in life, is in the preparation: I usually start buying stocking-fillers in June, and slowly knock presents off the list over the autumn.
Well, the same goes for food. So much can be made in advance, and the freezer is a godsend here. Here's a collection of recipes and ideas that you can start this weekend and keep working at over the next few weeks. Squirrel away these delicious treats so that when you're up to your ears in carols, wrapping and last-minute family stuff, you can just whip out dish after dish. What bliss.
To start the weekend of 5-6 December
Cinnamon swirl puff mince pies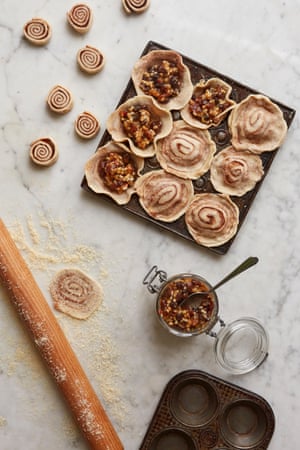 We're nearly three weeks from Christmas, so it's time to start working wonders. These take their inspiration from cinnamon buns, are ridiculously tasty and look mighty impressive even though they're simple to make. Makes 12 mince pies.
For the mincemeat
50g sultanas
50g currants
100g raisins
50g coarsely grated apple
50g suet
50g soft brown sugar
50g blanched and chopped almonds
½ tsp mixed spice
¼ tsp ground cinnamon
A grind of black pepper
Zest and juice of ½ orange
1 tbsp brandy
For the pastry
Butter for greasing the tin
320g pack ready-rolled all-butter puff pastry
1 tsp caster sugar mixed with 1 tsp ground cinnamon
25g ground almonds
2 tbsp milk, for brushing
Mix together all of the mincemeat ingredients, then spoon into a sterilised jar and seal. So long as you don't open the jar, the mincemeat will keep for up to six months. You can use it straight away, but the flavours mellow and improve with time, so if you can, put off making the pies until next weekend.
When you're ready to make the mince pies, sprinkle the cinnamon sugar on to the sheet of pastry, then roll it up lengthways and cut into slices at 1cm intervals; you should end up with 24 slices, plus a couple of centimetres left over (handy in case you need to remake some).
Scatter a work surface with the ground almonds and gently roll 12 of the pastry slices, cut edge upwards, into 8cm-diameter circles. If there are any gaps, press them closed with your fingers, so the filling won't leak.
Lift the rolled slices into a well-greased, chilled 12-hole mince pie or cupcake tin – they should be slightly larger than the moulds. Fill each one with a generous two tablespoons of mincemeat.
To make the lids, roll out the remaining dough slices to 7cm in diameter, then lay over the filled pies. Gently pinch the tops to the bases, to enclose the mincemeat, then brush the tops with milk.
Put the pies in the freezer and, once frozen, pop them out of the tin with a palette knife and store in a labelled freezer bag or box. You can now bake your pies as and when you want them, or bake the lot in one go. They are best eaten on the day they're baked, but if you're keeping cooked ones for a few days, reheat in the oven.
To bake the pies, heat the oven to 210C/410F/gas mark 6½. Pop the pies back into their cupcake tin, again well greased, then bake on the middle shelf for 20-25 minutes, until golden and crisp. Remove, leave to cool in the tin for five minutes, then prise out with a blunt knife and put on a rack. Serve hot with lashings of rum butter, or double cream, or preferably both. I always splash extra booze on top.
Getting further ahead
I would also make my rum or brandy butter at this stage. I love a butter made with dark rum, but choose your favourite spirit. It freezes beautifully and you can whip it out a few days before Christmas when you fancy a mince pie or two.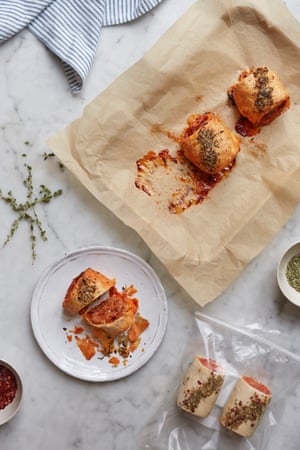 Nothing beats homemade sausage rolls either, but I like to jazz them up a bit at this time of year. Order some 'nduja sausagemeat from online supermarkets (Natoora produces a great one via Ocado) or a good Italian deli, and mix 20:80, or thereabouts, with a good-quality sausagemeat. Wrap in puff pastry and cut to the size you want (I love Creme Egg-sized ones). Bash sea salt, fennel seeds, chilli flakes and finely chopped thyme in a pestle and mortar, then dust a diagonal line of this flavoured salt across the rolls before freezing and storing for Christmas. Bake in a hot oven when you are ready for them.
For the weekend of 12 December
Snowy dark chocolate cardamom and Cointreau truffles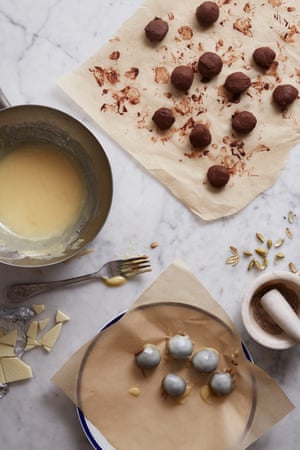 Homemade truffles have the benefit of being much more affordable than bought ones. These are covered in white chocolate, but they're also lovely rolled in toasted, finely chopped hazelnuts. The booze element is optional, but hey, it is Christmas. Makes about 40 truffles.
300g 70% cocoa solids dark chocolate
Seeds from 2 cardamom pods, ground in a pestle and mortar
300g double cream
20g butter
1 tbsp Grand Marnier or Cointreau (optional)
100g good-quality white chocolate
Coarsely grate or finely chop the dark chocolate (this will help it melt quickly and evenly) and put it in a heatproof bowl. Grind the cardamom with a pestle and mortar, then put in a heavy-bottomed pan with the cream and alcohol, if using, and heat gently. When hot but not quite simmering, add to the chocolate bowl and stir in. (If you melt the chocolate with cream that is too hot, it will split, in which case stir in a few tablespoons of cold cream or semi-skimmed milk, until the mix comes together again. And if the chocolate does not melt completely, suspend the bowl over a pan of gently simmering water and stir until it has.) Once the mix is smooth, stir in the butter.
Cover the bowl with cling-film and leave to cool to room temperature. Line a flat baking tray with greaseproof paper and, when the chocolate mix is semi-set but not hard, scoop out roughly teaspoon-sized pieces, quickly roll them into neat balls and place on the tray. Once the tray is fully loaded, put it in the freezer until the balls are frozen solid, then transfer them to a labelled ziplock bag (they'll keep in the freezer for up to three months).
When you are ready to finish the truffles, finely grate the white chocolate and gently melt it in a bowl over barely simmering water without stirring (white chocolate splits easily). Remove the balls from the freezer and quickly dip each one into the melted white chocolate. Transfer to a tray lined with greaseproof paper, put in the fridge to set, then store in a Tupperware box or similar, and keep in the fridge until you want them.
Getting further ahead
Now is the time to be thinking about the perfect one-pot dish to have ready for Christmas Eve or Boxing Day, when spending hours in the kitchen is the last thing you want to do. Curries, in particular, are your friends here, because they freeze so well; at our house, it's become a bit of a tradition to make richly spiced mutton curries and dhals weeks in advance, then freeze. We also make chutneys ahead of time, which keep for months if stored in sterilised glass jars. Other great stews to try are Moroccan tagines, Mexican chillies or Thai curries; or go more traditional and make cassoulet, coq au vin or steak and kidney pie. All are perfect for popping into the freezer and taking out as and when needed.
For the weekend of 19 December
Hot ham with port and lime sauce
Wafer-thin slices of beautifully tender smoked ham with a boozy, citrussy and treacly hot sauce: this is a knockout, plus the meat can be par-cooked and frozen in advance, with the sauce made and kept in the fridge, leaving you very little work on the day. In our house, we traditionally eat a rolled gammon such as this on Boxing Day or New Year's Day. Serves eight.
1.5-2kg boned, rolled and skinned middle-cut gammon, preferably smoked (get your butcher to skin, roll and tie the gammon; and make sure you get the skin, to make crackling or scratchings)
1 onion, peeled
2 small handfuls cloves
2 bay leaves
½ tsp black peppercorns
550ml dry cider
To finish the ham
1 small handful cloves
2 heaped tbsp English mustard powder, made to a loose paste with water
Brown sugar
For the sauce
6 limes
150g raisins
6 tbsp port (or dry oloroso sherry)
120g dark muscovado sugar
2 tsp arrowroot
4 tbsp port, or a full-bodied red wine
In a deep pan, cover the gammon with water, bring to a boil, then discard the water. Push cloves all over the onion, pressing them right in, then add to the gammon pot with the peppercorns, 400ml cider, the bay leaves and water to cover. Bring to a boil and simmer for 20 minutes a kilo, plus 15 minutes extra. Lift out the ham and set aside to cool; discard the liquor. You can cook the gammon to this stage well in advance; you can even freeze the cooked ham for a few weeks ahead of time.
Put the sauce ingredients in a small pan, and heat slowly until the sugar is melted and the sauce simmering and clarified. This, too, can be done ahead; store in a sterilised jar in the fridge.
On the day, heat the oven to 200C/390F/gas mark 6. Score the gammon fat in a criss-cross pattern and stick with cloves. Spread mustard over the fat and press on a layer of sugar. Put the joint in an oven tray, pour the rest of the cider in the base and roast for 15 minutes a kilo plus 10 minutes extra. Once the ham is out of the oven, pour the meat and cider juices from the tray into the sauce, reheat and stir to amalgamate.
Grapefruit and tequila cured salmon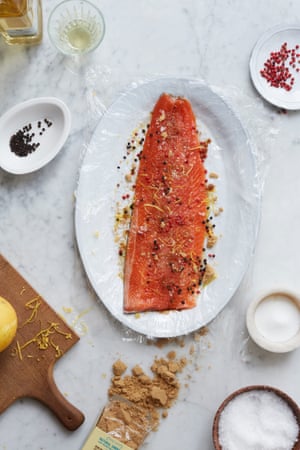 Homemade gravadlax is surprisingly easy and very rewarding. This cure stems from a trip to Ensenada, Mexico, where pink peppercorn trees seemed to line the streets; their floral scent is a great match for the citrussy, sweet pink grapefruit. Once cured, the salmon will keep for five to six days in the fridge. Unless you are eating it straight after rinsing, rewrap it tightly once rinsed and store in the fridge. Rewrap with fresh cling-film every time you take a slice. Serves six to eight.
½ side salmon (roughly 1kg), pin-boned
50g sea salt
40g caster sugar
10g light brown muscovado
10 black peppercorns, crushed
4 pink peppercorns, crushed
35ml tequila
Zest from 1 pink grapefruit
Lie the salmon skin-side down on a chopping board and, running your fingers all along the fish, check for any small bones and pick them out with tweezers. Find a deep dish in which the fish will sit snugly, and line it with a few long layers of cling-film that drape over the sides (the excess will be used to wrap the salmon later, so you want plenty hanging over).
Lay the fish skin side down in the dish, then rub all over first with the salt and then with the sugars. Scatter over the peppercorns and citrus zest, then pour over the tequila. Wrap the excess cling-film over the salmon, to create a neat package, and weigh down the fish with a wooden board that fits just inside the dish, topped with some tin cans (if you haven't got a suitable board, just use cans laid down on their sides). Refrigerate, turning every 12 hours or so (or whenever you have a spare moment) – this will help the cure to work its way right into the fish, and takes but a second or two. Every time you turn the fish, discard any liquid that has seeped out.
After 48 hours, unwrap the cling-film and rinse the salmon. Return it to the fridge in a fresh wrap of cling-film, and store for up to five or six more days, or serve at once, cut into very thin slices with buttered rye bread (which you can also buy in advance and freeze for when needed).
Getting ahead
At Christmas, I always have puff pastry cheese straws or walnut and parmesan cheese sablés made and tucked away in the freezer, for whenever people come round. Both take about half an hour to make from scratch, and can be frozen, raw or cooked, on greased oven sheets, then transferred to freezer bags once frozen solid. They make delicious nibbles to take out whenever you're feeling greedy or peckish. Ice-creams and granitas are also great make-ahead recipes: pink grapefruit and tequila sorbet with a pomegranate granita is welcomingly refreshing at the end of yet another feast, or a rich chocolate or burnt caramel ice-cream if you fancy ending on a real high.
What to drink
Mince pies Treat yourself to an aged vin doux naturel such as Parcé Frères' stunning Rivesaltes 1996 (£13.50 The Wine Society; 16.5% abv), with its gorgeous, rich, spicy caramel flavours. It's a perfect match for Christmas cake, too.
Truffles If you're debating what to put in the truffles – Cointreau or Grand Marnier – I'd go for the latter on the basis that it's a better drink to sip on its own. Brandy would also work well: try a Spanish one such as Lepanto Solera Gran Reserva (£41.29 Ocado; 36% abv) for a change.
Ham I reckon the sauce would defeat any wine, so I'm going for a beer with this. Stout and porter are traditional matches for ham, but you might want something richer such as an imperial stout or Schneider Weisse's Christmassy Aventinus(£4.33 Beer Ritz; 8% abv).
Cured salmon Having just come back from Scandinavia, where aquavit is the default drink with cured fish, I'd be tempted to go for that, but if you are using tequila, you may as well put the rest of the bottle to good use. Herradura Plata Tequila (£33.95 The Whisky Exchange, £35.99 Waitrose; 40% abv) would be a treat.
[Source:-the gurdian]