Many baby boomers wish they could lose some of a lifetime's festive decorations – but their minimalist offspring beg to differ.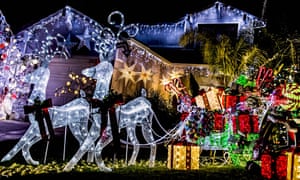 Like many baby boomers, Maryann Johnson has worked tirelessly to produce a magical Christmas for her family. The basement of her Bethesda, Maryland, home has a special storage closet for her stash of holiday decorations – 60 Santas, 25 nutcrackers, snowflake table linens, reindeer dinner plates, hundreds of lights, snowmen tumblers and 32 electric candles, one for each window of the home she shares with husband, Ed Noonan, a lawyer. Johnson, 65, who retired this year from her job at a Washington trade association, enjoys dressing up her house for the season, but all that running up and down the stairs leaves her reaching for a heating pad and a pain reliever at the end of the day.
Perhaps, she thinks, it's time to dial it down.
She broached the subject last summer with her two daughters, ages 31 and 33. "What do you think if we downsized the Christmas decorating a bit?' she asked as they sat on the beach. "The look on my younger daughter's face was incredulous."
When Johnson boxed up ornaments that had been gifts to her daughters over the years, they politely declined them, even though one has two children of her own. "They still want them here as part of the Christmas tradition," Johnson says. "To them, I am Christmas."
Just as millennials are buying train and bus tickets to rush home for the holidays, their parents may be re-evaluating how much holiday to haul out of their attics. In homes across America, boomers, trying their best to downsize and declutter a lifetime of acquisitions, are kindly offering shopping bags stuffed with homemade ornaments and deflated inflatables to their offspring.
But millennials, many of whom live in tiny urban apartments and prefer a minimalist aesthetic, prefer coming home to a twinkling winter wonderland and eight kinds of Christmas cookies. So they are saying "no thanks" to the stuff, counting on their parents to keep stringing the lights and hanging the stockings as they sort out their own traditions.
Brad Duncan, 30, who works for an education nonprofit and lives in Washington with his boyfriend, always looks forward to heading home to North Carolina for Christmas. He treasures the familiar traditions, but his parents, he's noticed, "have gotten a bit lazier with the decorations". They're also trying to offload the nutcrackers they spent years collecting for him. "I took only a few favourites," says Duncan, who just doesn't have the room.
"Boomers want to downsize, but they feel they are the holders of legacy, and they have every ornament that was ever made by every kid," says Cris Sgrott-Wheedleton, 42, a professional organiser with a firm called Organizing Maniacs in Tysons Corner, Virginia. "Millennials are living in as little space as possible so they can afford to travel and spend more time doing things with others. Millennials don't have the emotional attachment, or the space, for legacy memorabilia."
As seasonal accessory victims, boomers, on the other hand, spent decades joyfully amassing paraphernalia: tree decorations commemorating family road trips. Holly-themed china place settings for 24. Ho Ho Ho doormats. Reindeer sweaters for humans and dogs. Red velvet pillows and faux coyote-fur tree skirts. These festive accoutrements are stashed in ginormous red and green plastic tubs that hog storage space for 11 months of the year.
Joan Danoff, 65, a jewellery designer, and Bill Danoff, 69, a songwriter, have run out of space. So a festive father-son holiday ritual is a trip to a storage unit to pick up the tree stand, swags and decorations and haul it to their three-bedroom place in Washington. Now that son Owen Danoff, 26, is a musician who lives in New York, the event is scheduled to coordinate with his gigs in Washington. "Yes, having a storage unit bothers me, but I put it out of my mind," Joan Danoff says. "We do have a storage room downstairs, but it's filled with other stuff. One of these days, I am going to clean it out." She did donate three bags of artificial boughs last year.
"I was thrilled to get rid of things that were a bit more gaudy and use all white lights instead of coloured ones," says Julie Zelaska, 54, a real estate agent from Woodbridge, Virginia, mother to three millennials. "Every year my husband and I go through and get rid of more and more stuff. It feels good."
Those yuletide trappings are flooding the after-market. On a recent day, there were more than 1.3m listings for ornaments, ranging from Hallmark to Tiffany, for sale on eBay, according to a spokesman. Because of increased donations, the Christmas department in many Goodwill charity stores is now open all year, says Brendan Hurley, spokesman for Goodwill of Greater Washington.
Vintage seasonal glitter is popular at antique malls, according to Paul Quinn, owner of Quinn's Auction Galleries and Falls Church Antique Centre in Virginia. You can score a pre-owned bauble for as little as 50 cents.
"We boomers are Marie Kondo-ing the holidays," says Lisa Birnbach, 56, referring to the bestselling author of the decluttering bible The Life-Changing Magic of Tidying Up. Birnbach, who celebrates Hanukah, is a New York author who wrote The Official Preppie Handbook.
"We have too much stuff, and we are simplifying our lives," she says. "Being with family is what's important." Birnbach, who is divorced, still lights a menorah to celebrate with her three children but recently sold all but 12 of her 500-piece snow dome collection.
Both generations seem to be searching for a holiday remix. Millennials are still figuring out what spiritual rituals, if any, they want to take away from their parents' holiday medley. Some have grown up in divorced or blended families, with multiple annual holiday gatherings, according to Bruce David Forbes, professor of religious studies at Morningside College in Sioux City, Iowa, and author of Christmas: A Candid History. (Forbes, 66, is divorced and is himself stuck with the 100 nutcrackers he stockpiled for his 31-year-old son.)
Washington resident Sarah Koch, 29, a finance analyst at Elizabeth Glaser Paediatric Aids Foundation, fondly recalls childhood Christmases in Shelby, North Carolina. Then she joined the Peace Corps and was away for four years. In 2012, she came back for the holidays and her parents had split. "I didn't realise how much I had looked forward to all those distinct images of Christmas," Koch says. She is now married with a one-year-old daughter. "We have no decorations, but I want to start my own family traditions since most of mine are gone. My husband is Muslim. What's important to me is a seasonal holiday. It's up to us to decide what we want."
Lynda Hulkower, 60, a writer who lives in Reston, Virginia, had to reinvent the celebration of Hanukah after her divorce. Hulkower is trying new things with her two twentysomething daughters, such as pinning seasonal recipes on Pinterest. "We are looking for ways to meld the traditional and the millennial," she says.
Suni Petersen, professor of clinical psychology at Sacramento's Alliant International University, says the process of re-evaluating traditions and possessions actually links millennials and boomers. "The boomers are saying, 'I don't want to deal with all that stuff. I only want to deal with what's important.' The millennials are a combination of wanting the traditions and nostalgia of their childhood. But at the same time, they are a generation putting more meaning into life. This may be the bridge that can come between the two generations."
[Source:-the gurdian]