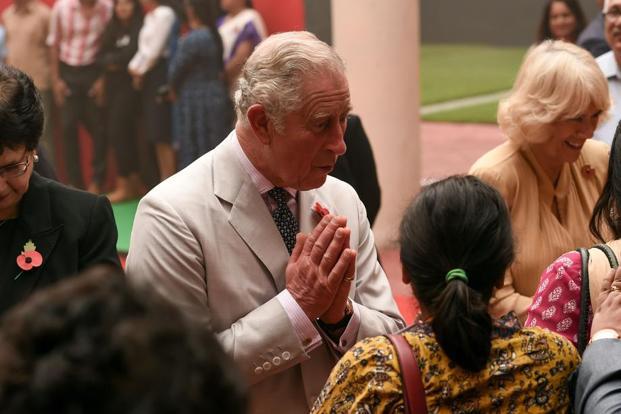 London: Britain's Prince Charles, on a two-day visit to India, has given his backing to a new development bond for India to provide education to marginalised children in the country.
The $10 million education development impact bond (DIB) has been created by the British Asian Trust, founded by the Prince of Wales to fight poverty in south Asia, and is designed to improve learning outcomes for thousands of marginalised children in India.
The bond is intended as an innovative and sustainable social impact investment tool which will be tied in with performance and outcomes of educational initiatives, starting in India and then across the trust's other regions of operation.
"I hope that through the trust we can impact the lives of not just children in India but also change the mindsets of philanthropists around the world," said Prince Charles, who arrived in New Delhi on Wednesday. The education development impact bond has been developed by the trust alongside UBS Optimus Foundation with the aim of transforming the future of education in India.
Under the initiative, the DIB will provide funding to four local not-for-profit delivery partners in the country over four years, delivering a range of operational models including principal and teacher training, direct school management, and supplementary programmes.
It is intended to improve literacy and numeracy learning levels for over 200,000 primary school students from marginalised communities in Delhi, Gujarat and Rajasthan. The UK government's department for international development (DfID) will contribute technical assistance and insights to the project as part of a wider partnership.
"The DfID is exploring new and innovative ways to finance programmes which will transform the lives of some of the world's poorest people. We are proud to support the British Asian Trust as they develop their development impact bond, which will provide access to quality education for hundreds of thousands of children," said DfID minister Priti Patel.
The bond has been described as a step towards a greater focus on social impact financing as a transformational tool for philanthropy. The concept of development impact bonds is intended as a result-oriented way to attract new capital into development, with a strong emphasis on data and evidence.
Richard Hawkes, chief executive of the British Asian Trust, explains: "At the heart of our programme strategy is a real determination to continue applying business principles to the work. We are convinced that only by applying these to philanthropy and to development are you really able to meet the needs of the greatest number of people."
Sir Ronald Cohen, international philanthropist and a champion of global impact investing, described the British Asian Trust's initiative as "ground-breaking" and capable of delivering vital social improvement at scale. In India, Prince Charles will meet Prime Minister Narendra Modi for bilateral talks as part of a series of events planned during his two-day visit with wife Camilla, Duchess of Cornwall. PTI
["Source-livemint"]